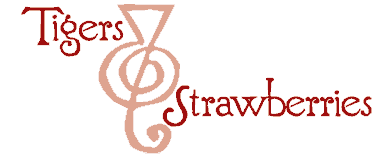 Cook Local, Eat Global
This post could have a subtitle: "Getting Over Myself."
Indeed, it is likely that I could have simply called it "Getting Over Myself" in the first place.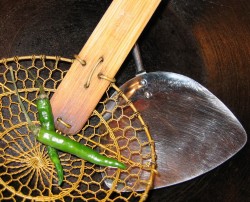 In the past, in fact, just as recently as a few months ago, I felt odd about posting about my explorations on Chinese food, including recipes that I had developed by working out of various out of print cookbooks. I have always felt somewhat odd teaching Chinese, Thai and Indian cooking, in large part because I am not a part of any of those cultures.
I will never forget the first publicly offered class I taught in Columbia, Maryland. I was teaching how to make various dim sum specialties, including steamed dumplings, potstickers, and spring rolls, and I was intensely nervous. I puttered around the high school home economics classroom where the class was to take place, finishing up the last of my prep work. I heard brisk footsteps clicking up the hallway, and I looked up just in time to see my first student pop in the door.
She was a tiny, smiling Chinese-American woman.
She stopped in her tracks, blinked and then blurted out, "You're not Chinese."
I swallowed hard, nodded slowly and said. "Nope. But you are."
She came up more slowly to me, her head tipped to one side. "I mean," she said, "Fisher is not exactly a Chinese name, but I thought, maybe, hey, maybe she's married an American." She blinked right in front of me, and smiled. "But you are definately not Chinese at all."
"Nope, not at all." I guestured at my red hair and green eyes and shrugged. "One cannot look much more gwailo than I do," I quipped with a wink and a lopsided grin.
To my delight, she smiled and giggled. "Yeah, redheaded Chinese women are not exactly thick on the ground, are they?"
Then, we shook hands and I explained exactly how I learned how to cook Chinese food. I explained about my experiences working in a Chinese restaurant years before, and how I had become fascinated with the homestyle food the employees ate after hours, and had applied myself to learning as much as I could about Chinese food through strict study, trial and error, tasting as much good Chinese food as possible and trading recipes with Asian friends and faculty in culinary school.
By that time, other students had begun to trickle in, and a significant minority of them were Chinese or Asian American of some derivation. So, as I introduced myself before starting class, I included my experiences in learning Chinese cookery by way of explaining my status as cooking instructor.
At the end of class, as I cleaned up the kitchen, three of the Chinese-American students came forward, including my very first student, and thanked me graciously for the class and complimented my cooking. All of them said that at first, upon seeing that I was not Chinese, they were wary, but after they listened to my instruction and more importantly, tasted the results, they were convinced that they should take as many classes as I offered.
And they did. One of them finally told me that she was very happy to learn to cook dishes like her grandmother had cooked, but which she had, as a young teen and adult, neglected to learn before her grandmother died.
Understanding that the fruits of my obsession with Chinese cooking and food had become important links to some of my students' past and formerly neglected culture settled over me like a cloak, and I felt a very strong sense of responsibility. As the years have passed this feeling of responsibility has strengthened to the point that when I learn especially rare or old recipes, I feel compelled to share them with others, as a way of preserving knowlege that might otherwise be lost.
I think that any loss of culture is a very sad thing, and so, I rush to preserve that which is endangered by the hustle and bustle of modern Western lifestyles where cookery is not valued as once it was, and the time spent on it is often devalued by the larger popular media culture.
One thing that I have been happy to hear from readers, especially Asian readers, is that I have become inspirational to them. When a reader tells me that they are inspired to learn more about Chinese cooking, my resolve to continue my study of Asian culinary arts is strengthened further. I often recieve emails or comments on how my fearless experimentation and study in Chinese food has caused readers to step into their own kitchens and once again, try the cooking they grew up with.
Every time I hear these things, I smile, because I believe that if I my passion for Chinese food can change the lives of just a couple of people, then my writing is accomplishing something good in the world. If by my words, pictures and instruction, I can interest others in exploring their own culinary traditions, then, I have served a greater purpose than just writing for the love of it.
I didn't realize, however, that it was only white folks like myself who worry about cultural appropriation.
I am very sensitive to cultural appropriation because I am in part, of Native American descent (along with a lot of German, English, Irish and a touch of French and Dutch for good measure) , and have made study of Native American history and culture.
The story of the Native Peoples of North America is one of cultural and physical genocide, broken treaties, hostilities, and now, with the popularity of New Age philosophies and religions, shameless cultural appropriation. It is nearly impossible to make a serious study of Native history without becoming sensitized to the issue of cultural appropriation, which has to do with members of the dominant culture adopting aspects of Native culture, particularly in the realm of spirituality and religion, music and dress, without respect for the wishes or feelings of those people whose culture is being stolen or misrepresented. It is particularly bad in the New Age spiritual communities where white pretenders will sell their services, spiritual practices and crafts, which are often mishmashes of very twisted and confused bits and pieces of Native culture stolen and made shallow. These New Age practitioners make large amounts of money by selling to a gullible public stolen or fictitious practices that are supposedly Native American traditions handed down from "the ancestors."
I generally do not look Native American; too many of the German and English genes were expressed to do much but give me very high cheekbones and eyes that have slight epicanthic folds. This complicates my involvement with Native American culture–I always worry that I am not "Indian" enough to lay claim to any feelings on issues regarding Native Americans, and so when I attend powwows or listen to white people talk about Native issues, I always feel as if I am not able to really speak with any authority regarding Native American experience.
You can imagine, then, how I sometimes feel when I teach Chinese or Thai cooking. For all that I am of Native descent, yet do not feel "Indian enough" to lay true claim to that experience, how dare I set myself to teach Chinese cooking when I am not Chinese at all?
Or Thai.
A post that I found on Notageek.org opened my eyes to members of the Chinese-American community who have similar feelings to my own in regards to cooking, culture and appropriation. The author of the post, who credits reading my blog to her learning how to cook Chinese food well, says she often doesn't feel "Chinese enough," as she, too, is of mixed descent. And, like my on again, off again inhibitions on teaching Asian cooking due to my own feelings of not being Asian at all, she felt hindered in her ability to learn to cook and enjoy Chinese food.
She says, "But if a hillbilly gal can cook Chinese food well and unapologetically, there is no need for me to be a shrinking violet either."
Knowing that I had helped a kindred spirit stand up and own her own culture, and her own abilities in the kitchen made me very happy. I hadn't really thought about Asian-Americans of mixed descent having the similar feelings that we of mixed Native blood had regarding participation in our cultural heritage, but now, I realize that I should have understood this. Whenever there is a cultural diaspora, as there has been with Chinese culture in the West, there will be people who are to differing degrees, of Chinese extraction. And thus, their relationship to Chinese culture will be complex.
Cultural appropriation is also a complex issue, and one that has no black or white rules. What is obviously culturally insensitive and inappropriate in one context is considered, if not perfectly proper, then, acceptable, in other contexts. When we live in a culture like the post-modern, primarily urban United States, where intermarriage between cultures is becoming a norm, blended families celebrating and passing on different cultural traditions are going to exist. This is bound to change not only the mainstream media-centered culture of the United States, but it is also going to go in the opposite direction and make changes to the minority cultures which come together to make up the larger culture.
When I look at it that way, and realize that I have been very careful in my research and kitchen experimentations with Chinese food to present what I have learned in as respectful and positive a light as possible, then I begin to let go of my fear that I am simply exoticizing Chinese cooking and culture and appropriating it.
In letting go of this fear, I hope that I can further my goal to help more people become aware of the beauty and complexity of Chinese food culture as it exists currently in the United States and elsewhere.
And, if, along the way, I help some folks reclaim their own food culture, well, then–my work has all been toward the good.
15 Comments
RSS feed for comments on this post.
Sorry, the comment form is closed at this time.
Powered by WordPress. Graphics by Zak Kramer.
Design update by Daniel Trout.
Entries and comments feeds.