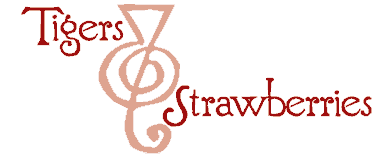 Cook Local, Eat Global
There is no single definative pad thai recipe.
Any Thai cookbook worth consulting will tell you that.
Pad thai, probably the most well-known and loved Thai dish in the United States, is a street-stall food that is infinately variable in flavor, ingredients and condiments. The one constant is that it involves a very hot wok, chiles and either pre-soaked dry rice noodles or fresh, pliable rice noodles.
Su-Mei Yu, author of Cracking The Coconut: Authentic Thai Home Cooking says (on page 298) "Over the past several years, I've learned to make padd thai from vendors at different stalls all over Thailand and appreciate its versatility. Each version is slightly different, and each is wonderful. Padd thai is a dish dictated soley by the wishes of the customers…."
"I have read reviews of Bay Area Thai restaurants that rate them by the quality of thier pad thai; this is amusing to me, because it is like judging fine American restaurants by the quality of their hamburgers," writes Kasma Loha Unchit in It Rains Fishes (page 199). She later notes that while many American Thai restaurants serve the dish doused in ketchup, she eschews that popular condiment and instead advises the use of semi-sweet black Thai soy sauce.
Victor Sodsook writes in True Thai, that "Everybody loves phat Thai. Many Americans have told me that their first taste of this sweet and sour, spicy peanutty noodle stir fry is what got them hooked on Thai cuisine…Phat Thai is always customized to suit your taste" (page 114).
Because the one thing that Thai cookbook authors seem to agree on is that there is no one correct way to make pad thai, I have come up with a theory, and it goes thus: there are as many versions of pad thai as there are people who cook Thai food in the world.
There are also a couple of corollaries to this theory. The first one is that often, it is the very first pad thai that one eats which imprints itself upon the diner's mind and tastebuds as -the- best, foremost and ultimate pad thai, and for the rest of their lives, the eater will seek pad thai that tastes just like that first bowl. This search is often in vain, because as we now have come to understand, there are as many versions of pad thai as there are Thai cook.
The second corollary is that I have personally, very seldom, met a serving of pad thai that I have not liked.
There are exceptions to that second corollary. I don't tend to like overly sweet pad thai, nor am I fond of the ones that taste of ketchup. But, if you leave out the excess sugar and ketchup, I pretty much don't care what else goes in.
Eggs? Great. Shrimp? Primo. Mushrooms? Right on. Pressed tofu? Love it. Chicken? Oh, yeah. Bean sprouts? Can I have more? Fresh chiles? Super. Dried chile flakes? Wonderful. Chile sauce with the rooster on the bottle? Oh, hell yes, pass me some of that good shit, and I'll put some more in, thank you.
I like it with chewy noodles. I like it with softer noodles. I like it doused in crushed peanuts, or just lightly sprinkled with them. I like it with cilantro, and I love it with Thai basil. Tamarind is great, and so is lime juice, but I think, best of all, is a little of both.
Fish sauce–well, it always has fish sauce, but the first version I had also had oyster sauce in it, too, so when I make it, oyster sauce always shows up at the end of the cooking process.
I guess that my main point in all of this is to get folks to realize that there is no one "right" way to make pad thai. There are thousands of "right" ways, all of them pretty darned good.
And, for those who have faithfully read this far in my declaration of love for the rice noodles–here is how I make pad thai, when I make it this way. It may not be the way anyone else makes it, and it changes depending on what ingredients I have on hand and who is going to be eating it with me, but the basics are pretty much the same every time.
Unless, of course, I change them.
Barbara's Ever-Changing Pad Thai
Ingredients:

3 tablespoons peanut oil
1 2" cube of fresh ginger, peeled and sliced
5 large cloves fresh garlic, peeled
3-5 shallots, peeled and cut into halves
2 Thai dragon chiles, or 3-5 Thai bird chiles (this is all to taste)
1/4-1 teaspoon red chile flakes (optional)
1 boneless, skinless chicken breast, sliced paper thin
1 tablespoon fish sauce
1/2 tablespoon cornstarch6-10 fresh shiitake mushrooms, stems removed, caps thinly sliced
1 pkg 1/4″ thick rice noodles, soaked in warm water until softened, and drained
Fish sauce
1/2 cup chicken broth
1 1/2 tablespoons tamarind concentrate
1-3 teaspoons raw sugar or palm sugar–to taste
3 tbsp. oyster sauce (Amoy Premium with Scallops is -really- stellar in this)
zest and juice of one lime
1 bunch holy basil or regular basil, leaves removed from stems
½ bunch cilantro, leaves removed from stems
1 bunch scallion tops (green part) cut diagonally into 1" pieces
1/2 cup unsalted roasted peanuts, lightly crushed
Method:
In a food processor, grind ginger, garlic, chiles, chile flakes and shallots into a paste. (The Sumeet grinder rocks at this function.)
Toss and marinate chicken in fish sauce and cornstarch for at least twenty minutes.
Heat wok large enough to hold everything. When it is smoking, add oil, heat for a few more seconds, then add paste, and stir and fry about one minute. Add chicken and stir and fry until the most of the pink is gone. Add mushrooms, then fish sauce to taste.
Add rice noodles, and a bit more oil of necessary. Stir and fry until the noodles become a bit limp, watching that they don't stick too much to the bottom. Add more fish sauce, the broth and tamarind concentrate, and simmer a bit, stirring the noodles until they soften nicely.
Add the oyster sauce stirring to combine.
Add juice of lime, lime zest and herbs, stirring just until herbs and scallion tops wilt.
Sprinkle with peanuts, stir once more and serve.
12 Comments
RSS feed for comments on this post.
Sorry, the comment form is closed at this time.
Powered by WordPress. Graphics by Zak Kramer.
Design update by Daniel Trout.
Entries and comments feeds.