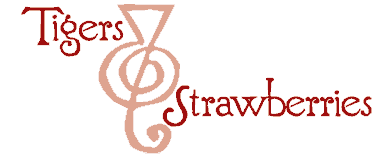 Cook Local, Eat Global
Cats and catnip together make for amusing images to share.
This is Tatterdemalion's first experience with catnip.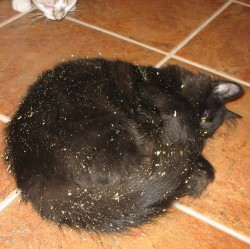 She has a good system worked out to get the maximum amount of exposure–she rolls in the stuff, and since her fuzz is so wild, the dried herb bits cling to her, everywhere.
As you can see, this strategy winds up to be very successful–she is covered from head to toe in most of the catnip I laid out for all seven cats.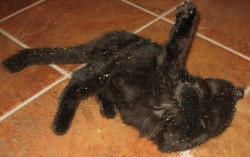 She is also apparently engaged in some sort of active feline yoga exercises. Or maybe it is Pilates. I don't know, and I don't think she does, either, but she appears to be having fun, and that is what matters.
Silly thing.
For more Weekend Cat Blogging fun, where food bloggers around the world show off pictures of their cats, go visit the amazing miracle cat, Kiri and his person, Claire, at Eatstuff. Every Saturday, they round up links to all the kitties from the participating blogs.
6 Comments
RSS feed for comments on this post.
Sorry, the comment form is closed at this time.
Powered by WordPress. Graphics by Zak Kramer.
Design update by Daniel Trout.
Entries and comments feeds.