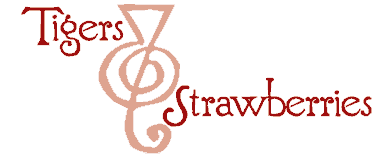 Cook Local, Eat Global
For those of you who missed my announcement a couple of weeks ago, I have been editing and writing for the newly-launched Well Fed Network, which is, as far as we know, the first blog network made up of only food-oriented blogs. The blog which I have been editing and writing for has been The Paper Palate, which covers food magazines and the dining and wine pages in major newspapers as well as any food coverage in any other print media we come across that is interesting.
I figured that I would post an update on my own blog here, so those who haven't been keeping up with The Paper Palate can catch the writing I have been doing for that blog here.
Though, really, there are some great writers on Well Fed, so you should check them all out.
Anyway, on January 5, I posted a response to a very snarky feature story about niche food blogs that appeared in the LA Times, wherein I asked the pointed question: "LA Times: Why Snark At Food Bloggers?"
Then on the 9th, I came across a story in the Washington Post about the laws and ethics concerning recipes and copyright. Considering it was an issue that affected all food bloggers, I wrote a post concerning it: "Recipes and Copyright." (Yeah, I didn't feel like getting creative with the title.)
After finding that the inflight magazine for Southwest Airlines, Spirit, had Rachael Ray on the cover of this month's issue, I had to find out why. It turns out that she came in last in thier list of the top ten current TV chefs, but she was the prettiest, so she got the cover. I decided to give my list of the top ten TV chefs of the past, then ask which one was pretty enough for the cover of my imaginary magazine.
Finally, on Friday, I covered a human interest story that is making its way through the press like wildfire about the little baker in Italy who put big McDonald's out of business with bread as his weapon. Of course, the truth is, this happened two years ago, so it isn't exactly timely, but that isn't bothering the press of the world, so I am not sure why it should bug me so much.
As I said, there are a lot of other good writers on the Well Fed Network, so check out some of these posts:
Anthony Silverbrow takes on the Food Fraud story from the UK, and thinks it sounds fabricated.
Courtney tells us about a researcher who sits in Starbucks all day and calls it research.
Derrick Schneider tells us about the fate of foie gras in Washington State, then gives us the run down on some common misconceptions about the endangered luxury item.
5 Comments
RSS feed for comments on this post.
Sorry, the comment form is closed at this time.
Powered by WordPress. Graphics by Zak Kramer.
Design update by Daniel Trout.
Entries and comments feeds.