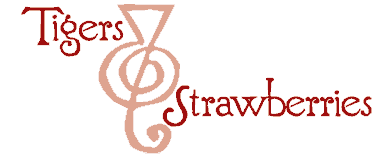 Cook Local, Eat Global
Kate has announced the winners in the 2005 Food Blog Awards at the Well Fed Network.
I won.
I am in shock.
I won the Reader's Choice Award for Best Post for Meat Comes From Animals, Deal With It, or Eat Vegetables.
I am virtually speechless, mainly because I did not expect to win–the competition was tough. I was up against Pim, for goodness sake–one of the three writers who inspired me to start this blog. (The other two are Clotilde at Chocolate and Zucchini and Kate at The Accidental Hedonist.)
I very much want to thank everyone who nominated me for the awards, and those who read the post and voted for it. It means a great deal to me to be recognized for my essay–because when I wrote it, I never dreamed that it would travel as far and wide as it did. It still amazes me, that months after it was written and posted, to find that people are still emailing it around the net, and I am still getting comments on it.
It started out as a simple rant–a vent, because I had heard one too many times, "Oh, I cannot eat meat that looks like it came from an animal."
And I guess it struck a chord with a lot of people.
Anyway, if I continue, I will blither in an inchoherent, incomprehensible fashion.
Once more, thank you to everyone who read that post, voted for it, sent it out on the net, commented on it and talked about it.
And thank you also to all of the readers of this blog who are part of the reason I keep plugging away, writing here and at the Well Fed Network. Thank you for reading, commenting, asking questions, challenging me, and forcing me to improve myself and grow. Thank you, also for being really cool people whom I am priviledged to get to know.
32 Comments
RSS feed for comments on this post.
Sorry, the comment form is closed at this time.
Powered by WordPress. Graphics by Zak Kramer.
Design update by Daniel Trout.
Entries and comments feeds.