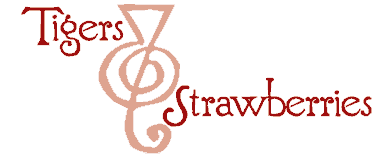 Cook Local, Eat Global
I may be organized in many parts of my life.
I may know where most every little widget and gadget in my kitchen lives, and I may know where I put the tax forms and where obscure bits of medical equipment live, but my pantry is a mess.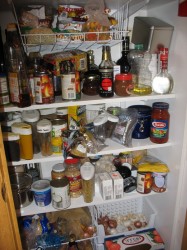 Behold the disarray, the mess, the jumble.
Chaos lives in my pantry closet.
Believe it or not, this is the improved version; when we moved into the house, the closet consisted of three shelves, nailed into the walls, unpainted and very deep. The top one was over my head, so when I put stuff on it, if it fell backwards, I would never see it again.
Now, there are shelves, baskets, racks, and all sorts of things and it is still in a state of perpetual slovenliness.
I feel like if people were to look in there, they would think me some sort of slatternly housekeeper, and would be loathe to eat at my table.
That's why I tend to keep people out of there.
The bad thing is, this is not the only place where foodstuffs are stored in this house. There is the upstairs kitchen, and the laundry room next door. That is where the big rice barrels (yes, barrels, as in plural, as in, I keep a lot f rice in the house.) Down in the basement, there are a few boxes of dry goods–beans, dried rice noodles, wheat noodles, and a few stray canned goods.
I really am not some sort of survivalist freak, y'all, just in case you were thinking that. I'm not sure why I keep so much food in the house, except that we went through a year with my Dad unemployed and there wasn't much food in the house. I remember too many dinners of pinto beans and cornbread in a row, with peanut butter and jelly sandwiches day after day for lunch, and only cereal for breakfast. I remember our pantry shelves being quite barren, and the worry lines the crept between Mom's eyebrows at the grocery store.
I think that is why I keep so much food around.
I think that is also why I tend to give so much food away: if there is a food drive, I bring bags of food. If donations are collected for homeless shelters or food banks, I give money. When I can, I volunteer at soup kitchens, and make boxes of food for folks to take home.
Of course, all of this explains my tendencies to stockpile food, but it doesn't really go into why I keep my pantry in such a mess.
That part, I cannot figure out.
In fact, now that I have revealed to the world my inability to keep a tidy pantry closet, I believe I will force myself to get up and straighten it.
Just to, you know, save face or something.
19 Comments
RSS feed for comments on this post.
Sorry, the comment form is closed at this time.
Powered by WordPress. Graphics by Zak Kramer.
Design update by Daniel Trout.
Entries and comments feeds.