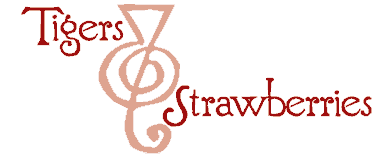 Cook Local, Eat Global
Some people are confused when they hear the words, "dry" and "curry" uttered together.
I am not really certain why; if one eats either Thai or Indian foods often, there are plenty of dishes that are called "curry" that are not soupy with gravy or sauce, but dry, with spices or spice pastes clinging to the main ingredients.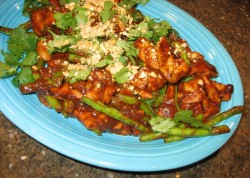 But there are people out there who think "curry" and instantly think "gravy," and think of a nice soupy dish poured over some kind of rice that is spicy and warm and good, and that is all there is to it.
Except, that isn't all there is.
In Thailand, there are lots of dry curries. And honestly, I have yet to meet one that I haven't liked.
One that I am particularly fond of is mu pad prik king, which translates literally to "pork fried chile ginger." Or, in plain English, stir fried pork with chile ginger paste.
The main flavorings, however, in the dry curry paste are not chile and ginger, but are chiles, galanal, garlic, shallots, lemongrass and lime zest, though of course, there are other ingredients. The ever-present shrimp paste is one, cilantro roots (or stems, as I was forced to use) are another, with white peppercorns bringing up the rear.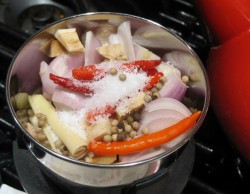 An unusual ingredient that is, according to Chef Victor Sodsook, used in the countryside is pork cracklings, which are the solid, browned leavings from rendering lard. Lacking those, I used a teaspoon of bacon grease–and was surprised to find that it really did add a great deal of flavor to the finished dish.
The making of any dry curry is simple, once the curry paste is managed. Again, I recommend the Sumeet grinder for anyone who makes large amounts of Indian, Thai or Mexican foods–any cuisine where seasoning pastes are regularly made is one that can be simplified by the use of one. I know that there are cooks who swear that using a mortar and pestle is relaxing, but I know that with my carpal tunnel as bad as it is, I would never cook Thai food from scratch if I had to crush every curry paste ingredient by hand. I just know it–and I am a patient, methodical and obsessed cook.
Which means if I wouldn't do it–neither would most people.
Once the curry paste is made, however, the procedure is quite simple.
It involves heating up a wok, adding oil, and cooking your protein item, whether it is meat, fowl, seafood or tofu, about halfway, then removing it to a bowl.
Then the curry paste is added, and stir fried until it dries out slightly and darkens a bit. It is seasoned to taste with palm sugar and fish sauce. A few spoonsful of water are added to rehydrate it, then the protein ingredient is added again, and stir fried until done. Then, blanched or steamed vegetables are added, stir fried a bit, some lime juice is added, and the food is turned around the wok one or two more times, then scraped into a serving platter and decorated with the appropriate garnishes.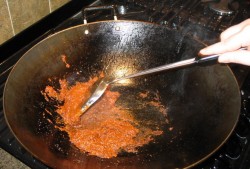 In the case of mu pad prik king, blanched string beans are added along with crushed peanuts and slivered lime leaves. Lacking lime leaves as I did–cilantro will do. It lacks the floral sweetness of lime leaves, but the fresh scintillating green of it is an excellent contrast to the sharp, very intensely flavored dry curry.
Dry curries are meant to be eaten with a large amount of rice. A spicy clear soup like tom yum goong (hot and sour shrimp soup) would go admirably with it as well.
This was the first time I had made this particular curry and both Morganna and I loved it. I added fresh shiitake mushrooms to the dish, and while I adapted the paste from Kasma Loha Unchit's Dancing Shrimp, I also used the pork fat idea from Victor Sodsook's True Thai. For the curry itself–I adapted it from Kasma's version using shrimp. Instead of steaming the beans and using them as a garnish, I blanched them and threw them into the stir fry. As noted before, I had no lime leaves, so I used cilantro instead, and I added not only the pork fat to the curry paste, but also the white peppercorns, and four Thai bird chiles for heat.
We had a lot of leftovers, mainly because Zak was too tired to eat (he was arguing with our plumbing all day–he won, but I think his back is the worse for the victory), and Morganna was feeling rather blah as well. I think that the only thing I will change about the recipe next time, is that I will not use all of the curry paste as Kasma directed me to. I think it was slightly too much. It was very good, but very, very overwhelming. I think I would use only 2/3 of the recipe and use the rest for some other flavorful purpose sometime later in the week.
No matter–we all liked it and the leftovers will do admirably for supper tomorrow–I promised Morganna that I would make Hillbilly Fried Rice for us, so stay tuned, and see what happens when you set a hillbilly loose in a kitchen with a wok, some bacon, a mess of greens, a pile of rice and various Asian leftovers.
7 large dried New Mexico red chiles, stems removed and soaked
4 Thai bird chiles, stems removed
1/2 teaspoon kosher salt
1/2 teaspoon white peppercorns
1″ section fresh galanga root, peeled and chopped
1 stalk of lemongrass, dried upper part trimmed away, the lower part cut into chunks or slices
2 tablespoons cilantro root or stems, chopped
zest 1 small lime
1 head garlic peeled and chopped
2 medium shallots, peeled and chopped
1 teaspoon shrimp paste
1 teaspoon bacon grease
Method:
If you don't have a Sumeet, chop up your soaked chiles, then one at a time, in order, grind the ingredients into a paste using a mortar and pestle–or alternatively, grind it as far as possible with a blender, and finish with a mortar and pestle. If you have a Sumeet, grind them into a paste.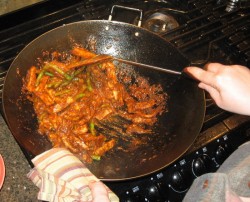 Ingredients:
2 tablespoons peanut oil
1 pound lean pork loin chops, cut into thin slices
Prik king curry paste
2-4 tablespoons water
1-3 tablespoons fish sauce
1-2 teaspoons palm sugar (if you don't want to get palm sugar, use raw sugar, but only use 1/2-1 teaspoon of it–it is sweeter)
6 large fresh shiitake mushrooms, stems removed, caps sliced a similar thickness to the pork
2 cups blanched string beans that have been topped and tailed and snapped in half
juice of one lime
3 tablespoons coarsely crushed peanuts
1 cup cilantro leaves
Method:
Heat wok until smoking, add oil. Heat until oil shimmers and dances from the heat of the wok. Add pork, and stir fry until it is about halfway done–half of the pink will be gone. Remove from the wok, draining most of the oil back into wok. Set aside.
Add curry paste (2/3 of it, or all of it, as you see fit), and stir and fry for about three minutes, until it darkens slightly, dries out a bit and is very, very fragrant. As it dries, add about 2 tablespoons of water, and continue cooking until the three minutes is up.
Season with smaller amounts of fish sauce and palm sugar.
Add the pork back to the wok, along with the curry paste, and add the mushrooms. Stir fry, about two minutes, until the pork is really starting to firm up–test a piece between your fingers. If it still feels flaccid in the middle, it is underdone, but if the meat is springy to your touch, it is done. Add the beans and stir fry. Taste the sauce. If necessary add more fish sauce and/or more palm sugar.
Add the juice of one lime, then scrape into a serving platter and garnish with peanuts and cilantro.

Serve with generous amounts of steamed jasmine rice.
17 Comments
RSS feed for comments on this post.
Sorry, the comment form is closed at this time.
Powered by WordPress. Graphics by Zak Kramer.
Design update by Daniel Trout.
Entries and comments feeds.