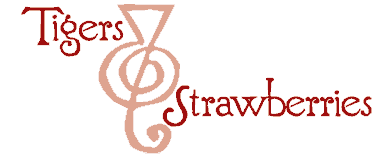 Cook Local, Eat Global
Lo mein is a popular dish in Chinese-American restaurants, and sometimes it is quite good. Meaning "stirred noodles," it is generally made by stir-frying a topping of some sort–meat, tofu, vegetables, with some sauce made from thickened broth seasoned with wine, soy sauce and sesame oil.
All too often, in restaurants it is a travesty of limp, gummy noodles drowned in sticky, pasty sauce. I don't know why such a simple dish should be treated so roughly by restaurant cooks, but perhaps it is because many Americans like lo mein made that way.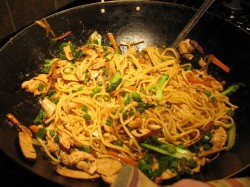 I like it best when it is made from fresh wheat noodles, which can be purchased in Asian markets either in the refrigerated section or frozen. I learned to make lo mein at the China Garden from one of the under-chefs. His name, oddly enough, was Lo, and this is the way he showed me to use fresh wheat noodles so that they didn't get too soft or squishy.
If you buy them frozen, simply leave them on the counter for a few hours to thaw, or in the refrigerator overnight. These must not be cooked for very long–they are soft and pliable. I bring the water to a boil and then sift them through my fingers into it, and stir, then cook them for no more than two or three minutes. Any more and they will become mushy and unappetizing.
Then, drain them, and rinse them immediately in cold water, until they cool. The cold water does two things. One, it cools the noodles and keeps them from cooking under their own heat, and two, it firms the starch up so they have a more toothsome texture. Lo was very clear on this point, and I have heard it again and again from Chinese chefs. Always rinse your noodles in cold water, even if you are going to put them into hot soup right after. And they are right–it makes a difference.
Then, after the cold water shower, drain the noodles again, and pour a half teaspoon of sesame oil into your hands, and massage it through the noodles to keep them from sticking.
That is all that is necessary to get the noodles right.
As for the topping–it can be anything. I like chicken or tofu, or as I made tonight–chicken and tofu.
With mushrooms, carrots, and greens, and flavored with onions, ginger, garlic, a single red jalapeno and fermented black beans, the mixture is varied in color and texture, flavor and and fragrance. The noodles are tender-chewy, the mushrooms are tender, the carrots crisp, the greens velvety, and the chicken delicious. The tofu is chewy without being rubbery and the aromatics come together to make a very well-flavored dish without being harsh or overly seasoned.
To make the lightly thickened sauce, it is merely a matter of marinating the chicken in plenty of wine and cornstarch, then after stir frying it with all of the vegetables, adding a bit of soy sauce and more wine, and deglazing the wok. Then, in go the noodles, and about 2/3-3/4 cup of chicken broth. While you are busy stirring the noodles into the topping, the cornstarch is busy thickening the sauce into a nice glaze that clings to everything without being heavy, greasy or overly sticky and sweet.
It is a very comforting dish, very easy and quick to put together, and a very homey, simple supper for friends and family.
Altogether, lo mein is one of my favorite ways to eat noodles.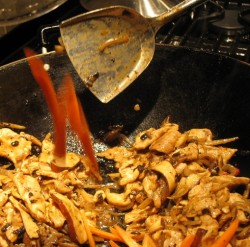 Chicken Lo Mein with Greens and Mushrooms
Ingredients:
1 pound fresh Chinese wheat noodles
1/2 teaspoon sesame oil
1 1/2 tablespoons peanut oil
1 small onion, thinly sliced
1 1/2″ cube fresh ginger, peeled and cut into thin slivers
1 ripe jalapeno, thinly sliced on the diagonal
2 cloves garlic, peeled and thinly sliced
1 1/2 tablespoons fermented black beans, lightly crushed
1 whole boneless skinless chicken breast, very thinly sliced
2 tablespoons Shao Hsing wine
1 1/2-2 tablespoons cornstarch
handful fresh shiitake mushrooms, stemmed, caps cut into thin slices
3 squares pressed spiced tofu, sliced thinly
1 tablespoon Shao Hsing wine
2 tablespoons thin soy sauce
1/2 cup jullienned carrots
1 bunch tatsoi, bottom trimmed off, leaves washed and dried
2/3-3/4 cup chicken broth
1/4-1/2 cup thinly sliced scallion tops
1/2 teaspoon sesame oil
Method:
Bring large pot of water to a rolling boil. Loosen up the bundle of fresh noodles with your hands until they are all separated and sprinkle them into the pot, then stir with a chopstick so they do not cling together once they are in the water. Keep stirring so they don't touch the bottom, and watch over them. Do not let them boil more than two or three minutes–I tend to boil mine for about two and a half minutes. Then drain them into a colander in the sink, and rinse thoroughly with cold water tossing and separating them with your fingers so none of them even get a chance to stick together.
Then let them drain for a minute or two, and pour some sesame oil into your hands and massage it through the strands of noodles. This keeps them from getting sticky while they sit waiting to be stir fried in the wok.
And speaking of the wok, it is time to heat it up until it smokes, and then add the peanut oil. Wait until it is hot enough to shimmer, then add the onions and stir fry until they are deep golden. Then add the rest of the aromatics, and continue stir frying until the onions are browned and everything is wonderfully fragrant.
Add the chicken, pat it into a single layer in the wok and leave it to sear and brown on the bottom for about a minute and a half without distirbing it. Then, stir fry. When half of the pink is gone from the chicken flesh, add the mushrooms and tofu, then deglaze with the wine and soy sauce.
Continue stir frying, then add carrots, and stir fry for about another minute–by this time the chicken should have all of the pink gone.
Add the greens, and the noodles, and the chicken broth. Stir fry quickly, mixing everything thoroughly. Three things happen at this time–the noodles absorb sauce flavor, the sauce thickens and clings to the ingredients, and the greens wilt to a velvety texture.
When everything is well mixed and the sauce is clinging to everything, remove from heat and stir in scallions and sesame oil, then serve in bowls with chopsticks.

Note: This is a very versatile recipe. You can use any meat or seafood, and any tofu or vegetables you like in any combination. Change the seasoning, add more chiles, use chile garlic paste- or hot or sweet bean paste–whatever you like. Customize it to your own taste. That is the beauty of these simple Chinese homestyle recipes–they reflect the unique flavor of your kitchen and the more times you make them, the more they become yours.
Tagged with: IMBB # 22 + Noodle
16 Comments
RSS feed for comments on this post.
Sorry, the comment form is closed at this time.
Powered by WordPress. Graphics by Zak Kramer.
Design update by Daniel Trout.
Entries and comments feeds.