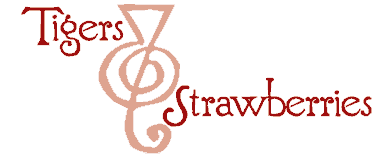 Cook Local, Eat Global
It was supposed to rain buckets all day.
Instead, the weather was mostly balmy, though sometimes grey and damp.
We didn't have firecrackers, but we did have a plethora of red balloons that Morganna and her friends popped after the party, in order to scare away the evil spirits.

There was lucky money, and the entire house was festooned in red tissue paper and ribbons, and green crepe (to bring money in the coming year) with balloons and a centerpierec of golden citrus fruit piled high next to a ceramic fu dog, many maneki neko to beckon in luck, and a crockery filled with chopsticks for the guests to use.
And then, there was the food: we started with siu mei–steamed pork buns shaped like purses, then scallion pancakes, pan-fried to a crispy finish. Thinly sliced turnip cake came next, creamy white inside and pan-fried to a delicate golden lace on the outside. Then, spring rolls filled with sweet bamboo shoots, slivers of pork, Chinese sausage-lop cheong-shrimp, black mushrooms and garlic chives, then deep fried to resemble gold ingots. Then came three batches of steamed buns: first the sweet red bean paste filled ones, then the mushroom filled ones of my own devising which take the place of char sui bai for vegetarians and Muslims, and finally the pork filled Cantonese classic.
I forgot to take pictures of most of this bounty, as I was in the kitchen, pretty much chained to the stove, constantly battling oil spills, recalcitrent dough and steamers trying to fall into their water baths, but at least my Mom dragged Morganna from her friends and me from my kitchen successfully to get a picture of the three of us.
There is a glimpse of all the fun, and food, the festoons and frolic. Morganna dressed as her Uncle Briyan said, "in girl clothes," which is not a usual sight for us, and laughing joyfully, a sight which is becoming more and more prevalent, thankfully. Behind her is my mother and I; you can see through the laughter and proud beaming smile, and the shy quirked mouth that each of us exhibet, that none of us is fond of being photographed. It isn't very well posed, but it is true to our personalities.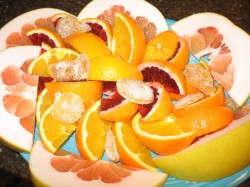 It was a fun time, even if I did cook for two days straight and had houseguests (very welcome and beloved ones at that) the entire time. Our friends and family pitched in to make the party go–Mom stayed in the kitchen and helped me, while Uncle Bryian, armed with his bagua compass, occupied the kids with decorating the inside and outside of the house in the colors red and green–red for fortune, joy and luck, and green for money, growth and abundance (and because we had run out of red). Brother Thomas, bless him, arranged the fruits and flowers, and Morganna's gifts, placed the napkins and plates just so and set up the tea station, and took some photographs. (We drank puer tea all day–which Mom had never had. She swears she hates tea, but she sure did like this stuff. I think I may gift her with some, as she has only had Lipton before, and so knew no better.)
After all of the dim sum was consumed, and our friends, family and guests were becalmed a bit, I had Tom bring me the centerpiece of citrus he had so carefully arranged, and cut each fruit into wedges, then piled them onto a sky-blue platter. Blood oranges, navel oranges, and pomelo made a beautiful bed for a scattering of golden slices of crystallized ginger–they looked like sparkling gold coins dropped over a platter of precious gems.
Most importantly, they tasted divine, like kisses of the summer sunlight that yet remains elusive, but which, like fortune, joy, and luck, we entice into our year by eating its proxy and sharing its sweetness.
14 Comments
RSS feed for comments on this post.
Sorry, the comment form is closed at this time.
Powered by WordPress. Graphics by Zak Kramer.
Design update by Daniel Trout.
Entries and comments feeds.