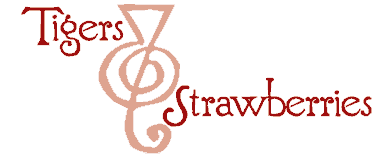 Cook Local, Eat Global
It is all the fault of this book I am reading, you see.
Entitled, Curry: A Tale of Cooks & Conquerors, by Lizzie Collingham, it is a history of the development of the dish known as curry. (Who would have guessed?)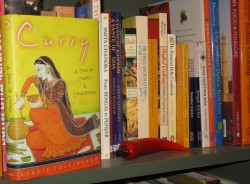 It is also utterly engrossing, at least to a food geek like myself who finds the development of cuisines to be fascinating. I had known much about the Persian influence upon northern Indian cusine, and of course, I knew that it was in the port of Goa that the Portuguese brought the chile pepper from the New World to India where it then spread over the south like a wildfire. But, I really didn't know that much about the British influence upon Indian food–I knew more about it from the other way around: the Indian influence upon British food. So this book is keeping me occupied, all through the day and night. (Look for a review of it when I am done.)
It is also making me hungry.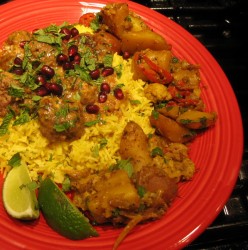 So, I am reading it, and it is talking about the Mogul emperors in the north of India, and how they brought the Persian way of cooking rice to India, and brought the taste for using lots of dairy products, fruits, nuts and meat in the cooking, and I thought to myself, "Oh, I need me some of that."
And then, I got to the next chapter which was all about the cooking of the south of India, and how when the Portuguese brought the chile pepper, everyone was using it in everything along with mustard seeds, ginger and cumin and I said, "Oh, damn. I need some of that, too."
So, I put down the book, went to the kitchen, dug around, then headed off to the grocery store and picked up a few things.
Because I had to have curry. I just had to. Had to, had to, had to–because there is nothing worse than reading about all of these delectable dishes and not being able to taste any of them.
So I fixed up two dishes, plus some turmeric-scented basmati rice: one to represent the northern, Persian influenced style of the Mogul empire, and the other to stand up for the fiery, intense vegetarian foods of the south.
I decided on lamb kofta in a yogurt sauce with pomegranate and mint, and aloo gobi.
Ah, aloo gobi. It had been too long since I had eaten it.
Aloo gobi is quite simply potatoes cooked with cauliflower in a turmeric-colored, very thick curry sauce. Many versions of it that I have eaten in restaurants that cook primarily northern Indian food have been quite tame, but my favorites have been the ones that are redolent of mustard and cumin seed, snapping with fresh ginger and browned onions and filled with the fire of many fresh chiles.The sauce is not plentiful, but is very strongly flavored, and clings tightly to the potato chunks and cauliflower florets.
It is one of my favorite "classic" curries, and is one that I have never made before, mainly because I could always get it in local Indian restaurants.
As that is no longer the case, here I am, book in hand, hankering for a bowl of aloo gobi and no great Indian restaurant within an hour's drive.
What else is a woman to do but grab the cauliflower by the head and make it into a curry?
Did I use a recipe?
No. I have to admit that I did not–I just remembered what the great chef at Akbar in Maryland put in his, and followed suit. He was from Dehli, mind you–in the north, but one of the waiters told me that he had also spent time cooking in Hyderabad, in the south-central part of India, and so had picked up the southern ways with chiles, mustard oil, mustard seeds and fenugreek greens.That was what made his food so good, I think–just when you thought he was just an amazingly proficient chef in the complex court dishes of the Mogul empire, he would turn around and make a steaming platter of aloo methi–potatoes fried with fresh ginger, chiles, ground spices and bittersweet fresh fenugreek green that exploded with the flavors of southern India from the first bite.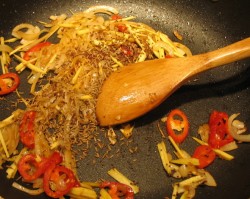 I didn't use a recipe for the kofta, either, to be honest. At this point, I just work instinctively with Indian spices, and only use recipes for bread or for dishes that I am not familiar with. For the kofta, I went with a basic kofta recipe, similar to my saag kofta, and changed the spices to reflect a less spicy, more sweetened flavor. I also added pomegranate molasses to the meat mixture and the sauce, in order to bring that sweet-sour fruit flavor that I wanted to highlight in honor of the Persians, who brought pomegranates to India. I also removed the turmeric and paprika that are used to color the yogurt-based sauce for the kofta; very much wanted the dish to contrast with the highly spiced brilliant yellow, hot aloo gobi.
One more note about the potatoes before I go to the recipes: most Indians would peel thier potatoes, so to be authentic, you should, too. However, I had some very pretty, very young, tender fingerling potatoes, both red and white, in the house, and those are the ones I used. I just scrubbed their baby skins until they were squeaky-clean, and cut them into sixths or quarters, and used them that way. Their waxy texture suited the dish admirably–they kept their shape and the creaminess of their flesh contrasted with the crisp-tender cauliflower. You can use whatever potato you want, but remember that the waxy ones will hold their shape and have a delightful texture. I tend to use the mealier potatoes for fried dishes like pakora or aloo methi.
After the first bite, Zak and Morganna declared that reading the history of curry was good for me and that I should do it more often.
I am sure that their enthusiasm for my reading material was not in the least bit self-serving.
Ingredients:
8 small fingerling potatoes, well scrubbed and cut into quarters or sixths, depending on size
pinch salt
1/2 head cauliflower, cut into florets about the size of the potato chunks
pinch salt
2 tablespoons mustard oil or peanut oil
1 small onion, sliced thinly
1 1/2″ cube fresh young ginger, peeled and cut into very thin slivers
2 ripe jalapenos, sliced thinly (or to taste)
1/2 teaspoon whole cumin seeds
1 teaspoon mustard seeds
salt to taste (about 1/2 teaspoon)
Masala Ingredients:
1/4 teaspoon fenugreek seeds
generous pinch asafoetida/hing powder
1/2 teaspoon turmeric
1 teaspoon cumin seeds
1 1/2 teaspoon coriander seeds
1/2 teaspoon black peppercorns
1 handful fresh cilantro leaves, roughly chopped
wedges of lime
Method:
In two separate pots of appropriate size, just cover potatoes and cauliflower with water salted with just a pinch of salt, and bring to a boil. Cook cauliflower until it just begins to soften, then drain and set aside. Cook potatoes until they are halfway soft, turn off water, but do not drain.
Grind the masala mixture into a fine powder.
While the potatos and cauliflower are parboiling, heat oil in a skillet or saute pan and add onions. Cook, stirring, until they are half-browned–a dark reddish gold color–then add the ginger and 2/3 of the chile. (Reserve the rest for garnish.) Keep cooking for another minute, add whole cumin and mustard seeds and continue cooking until the cumin seeds darken, the mustard seeds start popping, and the onions are a deep reddish brown. It will all be very, very fragrant. Add the masala powder and keep stirring, cooking until the powder toasts slightly–about one more minute.
Add the potatoes and their cooking water, and the cauliflower. Stir to combine. Bring to a brisk simmer. If there isn't enough water, add some more to just cover all ingredients. Add salt to taste.
Allow to simmer down until there is barely any sauce, and what is there clings tightly to the potatoes and cauliflower florets.
Stir in reserved chiles and cilantro and serve with lime wedges–the shot of sour really makes the spices sparkle.
Pomegranate Kofta
To make the pomegranate kofta, follow my instructions for saag kofta, but make the following changes:
1. Leave out the collard greens altogether. Instead, remove the seeds from a medium pomegranate and set aside.
2. For the curry paste, use the following spices, and follow the directions in the recipe for saag kofta: 1/2″ cube fresh ginger, 3 cloves garlic, 1/4 teaspoon dried chile flakes, 1 teaspoon cumin seed, 1/2 teaspoon fennel seeds, 1/2 teaspoon cardamom seeds, 3 whole cloves, 1 black cardamom pod, 1/2 teaspoon black peppercorns, 1/2 teaspoon salt, 1/2 teaspoon pomegranate molasses.
3. For the sauce, follow the directions and ingredients for saag kofta, except make these changes and omissions: no paprika or turmeric, and add 1 teaspoon pomegranate molasses with the cream.
Serve with a generous handful of pomegranate seeds and minced mint leaves sprinkled over the kofta.
12 Comments
RSS feed for comments on this post.
Sorry, the comment form is closed at this time.
Powered by WordPress. Graphics by Zak Kramer.
Design update by Daniel Trout.
Entries and comments feeds.