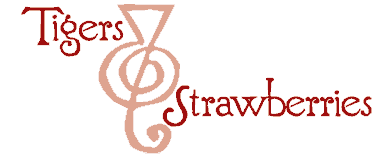 Cook Local, Eat Global
You know, I am not good with extremists of any sort.
And that apparently includes freegans.
Even when I agree with some portion of whatever philosophy they espouse, there is something unsettling about extremist behavior that sets my teeth on edge.
I think it has to do with my inability to respect hypocrisy in any form. Or, maybe it is that while some of what freegans espouse makes sense, most of their logic has holes in it big enough to drive a recycled vegetable-oil burning Willys Jeep through.
I think in the end, that it is a combination of the rampant hypocrisy and the logical inconsistencies of the freegan lifestyle which gives me the desire to back away slowly, and hope that I go unnoticed by the idealistists who go dumpster-diving for their dinners. Hypocrisy and illogic are a potent mixture that reeks of irrationality, and frankly, people who are irrational by nature creep me out.
Before I go any further, it behooves me to defined what exactly a freegan is. Here is a definition from Wikipedia: "Freeganism is commonly understood as the practice of abstaining from any consumer goods except in those cases where the goods are obtained for free and have been divorced from the harm done by their production. The word "freegan" is a portmanteau of the words free and vegan."
That doesn't sound so bad.
Unless you think about it.
How, exactly can consumer goods be "divorced from the harm done by their production?"
They can't.
Just because one picks up something for free that has been discarded, and doesn't directly give money to the corporation which produced it, doesn't make the production of that item harmless. I mean, the Nike shoes pulled out of a dumpster still were made from cowhide that came from a factory-farmed animal that was raised standing in her own feces, pumped with chemicals and feed made from ground up bits from other animals, and then slaughtered in an abbatoir by methods too gruesome to enumerate. The shoes were still sewn by underpaid workers who may or may not be children toiling in Third World sweatshops under life and health threatening conditions. The dyes and artificial materials in the shoes were still made by unsafe industrial processes that release harmful chemicals into the environment.
All of these facts are still true, whether a freegan picked up the shoes from a dumpster, a trashbag in front of a brownstone, traded for them at a freemarket, or lifted them from a store. (Yes, there is a document on Freegan.info that condones shoplifting. Yes, I was disgusted, too.)
The only difference is that no money was exchanged in the final link in the consumerist chain.
The lack of money changing hands hardly "divorces" a consumer good from the harm done in its production. That harm still occurs, and to say that if one doesn't pay money for the item in question, the individual is somehow negating the harm is delusional, dishonest and frankly, full of crap. While it may be true that freegan lifestyles minimize the environmental impact of thier lives upon the Earth by limiting their involvement with American consumerist society, it is not true that "the Freegan holds no responsibility for the material and energy resources used in the production process, since the goods have already exited the production-consumption cycle where money is used in exchange for goods."
It is disingenuous, not to mention hypocritical, for an individual to benefit from the use of a consumer item, yet claim no responsibility for the harm that went into the making of that item, simply because they paid no money for it. That harm is still there, and it still is happening, and the freegan is still benefiting from it, all the while protesting against the evils that arise from capitalism.
However, what I see in the freegan lifestyle is that regardless of how much disdain they hold for capitalist society, they are still benefiting from it. They decry consumer waste, but they have no problems utilizing the fruits of that waste.
They are scavengers, living upon the edges of the society they supposedly do not respect.
Freegans are right to go on about the excessive waste in American consumer-driven capitalist society. Americans do throw too much of everything away. We are a disposable society, and our landfills are bursting with plastic crap, excess packaging, appliances, furniture, electronics, clothing, medical waste, and worst of all, food. We toss everything out, and it isn't right. It's bad for the environment, it's bad for us (because it is bad for the environment) and it is a hideous waste of resources that can be utilized by ourselves and others.
Freegans support efforts such as freecycling, trashpicking, and freemarkets in order to take useful items out of the waste stream and put them back to use. These are good and admirable goals, which I myself wholeheartedly support and practice.
I cannot help but have sympathy for the freegan view of trashpicking when it comes to ensuring that useable goods never make it to landfills, since I was taught trashpicking as a small child.
My paternal grandmother, Gram, was an inveterate trashpicker. Having lived on a low income most of her life, she had developed a finely tuned trashpicker's awareness as a young mother. She discovered that better off neighbors didn't always donate their unwanted clothing, appliances and furniture to Goodwill or other charities–they often threw them away. So, she learned to cruise along the curbside on evenings when trash went out, just to see if she could find something good.
And she often did. Chairs, tables, vases, coats, shoes, books–you name it, she found it. Everyone in the family teased her for her trashpicking ways, but she called it, "treasure hunting," and never gave up the habit. She would walk her dog in the gloaming, smoking a cigarette, and at every pile of trash, she would pause, looking for likely "treasures."
When I got old enough to carry stuff, I became a well-trained accomplice. Most of her terra cotta flowerpots came from the garbage, and several pieces of antique furniture that she eventually passed down to family members started out as throw-away finds.
When I went dumpster-diving to rescue an antique bedstead in college, and dragged it home to my apartment, I called Gram to tell her.
She was very proud.
But, it is dumpster diving of a different sort that gets freegans the most media attention.
Not only do they rescue antiques from the trash and polish them up for their own domiciles, they also glean food from garbage, and sometimes even eat food left on plates by other diners in restaurants and fast food places.
Over 100 billion pounds of edible food is wasted every year in the United States.
That is a fact.
In the midsts of all of this waste, there are millions of homeless people, working poor, rural poor, children and senior citizens in America who go hungry. Food insecurity is on the rise, driven by high unemployment rates and a weak economy.
Freegans do see the irony of this situation, but their response is not to work to reduce this imbalance; they only seem interested in helping themselves to the bounty that can be found in the garbage.
According to a New York Metro article by Amy Zimmer, some freegans, such as Adam Weissman, are unemployed by choice, and see their foraging for discarded food not as a matter of survival, but, rather, a "political act." Others, such as Billy Pruz, say that they want people to "think about mass consumption, about the waste we produce." He continues, saying, "Even if I had the money I wouldn't want to spend it when there's so much trash."
A third woman interviewed for the article, Janet Kalish, a schoolteacher from Queens who admitted that she had no economic need to dumpster-dive, said that she had soon become a full-time freegan after her first foray. "In this one night, I got more bread than I need for a week," she said, adding, "I am concerned that when I open a bag I might be touching urine from a dog, but I try not to touch anything too sticky."
No mention was made by any of these three people, who arguably were not in need of free food (certainly not the woman who was employed and who admitted to no economic need), of the many homeless in New York who must go through garbage from grocery stores in order to have enough for themselves and their families to eat. You know, people like Morlan,19, quoted in a 2004 article by Inter Press Service, who, when seen by the manager of an upscale Manhattan grocery store as she pulled bread, fruits and vegetables from the garbage he had just put out, said, "I have zero cash right now, and no place to stay. What do you expect me to do?"
Not only do freegans with money compete with the homeless who have none, they network via the Internet on places to find the best dumpsters for food. This creates a "survival of the fittest" situation where the homeless who have limited (if any) access to the Internet are pitted against the freegans for food that arguably, many freegans do not need.
Most media coverage of the freegan movement focuses on the "squick" factor of people eating out of garbage cans, and overlooks the more pressing issue of the fact that many freegans seem to be priviledged, middle-class individuals who are practicing "voluntary simplicity," by being purposefully unemployed or underemployed, or who are employed, but still feel the need to scavenge food that could be used by others who have no money, in order to "make a political statement." Instead of asking the tough questions like "So, what about hunger and homelessness among people who don't have jobs? Are you worried about that?" Most interviewers are like NBC's Tucker Carleson, who completely missed the deeper implications of the choice of a freegan lifestyle, and instead noted, "It is kind of nasty. I mean, dumpsters are nasty," while he interviewed freegan, Madeline Nelson, a former Fortune 500 company employee.
Even when Nelson mentioned the "Good Samaritan Law" that allows businesses and individuals to donate edible food to charities who work to fight hunger without fear of being sued, Carleson didn't come back with the most obvious response, which would be: "Gee, you had a job, you're well-dressed. You don't look like you need to be scrounging around in dumpsters for food. So why not try to get the stores who throw out the food you eat to donate it to a food bank so that people who really need it can get it?"
No. Instead, he just went on about how gross it all was.
This is the crux of my issue with freeganism and freegans.
After reading the entire website, Freegan.info, including all of their manifestos, philosophy and practices, I see a bunch of privileged people who are fierce critics of American capitalism, yet, instead of doing anything constructive in response, they focus on self-benefit.
In a word, they are parasites.
They say that they are dropping out of the consumerist slave society that we live in, striking blows against corporate America, but in truth, they are living off of the refuse of corporate America. On the one hand, they decry agricultural methods as being harmful to the environment, and yet they feed from the very surplus that agriculture produces.
Freegans harken back to a simpler time, when humans were hunter gatherers, and life was "better." In his essay, Liberating Our Consumption, Liberating Our Lives, Adam Weissman brings up the mythic Golden Age of Primitive Man, when all was beautiful and life was peaceful: "Before production, before industry, before agriculture, even before the advent of the ritual hunt, humans provided for themselves through direct communion with nature's bounty, foraging fruits, nuts, seeds, berries, and roots. The land was not owned and food was not a product. People consumed to meet their needs, with little opportunity for waste or overconsumption. The only "producer" was the Earth itself. Human patterns of consumption were governed within the context of our native ecosystems. Humans existed as equals with other animals and the earth, not as owners, conquerors, "stewards," or destroyers."

I really hate to tell Weissman this, but his understanding of food anthropology and human prehistory is limited at best, and outright flawed at worst. Besides, I hardly equate taking the subway uptown to scavenge out of dumpsters with the real work that is involved in gaining enough calories to live in typical hunter-gatherer societies; for Weissman to conflate the two points to the delusional manner of the thought processes upon which freeganism is founded.
But be that as it may, you notice that the focus of his essay is on "our consumption," and "our lives." There is no real mention of helping out poor folks who are hungry. Lip service is paid in freegan philosophy to "not taking food from those who need it," but the guidelines, Why Freegan? instruct neophyte freegans to visit soup kitchens and free lunches, or to scam for food stamps and government food handouts, with the reasoning that most of these places have plenty of food to spare, and they are just giving it away, so why not?
The truth is, most food banks, soup kitchens and organizations who give away free lunches are severely underfunded, and with the rising number of hungry families and individuals in this country, the problem is growing worse. Most workers at soup kitchens and food banks will not turn anyone away, but for a freegan who may or may not be employed, who is taking the food offered to them not out of need, but to make a "political statement," is nothing but pure selfishness and childishness in action.
What turns my stomach about the entire concept of freegans eating out of dumpsters isn't the idea that "dumpsters are nasty," but that there are existing organizations of people who work together to try and reduce the massive amounts of food wasted in this country by persuading grocery stores, restaurants, individuals and corporations to donate what they would throw away to be distributed to food banks, homeless shelters, soup kitchens and other charity groups. America's Second Harvest is the largest group, and they do great work getting stores to donate what they would otherwise throw away, then do reclamation work on it, so that it can distributed to food banks. A smaller grassroots organization, Food, Not Bombs, does similar work with food reclamation, although, they also stage vegetarian meals made with excess produce that would otherwise be thrown away, in order to make the public more aware of the issues of food waste and hunger in the United States.
The freegans do seem to know about Food, Not Bombs, because in Why Freegan? right after the admonition to not take food from those who need it, freegans are told, "Go to Food Not Bombs and help out, then take some extra soup and bagels for the road."
Instead of just helping out volunteers who are trying to get food to the hungry because it is a good thing to do, freegans are urged to take some food, "in payment" one might say.
You know–for people who are against consumption, they sure know how to get what they want. Everything they seem to stand for, everything they do revolves around themselves. They will help a volunteer organization, but only if they get "paid" with food. They may not want to pay anyone else, but they sure want something for themselves.
No matter how it is dressed up, Freeganism is at base a self-serving ideology. It is just as selfish as the capitalism that it decries. It cannot exist outside of capitalism, indeed, it is dependant upon it. Without the massive waste that consumerism produces, the choice to live a freegan lifestyle would be impossible. Those who are truly dependant upon scavenging for their survival do not have this choice, and freeganism does very little to alleviate this condition.
74 Comments
RSS feed for comments on this post.
Sorry, the comment form is closed at this time.
Powered by WordPress. Graphics by Zak Kramer.
Design update by Daniel Trout.
Entries and comments feeds.