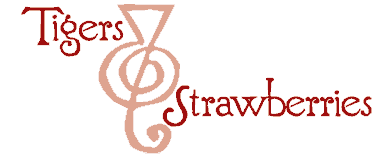 Cook Local, Eat Global
Claire, of Eatstuff, and beloved companion of Kiri, the Amazing Christmas Miracle Cat, asked us to show folks what the cutest thing that our cats will do for this week's Weekend Cat Blogging.
However, I already posted a couple of pictures illustrating that last week, (if you missed them, check them out here), so instead, I am posting a photograph that Zak took for me, which I call, "Gummitch the Handome."
It is such a good picture, I think I have to print it out and hang it in the kitchen or my office, because it is such a good portrait of my sweet boy cat.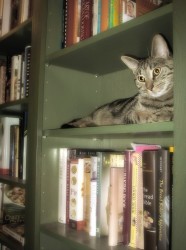 People in multiple cat households are like grandparents. We are not supposed to have favorites among our cat children. But, just as grandparents do have favorite grandchildren, whether they admit it or not, we cat-parents have our favorites, even though we love them all.
Gummitch, who was named after a cat in a Fritz Leiber story (even though he looks nothing like the Gummitch in the very famous tale–what he does look like is the cat on the cover of the book where I first read the story), is my especial favorite. We saw him two months after I suffered a miscarriage, and he was such a beautiful kitten, that we adopted him.
The love of a kitten is very good for soothing the sorrow of a grieving heart. And Gummitch is one of the most loving cats I have ever known.
He immediately bonded to me, and would sit for hours on my lap or next to me on the couch while I worked at writing, and he stayed small for so long, we thought he would never grow up.
But, grow he did, until he has turned into a very handsome, lithe, princely sort of cat. He is goodnatured, and loving to with the other cats. When we brought Tatter home, he started taking care of her immediately: washing her, cuddling down with her to sleep and gently playing with her.
And he still keeps me company. Most days, while I write in my office, he sleeps in the reading chair by the windows, content to keep an eye on me from there. Sometimes, he will wake up and put his paws on my leg, demanding a cuddle, which of course, I grant–how can one refuse eyes like that?
9 Comments
RSS feed for comments on this post.
Sorry, the comment form is closed at this time.
Powered by WordPress. Graphics by Zak Kramer.
Design update by Daniel Trout.
Entries and comments feeds.