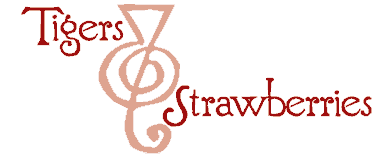 Cook Local, Eat Global
So, we went to Columbus today to shop.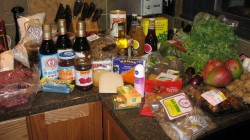 We do this fairly frequently, considering that Columbus is an hour and a half drive away from home. But we hadn't gone there to shop for meat and chicken at the North Market since before Christmas.
Which meant, my freezer was becoming bare.
You know, we were down to some weird stuff like chicken bones, a bit of bacon, a pound of ground sirloin and a ham hock. Which, mind you, is fine–I can come up with any number of dishes that would utilize some of these items, but the possibilities for variety were limited, and being as I live with two people who -can- be picky eaters (though they generally are not), a larder which is rapidly approaching empty can be a tragic thing.
So, off we trundled to Columbus, in order to make the meat and chicken buying mission. I figured that while we were there, we would stop at the Columbus Asian Market, as I was nearly out of my favorite brands of soy sauce and coconut milk, neither of which are carried by our local, quite good New World Market. Besides–I needed bitter melon, gai lan and fresh water chestnuts, and these are not often available at our market.
We took Dan with us on our mission, and, as he and Heather have become enamored of the meats at Bluescreek, he, too, did some shopping. He also picked up fish sauce, as I suspect Heather is planning some Thai cooking soon. (You go, Heather! I hear you have been printing out my recipes! Woohoo!)
And we ate at the Hometown Chinese Carryout and Deli, which had a facelift while we had been away, and discovered that the food tasted just as lovely as we remembered it.
Then, because, you know, we were in Columbus, we decided to go to the really new, large Indian Market, Patna's. Because, you know–we hadn't been.
Ah—what a good idea we had!
They had fresh fenugreek greens, and curry leaves that smelled of heaven. I picked up some lovely tiny eggplant to stuff with spices, and some tiny little gourd-looking things that I have no idea what they are, but I bet they will be good. I will have to ask Indira at Mahanandi to help me identify them (Indira–if you read this–they are the wee green fellows on top of the purple potatoes in the picture), as I very much want to learn a nice way to cook them.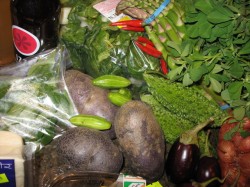 Morganna found a spice I had not run across before, so of course, I bought a small bag: Whole Ganthoda. They look like knobby cut up rhizomes of some sort. I will have to do research on it, ask around (Indira, Meena, VK–help!) and then figure out how to use it. And of course, I will report back here, dear readers.
I also found a beautiful crimson-colored jelly from Pakistan called "rose petal spread."
Look for a recipe featuring it for Valentine's Day….
Dan and Zak took all of my exclamations and excited jabbering with great patience, and they waited until Morganna and I finally exausted our curiosity and thrilled gathering of vegetables, dals, spices and greens.
Once we got up to the head of the line to pay, Zak made what he would claim was our most important purchase at Patna's, which the very nice clerk smilingly retrieved from their refrigerated case: mango barfi.
You see, Zak adores barfi. He is passionate about it. He thinks it is one of the best sweets in the world. (For those who have not had barfi, or burfi, as it is sometimes spelled, it is a milk-based fudge made by simmering sweetened milk until the water has boiled away. Ground nuts, or pureed fruits are used to flavor it; the resultant thick mass is poured into a buttered dish to cool, and then it is cut into squares or diamonds and served as a sweet, and I am told it is used to make offerings in Hindu temples. (Morganna and Zak both delcare that is truly a divine comestible and thus is more than fit to be given to the Gods.)
Until this very day, Zak;s favorites had been almond-rosewater and pistachio barfi. That was before he tasted the mango barfi.
Barfi is very sweet, you see–I can only eat the tiniest of bits of it, and usually, I like it best with very hot unsweetened coffee or tea.
But the mango barfi–it has that slight tang from the mango pulp in it, and the overwhelming floral fragrance of mango that is utterly intoxicating. It is like golden sunlight in the middle of a blustery winter day. It is as sweet and bold as a laughing girl's kiss, and as tart as her teasing words to an earstwhile lover.
It is utterly delightful.
And it made Zak's day. (His day was also made when I showed him the milk powder I bought and when his brows fell in question, I smiled and said, "For gulab jaman." His face lit up. Though, Morganna did a bit of a dance, so I think she was even more excited than he was at the prospect of fresh gulab jaman.)
After Patna's, since we were in the neighborhood, we went to Whole Foods, where we stocked up on cheeses and olives, dried porcini mushrooms, some fresh mangos, freshly ground almond and peanut butters (peanut butter from honey-roasted peanuts is a delight–we just discovered that today), and purple potatoes to cook with our fenugreek greens. (Aloo Methi is something I have been missing, very, very much.)
As we were thirsty, we splurged on some Izze Sparkling Juice–they are nothing but fruit juice with carbonated water, but they are so delicious, and thirst quenching, that we each nabbed one. My favorite is still pink grapefruit, but Zak loves blackberry, while Morganna favors pomegranate. Dan did not partake, though I think he should have–they are that good. Considering how infrequently I drink soda–these bursts of fruit flavor with the tingling bite of bubbles are a real treat.
When we got home, and unpacked our parcels, Morganna bade me take pictures and blog about our trip. She said that the shopping was scary, though, as Dan pointed out–these are items that we stock up on when we can get them, and then we go months on end without needing them. This is especially true of the soy sauces, coconut milk and meats, and the spices and dried items. All of these are staples that are preserved to last for some time.
But still–seeing them all amassed on the counter was a tad bit frightening.
Oh, well. When I shop–I shop.
Tomorrow, I will be cutting up meats, and packing them for the freezer, and maybe pulling out chicken bones to make stock. And, I will be cutting up some galangal and fresh turmeric and freezing those as well. All the while, I will be planning a grand Indian feast for later in the week, and perhaps, a supper of Garlic Booger Chicken.
Stay tuned….
37 Comments
RSS feed for comments on this post.
Sorry, the comment form is closed at this time.
Powered by WordPress. Graphics by Zak Kramer.
Design update by Daniel Trout.
Entries and comments feeds.