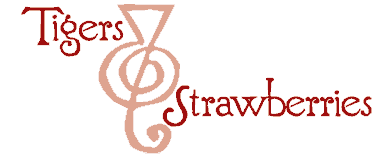 Cook Local, Eat Global
Roses are the queen of flowers. They are sensual with their profusion of velvety petals from which waft their seductive scent.
Although the use of roses in cookery has fallen out of favor in the West, they were once quite popular, particularly in the Medievaland Rennaisance periods. Rosewater and attar of roses were used not only in perfumery, but also in cookery and baking. Although it seems quite odd to think of it, roses were not even relegated to the art of pastry–they were also used to sauce meats, or flavor meat and rice-based dishes.
But fashions change, and Europeans have, by and large, forgotten their attachment to the rose as a flavoring and even in baking have moved on to favor vanilla, chocolate and fruit as their flavorings of choice.
In other parts of the world, this is not so. The Persians were and are great lovers of the rose, and still use it in flavoring both sweets and savories. Lebanese bakers use rosewater to flavor baklava, and the Turks are known to eat gorgeous crimson jellies made from rose petals.
However, the Indian subcontinent is where I turn when I think of roses.
I don't know quite why, as I was first exposed to rosewater in food via Syrian and Greek cookery. But, when I smell rosewater in a cake or cookie, the first place my palate is transported to is India: northern India, to be exact.
Which is a good thing, because Meena of Hooked on Heat has challenged us to use our imaginations to come up with a dish made for love for her third edition of "From My Rasoi."

Nothing says seduction and love to me like roses.
Knowing as I do, the penchant for northern Indians to use rose (gul) as a flavoring in sweets, it got my mind working. I decided upon a cake, baked in my rose-shaped pan, that combines the very northern Indian flavors of rose, almond, and cardamom, combined to create a fusion dessert worthy of the palate of a Mogul Emperor.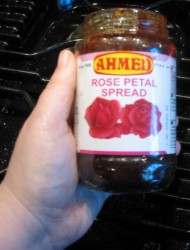 When I found a jar of Pakistani "rose petal spread" at Patna's on Sunday, I snatched it up, unsure of what I was going to do with it, but knowing that it would be involved in this Mogul cake in some way, shape or form. Ashwini kindly told me that the honey and sugar-preserved rose petals are called "gulkand," and that she uses it to make phirni. (Zak has not heard of this yet–phirni is another name for his favorite dessert in all the world, something he likes even better than barfi–kheer. Cardamom scented rice pudding. I can only imagine what he would do with rose-scented kheer….)
I thought about it and thought about it. I opened the jar when we got home and the scent of red roses engulfed me, and I remembered my beloved rose bush (Bell'Aroma is the variety–we named her Aradia) we had planted in our dooryard in our old house in Pataskala. That bush could fill the entire garden with scent with one bloom. As soon as you walked out the door, her fragrance would embrace you like a cloud of olfactory joy.
I tasted the gulkand, and it had the texture of a very tight, somewhat grainy preserve. I immediately thought of a use for it–mixed with chopped almonds, I could use it as a filling for the cake.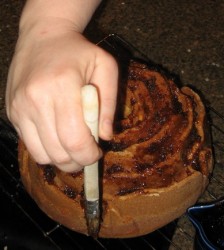 I also determined that if I thinned it with more honey, and heated it up in the microwave until it became liquid, I could brush it over the cooled cake in order to add flavor and moisture–a trick I learned in my baking and pastry classes in culinary school. This step also helps seal the cake to keep crumbs from being picked up by the icing or frosting, when doing layer cakes. (Although, since I was using my rose-shaped Bundt pan for this, I wasn't going to be spreading frosting, but drizzling glaze, so the crumbs would not be an issue.)
I adapted a recipe from the cookbook, Bundt Classics, which my mother had bought for me to go with the ever-expanding collection of interestingly shaped Bundt pans she keeps adding to year after year. The original recipe is for Strawberry White Chocolate Cake, but I changed the flavorings from vanilla and almond to almond, cardamom and rose, added the filling, and the gulkand glaze, and then drizzled a thin rosewater and cardamom icing that I tinted pale pink with Wilton burgundy paste color. (It makes a prettier pink than the scarlet color does.)
It turned out fantastic.
All that was left was to come up with a name.
Since the Taj Mahal is my favorite building in all the world, I decided to name the cake for Mumtaz Mahal, the wife of the Mogul Emperor Shajahani. She must have been a rose among women to inspire her husband to build such a beautiful memorial, so I feel it is proper to name a rose among cakes in her honor.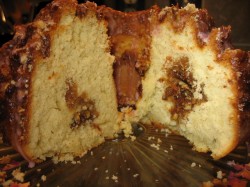 Gateau de Mumtaz Mahal
Ingredients:

1/2 cup finely chopped almonds
1/2 cup gulkand
4 ounces white chocolate, chopped (I used Lindt)
1 cup milk
1 1/2 cups sugar
1/3 cup butter, softened
3 ounces cream cheese, softened
2 eggs
1 teaspoon almond extract
1 teaspoon rose extract (I used Star Kay White Brand–you can get it at Sur la Table or at baker's supply stores)
2 3/4 all purpose flour
1 tablespoon baking powder
1 teaspoon freshly ground cardamom seeds
3/4 teaspoon salt
1/2 cup gulkand
2 tablespoons honey
1 cup powdered sugar
1/4 teaspoon freshly ground cardamom seeds
3 tablespoons rosewater (I use Cortas brand from Lebanon)
milk or cream as needed
food coloring
Method:
Preheat oven to 350 degrees F.
Mix together chopped almonds and gulkand and set aside. (The easiest way to do this is by lightly oiling your hands and mixing it together with your fingers. It is sticky, so look out!
Grease and flour a ten cup Bundt pan or tube-shaped cake pan and set aside.
Put chocolate and milk into a saucepan and over medium heat, melt chocolate, whisking it into the milk until just combined. Remove from heat and allow to cool.
Using a mixer, cream together sugar and butter until light and fluffy. Scrape down sides of bowl as needed. Add cream cheese and beat until fluffy again, scraping down the bowl as needed.
Add eggs and extracts, and beat until well combined. Add cooled milk and chocolate, and beat until well combined.
In a separate bowl, mix together flour, baking powder, cardamom and salt. Add to liquid ingredients, and beat, scraping down the bowl as needed until a thick batter is formed.
Spoon 2/3 of batter into prepared pan. Tap pan on the counter lightly to get batter down into all the nooks and crannies of the pan.
Pick up tablespoonsful of the gulkand/almond filling, and shape it into segments of a ring. Set these down into the batter, overlapping so you make a circle around, but not touching the central hole of the pan. Spoon the rest of the batter over the filling.
Place into oven, and bake for about 50-60 minutes, or until toothpick insterted in center of cake comes out clean. Cool in pan for ten minutes. Remove from pan by putting rack over top of cake and inverting cake, rack and pan together and then gently shaking and tapping pan. (Baker's Joy spray is the best stuff to use to grease and flour pan to get it to release.)
Allow to cool until only barely warm.
Melt gulkand and honey together in microwave until mostly liquid. Brush all over cake with a pastry brush. Allow to set for about five to ten minutes.
Whisk together remaining ingredients into a thin glaze. (Use only as much milk or cream to make a thin glaze.) Tint it pale pink, and drizzle over cake. (To do this with as little mess as possible, I place cake on a big cooling rack over the sink, and then drizzle away. The excess glaze goes down the sink where it is easily rinsed away. Just make sure you have a big enough rack to do this–if not, you risk your cake falling in the sink, and that is definately a tragic thing. to have happen.)
Serve with strong coffee.
Note: If you cannot find rose extract for the cake, use vanilla–the rose extract in the cake is barely discernable, and the gulkand filling, glaze and rosewater icing give plenty of flavor to the cake.
17 Comments
RSS feed for comments on this post.
Sorry, the comment form is closed at this time.
Powered by WordPress. Graphics by Zak Kramer.
Design update by Daniel Trout.
Entries and comments feeds.