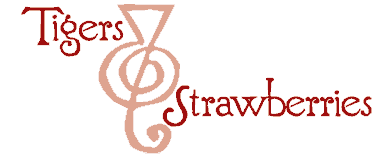 Cook Local, Eat Global
I really should have posted this last night, but I thought I would show my sweet side on Valentine's Day.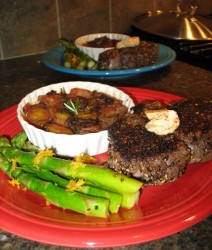 Now that we have gotten that out of the way, I can give you a taste of the real me: the cynic.
I don't really like Valentine's Day, and I never did.
Not only is it one of those holidays that smacks of having been invented by Hallmark Cards as an excuse to sell overpriced bits of pink pasteboard decorated with fluff and glitter, but even when you know the story of St. Valentine, it comes across as bogus.
It is a day fraught with anxiety, sloppy sentiment, and meaningless ritual.
And it has the capacity to transform normally sensible, mature, interesting people into giddy romantics, or worse, disappointed harpies, or anxiety-laden freaks who are sure their romantic overtures are going to be judged as lacking by the object of their affections.
It is hellish if you are alone on Valentine's Day, when all of the world seems to be awash in red and pink hearts and doe-eyed lovers crowding restaurants eating rich food and swilling Champagne. The sickly-sweet fragrance of countless bouquets delivered wafts around every corner, reminding the less than happy single person that they are still alone.
Bad as that is, sometimes, I think it can be worse if one is part of an established couple during this commercialized feast celebrating "romantic love."
Because then, if you are together, you are expected to do something to mark the occasion.
Like what?
I mean, when it is a new relationship, and courting behaviors such as surprising each other with flowers or chocolate or bubble baths or little love notes tucked into jacket pockets are all still ongoing, Valentine's Day is not so bad. It is just an extension of what young, hormone-filled folks are supposed to be up to anyway.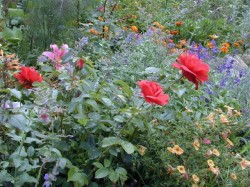 But what happens when you are old and jaded, like me?
(Though, really, I suspect I was born old and jaded, because this attituted about Valentine's Day goes all the way back to grade school and the passing of valentines to schoolmates was the norm. I always felt bad for the kids who got no valentines because they were unnatractive, poor, bucktoothed, or socially inept for whatever reasons. Watching those kids suffer fuelled my early irritability when it comes to the Pink Holiday.)
I mean, what am I going to do for Valentine's Day? Go out to a packed, overpriced restaurant where the servers are harried and the wine cannot possibly flow fast enough to numb me enough to keep from getting nauseous from all of the saccharine sentiment floating about? Buy flowers so my cats can turn them into salad and then vomit them up on the couch? (Besides, I prefer my flowers to be living and in gardens–the illustration above is from our old garden back in Pataskala.) Be gifted with a pound of chocolate that I will eat, and then lament eating because I will gain weight?
Where is the romance in any of that?
Half the time, Zak and I forget that Valentine's Day is coming up, mostly because neither of us cares. We just cruise along in our own little world, unaware that the season approaches. He bought me flowers a few times for Valentine's Day, and surprised me, because I had forgotten that the Day of Hearts had arrived. Surprises are sweet, but it is hard to surprise either of us with trifles, as neither of us much cares for trifles. (In truth, we both like surprises, but it is hard to surprise anyone on a holiday. Zak is a master of bringing flowers home at odd times, just to pick up my spirits. I am good for finding a cool book or t-shirt and bringing it home to Zak, not for any holiday, but just because he needs a lift. Both of us value these moments more than any pre-planned holiday thing.)
So, I will tell you what I do for Valentine's Day: I use it as an excuse to cook something I don't normally cook, and I actually exert myself to cook up to the standards of a fine dining restaurant. While I have culinary training, and I am an excellent cook, I will admit to being a tad too lazy to really haul off, throw down and cook magnificent food that would make a picky gourmand weep all the time.
Besides, if I was motivated to cook like that all the time, it wouldn't be special anymore. People would expect it, and on top of everything else, we'd all be big as houses.
But the way I see it, once or twice a year, a real culinary throw down isn't going to kill us all. So, for Valentine's Day, I put the toque back on, roll up my sleeves and make something fancy.
And this year, I decided to do a pepper-crusted filet mignon, with potatoes a la boulangere and asparagus dressed with browned butter and Meyer lemon juice and zest.
Of course, you all know what we had for dessert.
When Zak asked what he could do for me for Valentine's Day, my answer was clear:
The laundry.
(And he did it, too. And cleaned the closet. A fine Valentine's Day present to be sure!)
Anyway, here are the recipes for our supper; the inspiration for the filet came from a method outlined in the March/April Cook's Illustrated that was meant to create a crispy peppercorn crust that neither fell off nor got overly soggy. I followed their recipe more than I should have–there was too much oil in the crust, and too much salt. I am giving the amounts that I will use the next time I make the dish. Also, they only used plain black peppercorns, while I added coriander seeds and white peppercorns to the mixture.
My potatoes a la boulangere are not traditional in any sense of the word. Based on a French recipe where women would bring simple casseroles of potato, onion, white wine and chicken broth to be baked in the ashes of the baker's (boulangere's) hearth oven overnight, I added herbs, spices and Shao Hsing wine to the mixture.
As for the asparagus–it is straightforward. Simmer asparagus in a small amount of water in a saute pan until the desired tenderness is reached. Drain. Melt butter in the pan, with the asparagus, turn the heat to high and allow butter to brown, tossing asparagus in the pan. Squeeze the juice of two Meyer lemons into the pan and add the zest from one, and toss in the browned butter. Add salt and pepper to taste. Serve, sprinkled with some fresh lemon zest.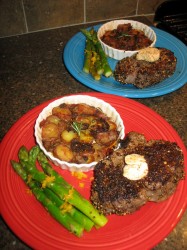 Barbara's Version of Pepper-Crusted Filet Mignon
Ingredients:
3 tablespoons black peppercorns, cracked
1 tablespoon white peppercorns, cracked
1 tablespoon coriander seed, cracked
4 tablespoons plus two teaspoons olive oil
1/2 tablespoon salt (to your taste)
4 center-cut filets mignons, 2″ thick, around 8 ounces each, trimmed of silverskin (I left the tiny bits of fat on my steaks because they came from Belgian Blue cattle, which are very, very lean animals. The tiny amount of fat present helped keep the meat moist as it cooked.)
Method:
Heat the 4-5 tablespoons olive oil over medium heat. Add the spices, and stirring occaisionally, simmer until the spices and oil are quite fragrant–between five and eight minutes. Remove from heat, and set aside to cool. When it is at room temperature, add salt and stir well to combine.
Rub steaks with the spice and oil mixture, coating all sides, but paying particular attention to the top and bottom surfaces. Press the peppercorns in with your hands, then set steaks on a plate, cover with plastic wrap and press firmly again in order to set the spices into the meat. Allow to sit at room temperature for about an hour.
Heat 2 teaspoons of oil in a 12 inch cast iron skillet until it is barely smoking. Sear the steaks on one side without touching or moving them for 3-4 minutes in order to let a heavy crust form. Turn the steaks with tongs, and do the sear the other side in the same way. (Here is a tip–if you go to turn your steaks and they stick–they are not done searing. Leave them in place, wait 30-60 seconds and try to turn them again–repeat until they turn easily.)
When the crust is formed on the bottom–check to see if the steaks are sticking–if they are not, the crust is formed–cover loosely with a lid–I used the domed lid to a pan that was larger than the skillet so I could set it askew to let the steam out. Cook for another 3 minutes for rare, 5-6 minutes for medium rare. (If you want them more done than medium rare–cook something other than a filet, please–something with lots of fat, like a ribeye, that will stay moist under extended cooking conditions.)
Remove from pan, set on warmed plates and allow to rest for five minutes before serving with a pat of compound butter, if you wish.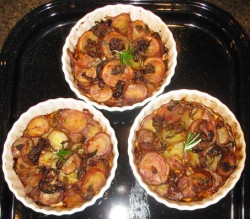 Potatoes a la Boulangere in Individual Gratins
Ingredients:
3/4 pound fingerling potatoes, well scrubbed
1 tablespoon olive oil
4 small or 2 large shallots, peeled and sliced thinly
1 tablespoon fresh rosemary, minced
salt and pepper to taste
1/4 teaspoon spicy curry powder
4 pinches smoked paprika
1/2 cup chicken or vegetable broth
1/4 cup Shao Hsing wine or dry sherry
1 teaspoon butter
Method:
Preheat oven to 325 degrees.
Using some olive oil or butter, grease four small shallow gratin dishes well.
Boil potatoes in their skins until mostly done, but still pretty firm in the center. Drain and cool.
Heat olive oil up in a small saute pan, and cook shallots until they are medium golden in color. Add rosemary and cook for a minute or two more until the herbal fragrance is released.
Slice potatoes into 1/4″-1/8″ slices. Layer a set of slices on the bottom of the gratins, then sprinkle with salt and pepper, some of the curry and paprika, and scatter a bit of the shallots over the potatoes. Salt and pepper the potatoes to taste. Do a second layer, the same as the first, finishing with shallots, then pour 1/8 cup of broth and 1/16th cup of wine into each gratin. Dot them with butter.
Put the gratin on baking sheets, and pop into the oven. Allow to bake, uncovered, until most of the broth is absorbed, and the bottom layer of potatoes is tender and velvety, while the top layer is browned and crisp. Add some extra broth if needed. Garnish with a sprig of fresh rosemary.
10 Comments
RSS feed for comments on this post.
Sorry, the comment form is closed at this time.
Powered by WordPress. Graphics by Zak Kramer.
Design update by Daniel Trout.
Entries and comments feeds.