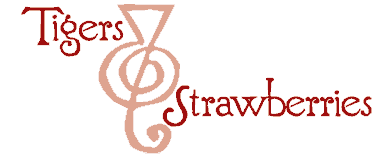 Cook Local, Eat Global
So, I have been reading about, cooking with and thinking about spices for, well a long time now. In terms of this blog, it has been a couple of weeks or so since I have been expressing my "spice obsession," but in truth, I have been fascinated with those elusive, fragrant and delicious little nuggets since I was a child.

I grew up eating fairly bland food. People's spice racks in my world were often more decorative than function, and were filled with herbs and spices that were like so much barely-scented dust. About the only time one saw spices other than black pepper being used in my family was at Christmas, when the "sweet spices"–nutmeg, allspice, cinnamon, cloves and mace came out to play.
Other than that, and the very sporadic flirtation with chili powder, curry powder and paprika (which almost always used as a coloring agent or a garnish, not to flavor the food), spices were not known in the world of my childhood.
But I always read about them and dreamt of them. I liked the smell of them.
I used to go through people's spice racks as methodically as I went through the drawer of my Gram's vanity where she kept her perfumes. I would peer at the bottles, open them one by one and sniff them–spices and perfumes, both.
This got me into trouble, because in my mother's world, a kid isn't supposed to be nosing into people's cabinets, drawers or spice racks.
But I was intensely curious. And I wanted to know why, if spices were so important that they sent Columbus on his fateful voyage, and fuelled the resulting "Age of Exploitation–er, I mean, Exploration," then why were they so little in evidence in American and European food in modern times?
Was it true that Medieval people were covering the taste of rancid meat with spices? (Nope–that is largely a myth, btw. There are lots of myths passing as truth in the realm of spices.) Was it true that the Romans ate food that would numb the tongue of a modern person? (Another myth.)
And if it was all true, then why didn't we eat spices today? They smelled good, so why did we only use them in baking sweets?
A question for the ages.
So, let me get to the point here.
The point is this: spices were once powerful agents of social change in the West. Wars were fought over them, and people used to trade vast amounts of gold for them. People went sailing off to God-Knows-Where (that's a real place, you know–just north of Where-The-Hell-Are-We?) in order to find them.
But now, in the West, they are mere shadows of their once glorious selves.
However, their stature is once again climbing, due in large part to Westerners' newfound appreciation for the foods of the East and the New World.
The folks of the Indian subcontinent never lost their love of thier native spices. Nor did the Thais, the Chinese or the rest of the folks in Asia. The natives of Mexico and South America loved thier chiles, and still do, so when all of these folks started immigrating into the West, they started bringing their spices and other goodies along with them.
Now, I can walk into a Krogers grocery store here in Appalachian Ohio, and pick up a big ole industrial-sized bag of chile peppers grown in Mexico along with a big sack of mustard seeds from India.
This just did not happen thirty, twenty, hell, even ten years ago.
Globalism kicks serious culinary butt. Or, at least it does in my world, because I am no longer deprived of spices. A look into my pantry should tell folks that. I have tons of them, just laying around. My cabinets smell good, and my foods taste good. I feel like a very rich woman indeed, knowing that I can just reach into my cabinet and put as many peppercorns as I want into the grinder to season my stew.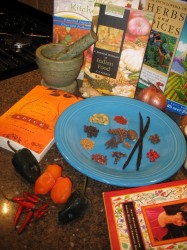 So, I want to start a blog event to celebrate spices.
And that is where I need the help of you, my readers. Because blogging events are a community-wide thing, I want to ask your advice: how do y'all think I should go about this?
Should it be a weekly, "sister" event to Kalyn's Weekend Herb Blogging, where participants post about a different spice each week and give us a recipe? Or should I make it more like Meena's From My Rasoi, where it is a monthly event, and I have a loose theme for everyone to work with, so that it is a little more challenging?
What do you all think?
And one more thing: the definition of a "spice" for this event will be this one:
"A spice is the root, bark, flower, fruit, bulb, rhizome or stalk (or part thereof) of an aromatic plant in either fresh or dried form that is used to flavor or scent food or drink, as a perfume or a medicine." (An herb is the leaf and/or soft stem of an aromatic plant that is used for the same purposes.)
Now that you know what I am about, what do you guys think? Would anyone like to participate in this sort of event, and how do you think I should structure it?
I will tend to
43 Comments
RSS feed for comments on this post.
Sorry, the comment form is closed at this time.
Powered by WordPress. Graphics by Zak Kramer.
Design update by Daniel Trout.
Entries and comments feeds.