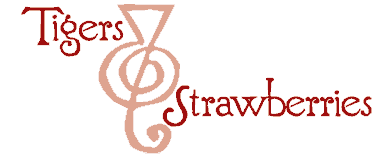 Cook Local, Eat Global
Last week was the first time I ever made Zak's favorite curry, mattar paneer, which is Indian cheese with peas.
Now, I love Zak, very, very much. But I never bothered with his favorite curry, because I never really much liked it myself, and here is why:
I really dislike peas.
Or, rather, I used to really dislike peas.
When I was a little girl, peas came from a can, and often had little pearl onions in them. They were khaki colored, mushy and tasted of tin, onion and…something musty, I don't know what. Something unpleasant. They made my stomach wiggly, and not in a good way.
So, I used to try to avoid eating them. I'd try and hide them, and when that didn'w work, I'd try to say I wasn't hungry anymore, but that never worked, because my mother was the sort who used to make me sit at the table until I cleaned my plate. Which meant that I spent many an evening staring balefully down at those wretched, ugly smelly green things as they congealed on the plate.
Finally, I would spoon them into my mouth and swallow them whole, wincing with each bite, and gulping much milk down in between in an effort to kill the taste that clung to my tongue in an evil attempt to make my stomach threaten with mutiny.
It was a supreme effort of will not to spit them out on my mother's feet, but I managed.
Later, I would just take as small a portion of them as possible, and swallow them whole so I would be left alone on the issue of the overcooked, mushy little leguminous balls if ick.
In later years, I discovered that I actually liked peas raw, and snow peas were a revelation in crunch and sugary flavor. Sugar snap peas are amazing when barely cooked, although my mother insists on overcooking them to a flaccid, insipid state where most of the flavor is dissolved away into the boiling water.
But, it is yet true that I have a yet abiding aversion to peas in most forms.
And frankly, I have had mattar paneer in restaurants, and while it was good, it never blew me away. I never wanted to eat much of it, though Zak could make a meal of nothing but it, rice and naan easily. Which is weird, because he generally prefers meat to vegetables of any sort.
Well, last week, after I picked up some paneer at the new Indian market in Columbus (which is named Taj, not Patna's–I now know why I remembered it as Patnas–that ws the name of one of the grocers I went to Maryland, and it was set up very like Taj's), I resolved to make mattar paneer.
Paneer is a firm, very fresh cow's milk cheese that is usually made at home by heating whole milk and then treating it with a weak acid, such as lemon or lime juice to get it to coagulate. Once the curds form, they are poured through cheesecloth, the whey is squeezed out, and it is left to drain overnight. A weight can be left on it to press it into shape, and to facilitate the removal of most of the whey. (For a wonderful post on how to make paneer at home with great illustrations, check out Indira's recipe at Mahanandi.)
I made paneer several times in culinary school, but as I don't have cheesecloth at home, I decided to take a chance on some packaged paneer. The brand I bought, Nanak, turned out to be very good indeed, and I would recommend it to those who don't want to take the time to make their own cheese at home.
Zak is used to the creamy tomato-based sauces served with mattar paneer in restaurants, so I based the recipe on Neelam Batra's Tomato Cream Sauce with Cardamom and Cloves from her cookbook, The Indian Vegetarian. As I did not have fresh tomatoes that are worth the name tomato, I used crushed canned tomatoes instead, and I changed the spicing considerably to reflect the flavor of the mattar paneer at Akbar's in Columbia, Maryland, the restaurant where Zak first fell in love with the dish. Batra's version was much hotter with chiles; the chef at Akbar's however, always spiced the sauce so that there was a light heat that crept up on the diner about halfway through dinner.
I also have to admit to using less cream than Batra advised, and a bit of milk instead, so the end product would not be so killer-rich as it could be.
I would have liked to have served the peas in a less cooked state, but Zak preferred to have them simmered in the sauce until they softened. I was reluctant, my mind and stomach clenching at the remembrance of the over-cooked peas of childhood, but I was pleasantly surprised to find that the flavor of these mattar were completely different. The sweetness of the well-cooked peas had entered the sauce, and the peas themselves were not mushy, but simply meltingly delicious.
Altogether, it was a very, very pleasant surprise to me.
And what did Zak say?
"I believe this is the best mattar paneer I have ever had," he told me after his second bite.
That is incentive enough for me to make it for him again.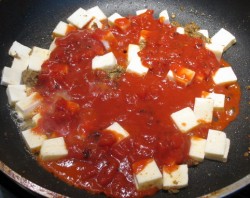 Mattar Paneer
Ingredients:
5 large cloves garlic, peeled and sliced
1 2″ cube fresh ginger, peeled and sliced
1 red Thai bird chile
1/2 teaspoon aleppo pepper flakes (aleppo is a mild chile from Turkey–optional–I get it from Penzey's)
1 teaspoon black peppercorns
1/2 teaspoon cardamom seeds
1 tablespoon coriander seeds
10 cloves
1/8 teaspoon ground cinnamon
1 tablespoon paprika
2 tablespoons butter
8 ounces paneer cheese cut into 1/2″ cubes
1 14 ounce can crushed Muir Glen Fire Roasted Tomatoes
1/2 cup milk
salt to taste
3/4 cup heavy cream
2 cups frozen peas, thawed
large handful fresh mint leaves, chopped roughly
Method:
Grind together the garlic, ginger and spices into a thick paste.
Melt butter in a heavy-bottomed skillet, and when it foams, add paneer. Add spice paste and cook, stirring, until the spices are very fragrant and the paneer is beginning to brown. Turn the paneer, and keep stirring. Add the tomatoes adn milk, and stir. Turn down the heat and simmer for about ten minutes. Add the heavy cream and salt to taste. Add the peas, and turn heat down to very low and simmer slowly for about an hour or so.
After it has cooked for an hour, put a lid on the pan, turn off the heat and let it sit for another hour or so. When you are ready to serve, reheat the curry to a simmer, adding a bit more milk or cream as necessary to keep it from reducing too much.
Just before serving, stir in mint leaves.
Not surprisingly, this is even better heated up the next day. You may have to add more milk to the sauce to think it out so it will reheat properly.
12 Comments
RSS feed for comments on this post.
Sorry, the comment form is closed at this time.
Powered by WordPress. Graphics by Zak Kramer.
Design update by Daniel Trout.
Entries and comments feeds.