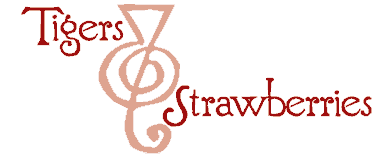 Cook Local, Eat Global
I first came across curry leaves in Columbia, Maryland, in an Indian grocery store. Set in the cooler, next to quarts of yogurt and packages of paneer were these glossy almond-shaped, deep green leaves, set alternately on gracefully curved narrow stems. They looked somewhat like bay leaves, but they were not leathery enough in texture–these were soft and very thin. When I opened the cooler an odd, strong musty smell overtook me. It wasn't unpleasant at all, but quite compelling.
I reached in and took out one of the bags and held it to my nose.
Yes, the leaves were the source of the smell.
But I had no idea what they were, only that I liked the smell of them. I shrugged and turned to put them in my basket, along with masoor dal, black cardamom and fresh chiles. Next to me was a tiny older woman in a blue and gold sari. Her long white hair was braided down her back into a rope as thick as my forearm. She smiled up at me and nodded. "You like them?" she asked.
I smiled and said, "I like the way they smell, but I don't know what they are."
Her smile deepened and her eyelids crinkled. "Kadhi patta," she said. "You would say, curry leaves."
I nodded, excited. "What do you cook them with?"
"Everything," she answered. "Everything!" Glancing down at my basket she nodded at the masoor dal. "With dal, with eggplant, with potatoes. Everything."
I nodded avidly, urging her on.
"You heat up your pan, and put the oil in. Then, a handful of curry leaves. Let them curl up and get brown and crisp, and their flavor goes in the oil, and then on everything you cook in it."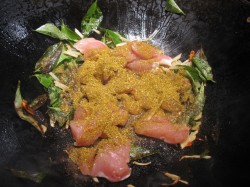 Her daughter came up to her; it was apparently time to leave. Bowing to her, I thanked her profusely, and we waved goodbye cheerily, as I turned to my shopping and she bustled after her daughter and grandchildren.
Curry leaves are from the plant, "Murraya koenigii," which grows as a shrub or tree all over South India. I am told that the young plants are easy to grow in the house; I will have to try this, though while I have a wonderful green thumb when it comes to outdoor plants, my indoor plants sometimes fall prey to munching cats or my own forgetfulness.
As my unnamed benefactress at the Indian grocery all those years ago said, curry leaves are used to enhance many different curries in South India. Monisha Baradwaj, author of The Indian Spice Kitchen, which is one of my favorite reference cookbooks for Indian food, says that while Northern Indians use fresh mint with a free hand, the people in Southern India use curry leaves with joyful abandon.
I have been using them more and more, and whenever they are available, I buy them up greedily. When I have too many, I will freeze them. They lose some of their fragrance, but not all of it, and I use them especially for dals after they are frozen to good effect.
Most of the time, curry leaves are removed from the dish they are cooked in prior to eating them, but I also know of recipes where they are eaten. I have eaten them with no ill effect–they are a little bitter, but then, I am fond of bitter melon, so a little, slightly bitter leaf is nothing to me!
The recipe I am presenting today is a quickly fried curry of chicken and potatoes that uses curry leaves, ginger, chiles and black pepper as the main flavorings with a single black cardamom pod, cloves, and coriander to round out the masala. At the end, I added two teaspoons of tamarind concentrate to give the curry a liltingly sour finish which complemented the curry leaf musk and the pepper, ginger and chile heat perfectly.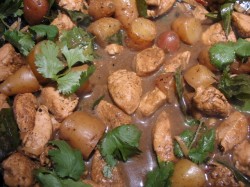 Curry Leaf and Ginger Chicken
Ingredients:
1 teaspoon black peppercorns
1 tablespoon coriander seeds
1/4 teaspoon turmeric
5 cloves
1 black cardamom pod
1 tablespoon coconut oil
2″ cube fresh ginger, peeled and cut jullienne
4 red Thai bird chiles, thinly sliced on the diagonal
handful of curry leaves taken from the stem
1 whole boneless skinless chicken breast, trimmed and cut into 1″ chunks
8 fingerling potatoes, boiled in salted water until nearly cooked through, then drained and cut into chunks
1 cup water or chicken broth
2 teaspoons tamarind concentrate
salt to taste
small handful of cilantro leaves
Method:
Make your garam masala: Grind the first five ingredients together into a fine powder and set aside.
Heat oil in a wok or heavy bottomed skillet until melted and quite hot.
Add ginger and chile, and stir fry for about thirty seconds, or until it just becomes quite fragrant. Throw in the curry leaves and stir. They will pop, fizzle and crackle as their juice is released into the oil. Stir carefully until they begin to curl up and turn brown–about thirty seconds.
Add chicken in a single layer, and leave still to allow it to brown a bit on the bottom. Sprinkle the masala over the chicken and as soon as you smell the chicken browning, begin stir frying. Add the potatoes, and keep stir frying. When most of the pink from the chicken is gone, add the chicken broth or water, and turn the heat down, and allow it to simmer to cook the chicken and potatoes through.
When they are cooked through, turn the heat up, and allow the sauce to reduce until there is just a tiny bit of it left. Add the tamarind concentrate, sprinkle in salt to taste, and stir in cilantro leaves, then serve with steamed basmati rice. (Before serving, you may remove the curry leaves if you wish.)
28 Comments
RSS feed for comments on this post.
Sorry, the comment form is closed at this time.
Powered by WordPress. Graphics by Zak Kramer.
Design update by Daniel Trout.
Entries and comments feeds.