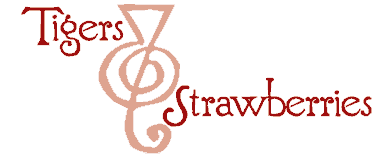 Cook Local, Eat Global
Being a personal chef was a really fun, but sometimes, very weird gig.
It was fun, in that I got to meet quite a few very interesting people, and I cooked a lot of dishes I would never otherwise have cooked. It was weird, in that I got to go into people's homes, and get a glimpse into how they lived their lives through a very intimate lens: their kitchens.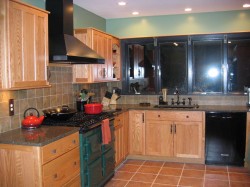 I found I could learn a lot about people by looking at their kitchens. And some of what I learned puzzled me a great deal.
One thing I have to say is that most of the people who hired me were monetarily very well off, and most of the time their kitchens showed it.
Many of my clients had the latest Sub Zeros, the best cooktops Gaggenau had to offer, and beautiful granite countertops on which I could set hot pans, or roll pastry dough with equal ease. The best of these kitchens were obviously set up with cooking in mind–and two clients in particular–two of my most wealthy families, in fact, were obviously kitchen people. The wives cooked, but one had recently gone back to teaching, and the other was laid up post surgery, and so neither could spend as much time in their kitchens as they would like, so I came into their lives to fill the gap.
These two families were truly food-centered, and I loved cooking for them, and in one case, with them. We collaborated on meals, we conspired, we cooked together. The lady whose foot was awaiting a second surgery would sit in the kitchen with me, enthroned at her huge antique table, her bad foot propped up on a padded stool, and she would keep me company while I cooked for she and her husband, who loved food, but had an intense fear of trying to cook it for fear of ruining it. The other lady, the professor, always made me tea and cookies when I came to cook and would sit and grade papers at her desk in the kitchen, and chat while I cooked soups, appetizers and entrees for her and her husband to share out for the next week. Invariably, she would end up at the stove with me, to "take a break from those papers," as she would say, and she would have fun watching me create stir fries that she praised for their lightness or ratatouille that made her nose twitch in anticipation.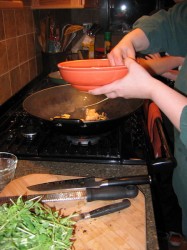 The kitchens of those two families were not only beautifully well-appointed with top-of-the-line appliances, it was obvious to me that they were made to be cooked in, and they had been cooked in. A glance in the cupboards and pantries confirmed my suspicion that serious cooks lived here. There were collections of well-used cookware–all good pieces that had obviously seen years of use. None of them were perfectly polished, and while some may have been brand-named, I saw just as many bits and pieces from restaurant supply stores as I saw of Le Creuset or Emile Henry.
When I brought out my prized woks, which are nothing to look at as far as beauty is concerned, these cooks sat up, took notice and oohed and awwed at them. "Oh, how many years have you had that one?" I remember the injured lady saying. "Please bring it here–oh, look at the seasoning on that. Almost black!"
Obviously, these two clients were women after my own heart.
Then, there were other clients. Clients who had gorgeous kitchens, absolutely lovely to look at, with gleaming matching sets of All-Clad copper-bottomed cookware hanging from the ceilings, every kind of appliance you could want, Sub Zeros with Wolf stoves and all the latest technology money could buy, but who had no spices in their cabinets that were not five years old, nor anything resembling staple items in their pantries–not even spaghetti nor even flour or sugar. I had to purchase every ingredient fresh for them.
And those Sub-Z's? They were filled with wine, juice and take-out boxes.
And three year old soy sauce that wasn't even opened.
It was no wonder the kitchens were so beautiful, because they had probably never been cooked in.
The saddest thing was that the latter folks, who would often tell me how they had just had their kitchens redone (and then, without my asking, would tell me the -cost- of the remodelling), vastly outnumbered the clients who had beautiful kitchens that not only were made to be cooked in, but were cooked in.
This made me wonder why people went to the expense to have those kitchens redone in the first place if they were not going to use them.
I didn't think much more about it until this year when we redid the kitchen in this house. Then, of course, my mind went back to all of those kitchens I had cooked in, and the types of people who owned those kitchens.
For one thing, I was remembering the performance of each of the appliances I had used, and remembered that I was not overly impressed by the Viking, Wolf or Gaggenau ranges and cooktops I had used when it came to BTU's. They looked beautiful, certainly, but after reviewing their prices and the BTU rating, I determined that looks were probably about all that these appliances were delivering.
Well, looks and prestige when it comes to the name.
I started looking at kitchen design magazines–of which there are a veritable plethora on the market these days, to gain inspiration. This is where I learned of the myriad of what I consider to be "useless frippery" appliances which are now being marketed to upscale clients who are redoing or building kitchens from scratch.
Things like "under-cabinet refrigerator drawers" for drinks or vegetables, wine coolers, and warming drawers so you can hold your breads, rolls, casseroles and the like at serving temperature for hours when preparing feasts for company. I looked askance at these items, even as I noted that most kitchen designs featured in the magazines included huge amounts of space–larger than even my large kitchen confines would allow. Sweeping vistas of multi-level kitchen islands and L-shaped countertops with multiple sinks took center stage, while large restaurant-style stoves dominated a back wall. Multiple ovens often took up another wall–sometimes up to three, with the warming drawers underneath. Stainless steel appeared to be the favored material for all of these appliances, giving a cold, harsh, industrial look to many of the designs.
I didn't like much of what I saw, but I had definate ideas of what I wanted in my kitchen, and while some of what I wanted was indeed what one would call luxurious–the six-burner, four oven AGA comes to mind–the rest of my appliances were chosen because of their ratings from consumer magazines, not because they were considered by appliances salespersons or kitchen designers to be "top of the line."
In fact, I found that many of the "top of the line" appliances were not as trustworthy as many of the lower-priced "consumer quality" appliances. I saw no reason to pay more for less quality, so I didn't. The piece I splurged on was the AGA–and I chose it not only because it looks gorgeous and is something I have dreamt of for seventeen years, but because it had the performance rating to back up its beauty.
The rest of my kitchen, beautiful as it is, and made of high quality materials, is pretty well functional.
Even the lovely enamelled iron kitchen sink, which is large enough to bathe a small child in, was chosen not only for beauty, but for practicality–it is large enough for me to wash my wok without slopping water all over the countertops like I had done in all the conventionally sized sinks I had until now.
A regular reader sent me an article the other day from the New Atlantis, entitled, "Are We Worthy of Our Kitchens?" where author Christine Rosen examines issues close to my thoughts. She notes that in this age where family meals are on the decline, when fewer parents even know how to cook, and many children subsist on Happy Meals, the marketing of upscale kitchen appliances and expensive kitchen remodels is a booming business. She also cites the popularity of the use of the word "gourmet" to describe appliances, cookware and kitchens, noting that the meaning of the word had changed from a person who appreciated good food to something that denoted a quality of an object pertaining to good food.
In other words, owning gourmet kitchen appliances and equipment conveys "gourmethood" upon the person.
The other point that Rosen drives home, and is where, I think she really comes to the crux of the issue, is that people pay for these expensive kitchens, because they are seeking the solace of a home. They long for the comfort of a happy hearth and home where Mom is home baking cookies and everyone sits down to a meal at the end of the day where they can come together as a family. Whether the kitchen enables this activity or not is beside the point–the image is sold to the family, and they clutch at it, almost instinctively, because, of course, the kitchen is the heart of the home.
What have I to say about this, I, who grew up in a lower-middle class home, with tiny kitchens?
The kitchen, no matter the size, -is- the heart of the home. That part the marketers have right–which is why that ploy works so well.
But it isn't the appliances that make that heart beat.
It is the cook.
And the cook is not curtailed by substandard appliances, not if he or she cooks from the heart. (Though, I have to say, the cook might be confounded and irritated by substandard appliances–it isn't easy to cook on a stove that has two BTU's shared between four burners, after all. It takes a while, and is nerve-frazzling. Oven thermostats which lie about the temperature also can cause grey hairs and much gnashing of teeth.)
One does not need the best of everything to cook great meals. "One needs an open mind and mouth," as cookbook author Buwei Yang Chow would say. One needs to have good senses, a love of ingredients, a willingness to practice techniques and experiment with new flavors. One needs a stong arm, a steady hand and good instincts.
In truth, one needs very few pieces of kitchen equipment in order to cook well. An excellent knife or two, a few good pots and pans, (in my case, a wok), some stirring impliments, a whisk, and reliable oven and stove and some bowls are all that is required for basic cooking.
Sure, food processors, grinders, mixers the the like make it easier–and I am not against any of those things. I would be a liar to say that I didn't care about them when I very much do.
But they are not necessary, no matter what the marketing wizards behind Williams-Sonoma might say.
And so, my hope is this–no matter how modest or house-proud our kitchens are, I hope that we don't buy into the myth that the latest gadgets are what will make us into real cooks and turn our kitchens into the "heart of our home."
I hope that we learn that -we- are the heartbeat in our kitchens. We are the ones who breathe life into them, who bring to life the sacred fire of the hearth.
Because that is a truth that no marketer can give us, nor conversely, take from us.
Once realized, that truth is a light that will never go out, unless we neglect it, and let the hearthfire gutter because we have forgotten our own power to choose to make a house a home.
32 Comments
RSS feed for comments on this post.
Sorry, the comment form is closed at this time.
Powered by WordPress. Graphics by Zak Kramer.
Design update by Daniel Trout.
Entries and comments feeds.