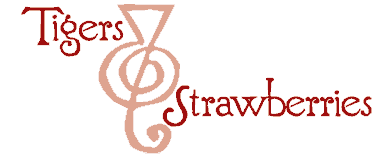 Cook Local, Eat Global
Cooking is not always an easy thing for me.
Which sounds bizzare, since I spend large chunks of my life cooking for myself and others. And then, when I am not cooking, I am thinking about cooking, reading about cooking, writing about cooking or taking photographs of food.
But some nights, I just really have no clue what on earth I would like to make for dinner. Sometimes I just don't feel well, and my body is not in the mood for cooking or eating.
Tonight was one of those nights. I fretted all day over the thought of what to cook for supper, and worried and waffled and just stewed over it.
Nothing sounded good.
Maybe it was the smell of paint that was permeating the kitchen and making the air a nauseating miasma of fumes that was to blame; the entryway is in the midst of being painted and so there is no help for it–paint fumes have nowhere to go in a stairwell but up–and at the end of up is my kitchen.
I choose to believe that was the trouble, but it took me hours to latch onto an idea, and it came from the fact that I had seen mangoes on sale at the grocery store the other day.
I remembered reading in one of my over 100 Chinese cookbooks about a Cantonese recipe for beef stir fried with mangoes.
My mind and stomach latched onto that concept with a fervor bordering on obsession as I sped upstairs to find the exact cookbook I had seen it in.
I only had to go through about five books before I realized that it was in Yan-Kit's Classic Chinese Cookbook.
And there it was, with a lovely photograph–that entire book is lavishly illustrated–that showed the rich beef stir fried with velvety -looking mango slices with green strips of scallion top for a garnish.
Of course, I commenced to change it significantly.
For one thing, for all that I love So's cookbook, she does rely more on deep frying meats than I think is either healthy, desireable or worthwhile for a home cook. She called for slicing the beef (she calls for tenderloin, by the way, which would be intensely luxurious, once paired with the mango) marinating and then deep frying it, before draining it and stir frying it with the aromatics and the mango. I wasn't about to indulge in that–for one thing, I was using a piece of London broil–a much less tender bit of beef than a tenderloin, so it wouldn't take as well to the hot-oil bath. For another thing–it is a waste of time and oil for a home cook to deep fry an item before stir frying it–I understand why it is done in restaurants (it results in a velvety texture), but there it is more practical and less messy–but at home, the benefits do not outweight the hassle and mess.
Also, I changed the aromatics around. She used more garlic than I wanted; I tend to prefer garlic with pork and ginger with beef, and so, in my recipes will weigh the aromatics in that direction. For beef, I use more ginger than pork habitually. Considering the still lingering scent of the paint and its effect on my appetite, I went for more ginger still, as it has the power to quell even the worst bouts of nausea. I still used scallions, though I used one less than she recommended, as I very much wanted the ginger flavor to come to the fore. To boost the heat-giving property of the ginger, I also added a single ripe frozen jalapeno chile that I sliced very thinly on the diagonal; it provided a very subtle bite to the entire dish.
I also added red pepper and carrots to the dish; being too lazy to make a separate dish of vegetables means that most of my stir fries have a mixture of vegetables and meat that may not be traditional, but which I tend to carefully balance for flavor, color and texture. The slippery soft mango contrasts with the firm beef–it is yin, while the meat is yang. The mango, because I used one that was slightly underripe (which is important–if you use one which is very ripe, it will likely fall apart in the cooking and make the dish cloyingly sweet), was tart as well as sweet, so it contrasted with the sweet red bell pepper and the carrot, both of which were also texturally different in that they were two different types of crunchiness.
The marinade for the beef was little changed, but I did not make a separate sauce to be added at the end of cooking, and instead used my usual method of making sauce in the cooking process by adding some more dark soy sauce, some chicken broth and finally, some oyster sauce–a classic pairing with beef in Cantonese cookery–as I stir-fried.
And, as you can see, I ended up garnishing it with some steamed broccoli, which gave a flavor and color contrast to the dish as a whole, as well as satisfying my desire for even more vegetables.
Like every other dish I have either learned directly or modified from So's book–which I think of as an often overlooked classic–beef with mango turned out to be all that I had hoped for. A balance of sweet, savory and tart, crisp, soft and chewy, it was a very satisfying meal, when paired with the plain steamed broccoli and jasmine rice.
Cantonese Beef With Mango
Ingredients:
3/4 pound lean beef, cut into thin strips about 1 1/2″ long by 1/4″ wide
pinch salt
1/2 teaspoon raw sugar
6 turns on a peppermill's worth of coarsely ground black pepper
1 teaspoon thin soy sauce
1 teaspoon dark soy sauce
1 teaspoon Shao hsing wine
2 tablespoons cornstarch
3 tablespoons peanut oil
2″ cube fresh ginger, peeled and cut into thin slivers
1 fresh or frozen red jalapeno cut into thin slices on the diagonal
1 clove garlic, cut in half longitudinally, then sliced thinly
3 scallions, white parts cut into thin slices, tops cut into 1″ sections and reserved separately
1 not very ripe mango, peeled, seeded and cut into 1 1/2″-2″ long thin slices
1 1/2 tablespoons dark soy sauce
1 cup carrots cut on the diagonal into thin slices
1/2 red bell pepper, cut into thin slices the size of the mango slices
1 tablespoon chicken broth
2 teaspoons oyster sauce
Method:
Mix beef with all the ingredients up to (but not including) the peanut oil and allow to sit for 15-20 minutes.
Heat wok until white smoke appears. Add oil, and heat for another ten-twenty seconds.
Add ginger and chiles and stir fry for about twenty seconds. Add garlic and white part of scallions, and continue stir frying for about forty more seconds, or until all is quite fragrant.
Add beef and press into a single layer. Pour mango slices on top. Leave beef undisturbed for about a minute–wait until you can smell the meat browning before beginning to stir fry. Stir fry until most of the red has left the beef. Add the soy sauce, stir to combine well, then add the carrots and sweet peppers, stirring until meat loses the last of its raw look. Add chicken broth, continue stir frying until a thick sauce forms, clinging to the meat and vegetables.
Add oyster sauce and continue stir frying until well combined–about thirty seconds.
12 Comments
RSS feed for comments on this post.
Sorry, the comment form is closed at this time.
Powered by WordPress. Graphics by Zak Kramer.
Design update by Daniel Trout.
Entries and comments feeds.