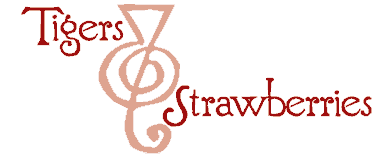 Cook Local, Eat Global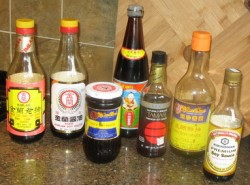 One thing that tends to shock newcomers to Asian cooking is the seemingly endless array of soy sauces on the shelves of the local Asian market. Which ones to buy? What are they all used for? Are they all different, or the same, or what?
And most often: Why are there so many?
And then, when a novice cook takes up, say, Chinese, cuisine, they are perplexed to find that they can't just pick out one brand or one type of soy sauce and use it in every dish. This is not how Chinese cooks operate, and that is the first glimpse many Westerners get of the fact that yes, indeed, each of those soy sauces in the store are different, and they are used for different purposes in the kitchen.
This doesn't end the confusion many feel upon looking at the soy sauce aisle: if anything, this realization often deepens the angst.
So, here I am, to try and ease the difficulty a bit for those who want to cook good Asian food, but aren't sure what soy sauce or sauces to buy for what purpose.
Before I begin, let me tell you a bit about my own personal bias–I tend to cook primarily Chinese foods, so the soy sauces in my collection are weighted toward being Chinese in style and origin. I do have a couple of Japanese soy sauces for when I make Japanese or Korean foods, and I have one bottle of Thai black soy sauce, but the rest of the soy sauces in my kitchen are Chinese in origin. Since I know the most about Chinese foods, that is the perspective I am bringing to this discussion.
Which is fine, because it is the Chinese recipes which seem to be the most apt to require the cook to have multiple types of soy sauce on hand, and it has invariably been Chinese recipes that require more than one kind of soy sauce that has caused readers to ask, "Do I really have to have two different kinds of soy sauce for this?"
My answer has almost always been a qualified yes, because over the years and in my experimentation in cooking Chinese foods, I have found that the tradition of having multiple kinds of soy sauces for different flavor and color effects really does lead to more versatility in the kitchen.
Chinese Soy Sauces can generally be categorized into three types. Light or thin soy sauce, dark or thick soy sauce and thick soy sauce, or soy jam.
Light or thin soy sauce is most like the soy sauce that Americans think of when they think of soy sauce: Kikkoman's. It is made by the fermentation of wheat and soybeans, and is salty, but not intensely so. It is dark brown, but when you swirl the liquid in the bottle, you can see that it is very thin–it has no "legs" meaning that it doesn't cling to the side of the bottle when it swishes. It runs right back down. It is a good, general purpose sauce that is used to cook light-colored and flavored foods such as seafoods, chicken, some pork dishes and vegetables. It is used when a paler colored sauce is desired for a stir-fried or braised dish or to make a pale broth in a soup. It has a clean, salty with a slight tang,
Dark or thick soy sauce is made the same way that light soy sauce is made–as a fermentation of soybeans and wheat, but some caramel or molasses is added to the sauce when it is finished brewing. This results in a darker, more reddish color, and a sweeter, more complex flavor. The sugar in the mixture also gives dark soy sauce a lot of body–if you swirl it in its glass bottle, you will see it clings a great deal more to the sides than thin soy sauce, dripping down slowly and leaving "legs." It is used primarily in stronger flavored preparations, sometimes on its own, and sometimes in combination with light soy sauce. It is part of what gives "red braised" dishes their deep brick-colored sauces, and is used to flavor beef, pork, duck and some chicken dishes.
Thick soy sauce, or soy jam is not the same thing as dark soy sauce. In my kitchen and when I teach classes, I call it "thick soy sauce" and the other "dark soy sauce" to differentiate between them, but many authors call them interchangably by the same name. Thick soy sauce has much more molasses in it than dark soy sauce, and is used primarily as a coloring agent in restaurants for fried rice. A scant half-teaspoon is all that is needed to color a full wok of fried rice a toasty brown color; to try and use liquid soy sauce to get the same effect would require so much that the rice would become so salty as to be inedible. Also, because of the high molasses content of thick soy sauce, it can be used to sweeten various dishes, especially ones that are braised. Thick soy sauce is always sold in jars; it is too thick to easily flow from a bottle.
Of course, there are Japanese soy sauces; Americans are most familiar with the Japanese style soy sauce, Kikkoman's. To my taste, Japanese soy sauces, also known as shoyu, are cleaner in flavor than Chinese soy sauces. The Chinese versions all seem to have very complex fore- and aftertastes, while the Japanese shoyu is a much more pure flavor that to me tastes saltier. There are many different grades and kinds of Japanese shoyu; some are so fine that they are only used uncooked as dipping sauces, while others are quite rustic.
Tamari is a specialized Japanese shoyu that is made completely from fermented soybeans without the addition of wheat. It has an even purer flavor than shoyu with wheat, but doesn't taste as salty to me. I always recommend that people who have gluten sensitivities or celiac disease use this for all soy sauce applications, though I myself use it very infrequently.
Thai black soy sauce is a very thick, dark sauce filled with additional molasses. It is somewhere in between Chinese dark soy sauce and thick soy sauce in texture, flavor and color, though to my taste it is sweeter than either of them. It is used in place of fish sauce by many Thai vegetarians, though I myself tend to prefer the flavor of fish sauce.
There are many other different kinds of soy sauces available to cooks. There are specialty flavored sauces such as "mushroom soy," which is flavored with extracts from dried shiitake mushrooms, and "spice sauce" which is a dark soy sauce which has garlic and various spices such as star anise and pepper steeped in it. Then there are also the soy-sauce based condiments and sauces of Japan, like teriyaki, which is a mixture of shoyu, mirin (a sweet rice wine) and sugar, or ponzu, which is a mixture of shoyu, citrus juice (often lemon), rice vinegar and bonito flakes or stock. Though one can buy them in the market, I prefer to make these derivatives of shoyu on my own to my own taste.
My advice for buying soy sauces is this: buy the best you can afford and make certain that it is naturally brewed. The naturally brewed ones will say so prominently on their labels, and they have superior flavors, which translates to better cooking in your kitchen. If you are cooking Chinese food, go ahead and buy both thin and dark soy sauces, and thick soy sauce only if you intend to make fried rice and want it to look like the versions made in restaurants. (Homestyle fried rice is pale; few Chinese home cooks use the thick soy sauce as a coloring agent for their fried rice.) The different types of soy sauces don't cost much and they really go far in bringing an authentic flavor to your cooking.
My last bit of advice is this: if you are cooking Chinese foods, use Chinese soy sauces, and if you are cooking Japanese foods, use Japanese soy sauces. I don't mix the two; the flavors never come out right when I do. In fact, I can usually tell when I go to a pan-Asian restaurant, if the cook is Chinese or Japanese by the way their stir-fried foods taste. Japanese versions of Chinese dishes always taste distinctly Japanese, often, I believe, because of the use of Japanese soy sauce. It may just be me, but I can taste the difference between the two styles of soy sauce, though I have had enough Chinese-Americans agree with me on this that I think I am not the only "soy sauce geek" in the world!
44 Comments
RSS feed for comments on this post.
Sorry, the comment form is closed at this time.
Powered by WordPress. Graphics by Zak Kramer.
Design update by Daniel Trout.
Entries and comments feeds.