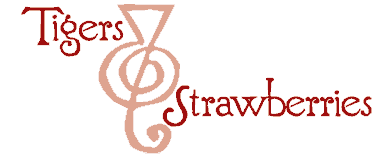 Cook Local, Eat Global
So, I am late.
Yesterday, March 8, was International Women's Day, and folks were supposed to be blogging against sexism.
Oops.
I was abed, asleep and sickly all day.
So, here I am, all late and wrong, not to write about sexism, because, while I could talk about rampant sexist behavior in professional kitchens (a tradition that is fading as more women enter professional kitchens, educated and great cooks in their own right, and as more students graduate from culinary school where the chefs have beaten sexist tendencies out of them), I don't so much feel like writing an angry essay. And it would be an angry one, because sexist behavior is infuriating.
So, instead, because I was inspired by Raspberry Sour's post on the topic yesterday, I want to take up the gauntlet she threw down and talk about women, food and feminism.
She quite correctly correlates the rise of feminism, and the entry of large numbers of women into the workforce with the accelerated growth of the use of processed convenience foods and the overwhelming popularity of fast food restaurants and take out as replacements for home-cooked meals.
When women go to work, they step out of the kitchen, and that seems to be that.
Or is it?
When we talk about two-income households, there is often discussion of "equal sharing" in the household chores between the spouses. However, the reality of the situation is that while many of today's men are doing more of the childcare chores than was the case in the past, most of the housecleaning/shopping/food preparation falls to women, or at least, that is the case if one believes the statistics quoted by Linda Hirshman in her recent article, "Homeward Bound" for the American Prospect Online.
She postulates that while the glass ceiling in education and the workplace has effectively been shattered by the concerted efforts of feminists in the US, there has been very little change in the actual structure of our families and society. This stands to reason: it is easier to attack gender inequality on campus and in the marketplace because of the possiblity of governmental and judicial intervention; however, when it comes to private lives, none of us wants Big Brother or Big Sister telling us how to live and relate to each other. (And rightly so.) Without the assistance of the courts and the legislatures, it is a very slippery operation for feminists to plunge into the depths of the American psyche and monkey around with the way in which men and women relate to each other in a household setting. Furthermore, I would say that such sweeping changes cannot be accomplished quickly and easily, simply because that is now how human societies evolve naturally.
Social evolution is by nature a slow process because we are dealing with a complex set of interactions on both small and grand scales. Without resorting to violence, experiments in totalitarian government, sweeping economic or educational programs, the possibility of quickly reshaping social systems is doomed to failure. This is both frustrating and comforting. It is frustrating, because there are inequalities that very much need to be addressed on personal and societal levels. It is comforting, because it attests to the strength and stability of human institutions–that it takes huge messy things like wars and rumors of war to disrupt them.
But I have moved far afield from the kitchen.
When women leave the home for the workplace, they often leave behind the kitchen, and in doing so, we see intense growth in the "home meal replacement" industry which includes take-out businesses, huge prepared-food departments in grocery stores, aisles of frozen and boxed convenience foods, fast food restaurants lining our city streets, and scads of "personal chefs" starting their own businesses. Along with this growth, we see the growth in girth of ourselves and our children, with record numbers of obese kids developing type II diabetes, a life-threatening disease with serious consequences with is entirely preventable.
What is a woman to do in this environment? If she is a working mother, should she eschew the convenience of fast food and make sure to cook at least four or five meals a week for her kids? (Or, should Dad do it? There is some statistical evidence to suggest that more and more men are taking up in the kitchen in the US where women have left off, which is a good thing, in my book.)
If she does cook for her kids, how can she make the time to do so, when she is also carting them to their sports practice, piano lessons, play dates and doing housework on top of it all?
And then, there is the question of what if she doesn't know how to cook for the kids?
A good question.
I am certain that no one is going to be surprised at my answer. I say–women should go back to the kitchen, taking husbands and kids with her, and everyone can learn to cook together.
Record numbers of young adults in our country have no clue how to cook even the simplest things, like say, scrambled eggs, pancakes, or even grilled cheese sandwitches without having a minor kitchen disaster. This is because many people grew up without Moms or Dads who cooked. We used to learn at Mom's side, and just in case Mom was a wretched cook, there was always that Home Economics class to take up the slack. Except, very few schools offer Home Ec anymore, certainly not as a requirement, and seldom as an elective.
How do these people feed themselves? They heat frozen stuff up in the microwave, they eat at McDonald's and they gobble up Pop-Tarts. We know that this is not good.
Hie thee hence to the kitchen, Moms, I say. Make dinner time QT–quality time–with the family. If Mom doesn't know how to cook, maybe Dad does. If Dad doesn't maybe Mom does, and if neither do, then there is always Food TV to help.
Rachel Ray and Alton Brown will hold their hands and help them out–Ray is popular for a reason, you know, and it isn't just because she is perky and cute. She's popular because she is a klutz in the kitchen, but she proves to overworked parents that by darned, even clumsy people can throw down and cook a meal in thirty minutes that is tasty and filling and comes from mostly real ingredients.
Am I then, an anti-feminist?
Uh, no. Actually, I see nothing anti-feminist about cooking with the family.
Notice I said, "cooking with," not "cooking for" the family.
It seems like a small distinction, but it isn't. The implications of my change in one small word are huge.
If a woman cooks for her family, even if she chooses to, she is stepping into a traditional female role. I have done this many times, and I don't mind it, because to me, cooking is as personally satisfying as sitting down and creating a piece of art, or writing an essay. It is an expression of my own creative spark, my self, and is a gift that I give to those I love. That is fine for me, but for a lot of women, cooking for others is their own personal version of hell. They don't like it, they resent it and the chore chafes on them like an invisible yoke. For these women, I do not advocate that they step into that traditional female role, unless they bring the entire family into the kitchen with them.
Why?
Because I believe that every individual should know the basics of cookery so that they can, when they grow up, feed themselves and others a basically healthy diet without resorting to the use of processed ingredients which are of dubious economic and nutritive value.Parents, meaning both Moms and Dads, are responsible for feeding our offspring food upon which they can thrive and grow into healthy adults, and research has found that healthy eating habits are most likely to last throughout life when they are formed at home and modelled by both parents. Eating together as a family has proven health and educational benefits for children; I would argue that it has social benefits for the entire family, in that it strengthens relationship bonds and fosters familial closeness.
Besides, I think that in our zeal to drive our kids around to playdates, soccer practice, drama club, and debate team, all of which are meant to foster the emotional and educational growth of our kids, we have forgotten that the physical health of our kids is just as important. Good nutrition is a basis for physical health, and who is better at teaching good eating (and cooking) habits to our kids but parents? In my world, I see nothing wrong with forgoing a night or two of outside activities so that kids can stay home, and cook and eat with the family.
That is my prescription for the ills of society. Women, men and children should come back to the kitchen and learn to cook together. It won't fix everything, of course. It won't change who does the laundry, the fact that South Dakota has outlawed most forms of abortion and the fact that lots of folks are still homeless in Louisiana while our federal government dithers and points fingers and places blame. It won't address the fact that women, on average still make a fraction of what men make in the marketplace.
But, it might make a dent in the number of kids who are obese, who have developed type II diabetes, and who have no clue how to cook beyond putting a box of lasagne in the microwave and pushing a button.
It might make us value our families a little more. It might make us look for family fun in a place that had previously only been the home of drudgery and food fights. It might make us laugh with each other (and at each other, too) as we struggle to gain useful life skills together.
Cooking and eating together is a family value, and is one that should not be considered conservative or liberal, traditional or progressive, sexist or feminist.
It should just plain old be valued.
23 Comments
RSS feed for comments on this post.
Sorry, the comment form is closed at this time.
Powered by WordPress. Graphics by Zak Kramer.
Design update by Daniel Trout.
Entries and comments feeds.