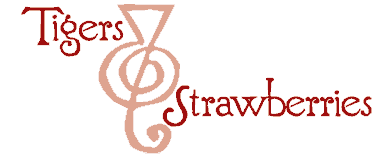 Cook Local, Eat Global
Ever since I did the Baker's Dozen Cookbooks post, I have been craving Cuban food. Since there is a distinct dearth of Cuban restaurants in Athens, Ohio, it fell to me to get in that kitchen and make myself some beans, rice, plantains and other soul-stirring comfort foods.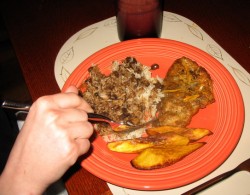 That big box of Meyer lemons determined what main course I would make: Pollo ala Plancha. I know that it roughly translates as "Grilled Chicken," but the version of Pollo ala Plancha that Zak loves isn't grilled at all. It is the dish he always eats at this tiny Cuban restaurant in Coral Gables when we visit his parents; I cannot remember the name of the place, but thier food is just perfect. Very simple, very well-presented and very, very flavorful without being overwhelming.
Their Pollo ala Plancha is sauteed in olive oil with some garlic, and is coated in a pan sauce of sherry, reduced chicken broth, and lemon juice, with salt and pepper. It is a completely simple and utterly fantastic-tasting preparation and is one that I had not tried to replicate for him until now–mostly because I was always more interested in cooking Vaca Frita or Ropa Vieja.
Meyer lemons, however, with thier flowery-intense aroma and good balance between sweet and tart flavors would really enhance such a simple chicken dish, adding a flicker of poetry to a very homey meal.
I have to admit to cheating on the beans and rice: I made jasmine rice in the rice cooker with chicken broth, adobo seasoning and some butter, and then doctored up a couple cans of black beans by pureeing half of one can, and then adding shallots, garlic, sweet red bell pepper, thyme, rosemary, smoked Spanish paprika and adobo seasoning all sauteed in olive oil until it was soft and fragrant. I had some sofrito I had made and frozen, so I popped a couple of tablespoons of that in the pot, and stirred, and let the whole mixture simmer with some chicken broth until it cooked down to a nice, thick,dark beany goodness. Then the two were mixed together into a really good mess of comforting goodness.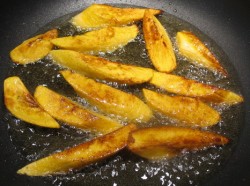 And the plantain? Well, I got the ripest one that was at Krogers by digging through the bin to the very bottom where I found one that was almost black, bruised and disreputable-looking enough to be nearly ripe. It wasn't completely mushy and sweet yet, but was still firm and half sweet, half starchy, so it fried perfectly well in peanut oil and made an acceptable side dish. Though, I have to admit that I prefer them perfectly ripe–meaning, the skins must be completely black. These fry up sweet and meltingly gooey in the middle, with a lovely crisp brown outer crust.
But when in Southeastern Ohio, one takes what gets. And unless you plan ahead for a week or so to make plantains, one has to make do with ones that are not as ripe as one would like.
Back to the chicken: while it is simple, there are a few tips that are useful. First, pound the chicken into uniformly thin pieces–about 1/4 to 3/8 of an inch thick. Do this gently, with a piece of plastic wrap over the chicken, so that the flesh doesn't tear. I like to bring the chicken to room temperature; while this is going on, I season it well with adobo seasoning and black pepper. Once it is warm, then I dredge it in salted flour, and cook it in olive oil, two pieces per pan. When each piece is nearly done, I remove it, put it on a plate and stick it in a warm oven. When all of the chicken is done in this fashion, I put all of it on the plate in the oven, and then drain most of the olive oil out of the pan, while making sure to leave behind the browned bits of chicken and flour that have stuck to the bottom of the pan.
I like the flavor of the sauce made with butter rather than olive oil–I think it ends up being more flavorful in the long run, when I do it this way.
Without further ado, here is the recipe:
Pollo ala Plancha
Ingredients:
4 chicken breast halves, trimmed and pounded to 1/4-3/8 inch thick
1 teaspoon adobo seasoning
freshly ground black pepper to taste
1/4 cup flour seasoned with a teaspoon salt
olive oil to cover the bottom of your saute pan
1 tablespoon butter
zest of one large (about the size of goose egg) Meyer lemon, minced (you can reserve about a tablespoon of the zest in long strips for garnish if you like)
1 clove garlic, minced
1 tablespoon flour
1/4 cup golden dry sherry
1/2 cup chicken broth
juice of the same large Meyer lemon
salt and pepper to taste
Method:
Season chicken breasts liberally with adobo seasoning and pepper, and allow to come to room temperature.
Heat olive oil in saute pan until it is quite hot.
Dredge two pieces of chicken in salted flour, shake off excess, and saute in pan. Allow to brown well on first side, then turn to the second. When chicken is very nearly done (it doesn't quite spring back in the center when poked with a finger or a set of tongs), remove them from the pan, put them on a plate and keep them warm in an oven.
Repeat with next two chicken pieces.
When chicken is done and set aside, drain out olive oil, leaving behind the browned bits stuck to the bottom of the pan. Put the pan back on the heat, add the butter, and when it is hot, but not browned, add garlic and minced lemon zest. Saute until the lemon starts turning golden, stirring, and scraping up the browned bits into the butter.
Add the flour and stirring constantly, cook into a roux–this will take about two to three minutes.
Add sherry all at once, and stir until a thick smooth paste results. The alcohol will cook off, leaving behind the essence of sherry thickened to a paste by the roux.
Add chicken broth, stirring (I used a wooden spoon, but others may prefer to use a whisk for this operation) until a fairly thick, smooth sauce is formed. Squeeze the juice of half the lemon into the pan, and stir until a thick, bubbling sauce is formed.
Add the chicken back to the pan, and allow it to cook in the sauce for a couple of minutes. Add the juice from the other half of the lemon and stir.
Garnish with the reserved lemon zest strips if you like.
Serve immediately on warmed plates with black beans and rice and fried plantains.
4 Comments
RSS feed for comments on this post.
Sorry, the comment form is closed at this time.
Powered by WordPress. Graphics by Zak Kramer.
Design update by Daniel Trout.
Entries and comments feeds.