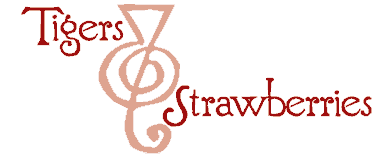 Cook Local, Eat Global
So, here's the deal: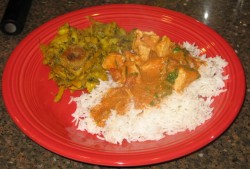 I don't get the whole St. Patrick's Day thing. I'm barely Irish (I have a couple of Irishmen in the family tree here and there, but not enough to count as Irish), and I'm certainly not Catholic, and I really don't like the idea of drinking beer with food coloring in it.
And, really, I don't much care for most Irish food.
Canned corned beef made into hash is a nightmare from my childhood.
I am not so much into cooked cabbage, so there goes colcannon right there.
So what are we doing at our house while everyone else is out celebrating being Irish? Who are we going to celebrate tonight at supper if not St. Patrick?
Who, indeed.
Tonight is the US premier of the new Dr. Who series, and we are celebrating by having traditional British food. So, instead of being St. Patrick's Day at our house, it is Dr. Who Day, and we are feasting in honor of the last of the Time Lords.
Feasting on what?
Chicken tikka masala.
Well, yeah. It was declared the official dish of the UK back in 2002 by the foreign minister, so there. That makes it, like British.
So that is what we had. I gave the folks a choice between that and shepherd's pie, and chicken tikka won.
Now, my recipe is a cheater's version. You are supposed to use leftover tandoori chicken to make the dish, but since I had none of that lying about, I cheated and cooked the chicken in the sauce. (It is said that chicken tikka masala came about when a British diner was served tandoori chicken and demanded a gravy to go with it. I don't think that was the case. I think it might have been a clever way to use untouched tandoori chicken by turning the leftovers into something else–something tasty. The chicken if reheated it as it was, would be dry–but with a sauce–well, it would be delicious.) It turns out fine that way. I also use less cream than most restaurants, mainly because I want to be able to eat the dish more than once a year. I also spice mine up a bit more than many places, but that is okay. It tastes good that way.
You will notice a certain similarity to this and chicken makhani–that is because I suspect that the sauce for chicken tikka masala is based on the sauce for chicken makhani. (If you clicked on that link above about chicken tikka masala being the most popular dish in the UK, and read the article, you will come across the opinion of Shekhar Naik, owner of the Ambassador of India restaurant in Glastonbury…he says that it is a variant of chicken makhani that was invented in a restaurant in New Dehli. This jibes also with what the waiter at Akbar told us years ago–he said it was his favorite dish and that there were restaurants in New Dehli that served it, and when he went home, he always ate it there.)
So, here is the recipe:
Spicy Chicken Tikka Masala
Ingredients:
2 small, or one medium onion peeled, and roughly chopped
5 cloves garlic, peeled
1 ½ inch piece fresh ginger, peeled and sliced
fresh red chili peppers to taste (1 or 2 small thin ones)
12 cardamom pods, seeds removed and ground
1 tsp. black peppercorns, ground
2 tbs. coriander seeds freshly ground
1 tbs. paprika
1 tbs. dried fenugreek leaves
1 tbs. butter or butter ghee
1 ½ cups water
1 14 ounce can crushed tomatoes
½ cup yogurt
2 tbs. butter or butter ghee
1 cup or less heavy cream
salt to taste
1 ½ pounds boneless, skinless chicken breasts, cut into 1" pieces
handful fresh cilantro, chopped for garnish
Method:
In food processor or blender grind onions as fine as possible. A paste is preferable, but do it as fine as you can. (The Sumeet makes this much simpler.
Grind together garlic, ginger and chili peppers the same as the onions. Keep separate from onions.
Grind all dried spices together.
Heat first tablespoon butter or ghee in a deep frying pan, (nonstick is best) and add onions. Stir and fry until the onions begin to brown. Stir constantly. If they start to burn, add a tiny bit of water.
When onions are brown, add the garlic, ginger and hot pepper paste, and stir, frying for about three more minutes.
Add dried spices, and cook until mixture is very fragrant–a couple of minutes
Add water, and mix together into a sauce.
Add tomatoes, and stir together. Turn heat to low, and cook until your sauce has reduced by one half.
Stir yogurt until smooth, and add to simmering sauce, one tablespoon at a time. Whisk until sauce smooths.
Add butter or ghee, allow to melt, whisk until smooth.
Add cream, and salt to taste.
Add chicken pieces, and simmer on low until the chicken is done and just tender, probably around 8 minutes.
Stir in cilantro and serve.
16 Comments
RSS feed for comments on this post.
Sorry, the comment form is closed at this time.
Powered by WordPress. Graphics by Zak Kramer.
Design update by Daniel Trout.
Entries and comments feeds.