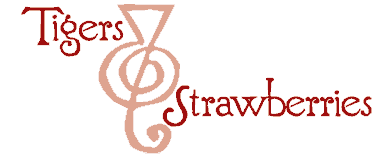 Cook Local, Eat Global
I know that both Kate at The Accidental Hedonist and Elise at Simply Recipes have covered this interesting piece in the Washington Post about the "dumbing down" of recipe writing, but I had a few thoughts on the subject that I wanted to share.
Way back in the day, when I was a journalism student, working on the college newspaper, which was run pretty much like a professional paper, I remember getting into a big fight with my instructor over my use of the word, "myriad" in a news story.
You see, we had been told that we were supposed to be writing on an eighth grade reading level, because that is the level most Americans are comfortable at reading, and apparently, "myriad" was not a word that eighth graders regularly encounter.
The instructor, who wasn't my instructor, actually–he taught another section of the news writing class, but he was a busybody and liked to hang out over any students' shoulders while they were working–looked over my shoulder and just as I typed, "myriad," pounced on it with a jabbing finger. "That," he said more loudly than necessary, "is above an eighth grade reading level."
I disliked the man intensely anyway, in large part because he once scolded me for having a filthy mouth when I had cussed a blue streak after the VDT (yes, it was way back in the day) had just eaten the story I had worked an hour on five minutes before deadline. I could have just used a different word. I could have just changed it until he started vulturing over someone else's shoulder, and then put it back. But no. I narrowed my eyes, leaned back and looked up at him with a Clint Eastwood steely glare. I even pitched my voice low, like "The Man With No Name," and said, "Am I writing for eighth graders?"
"Well, no," he admitted.
"Who am I writing for?" I pressed.
"College students."
"They had to pass the eighth grade to get here, didn't they?" I said, nostrils flaring.
"Well, yes, but you know, when you get out in the real world, you can't use words like myriad," so you might as well get used to not using them now," he countered. His position was logical, if defeatest. I refused to go gently into that long night.
I turned in my chair and looked him in the eye. "Well, when I go out into the real world, I will write for idiots. While I am here, writing for college students, I will be damned if I spoon feed them middle school pablum just because they don't want to think. If a college student doesn't know what the word "myriad" means, then they bloody well should, and if they don't, they can look it up in a dictionary."
I turned my back deliberately on him and went calmly back to writing.
He harumphed, and stood over me for a time. I think he wanted me to turn back around. But, as far as my nineteen year old self was concerned, the case was closed.
Finally, he said, "Well, if you feel that way, I suppose then that you can use the word myriad. We'll just see if the copyeditors let it stand, though."
I kept writing, and he vultured off to harass some other student.
The next day, my story appeared, and the word "myriad" was intact. Apparently the copyeditors agreed with me that it was an appropriate word to use in a college newspaper.
I see the issue of my fight to use the word "myriad" and the fact that recipe writers are having to leave off using culinary terms such as "fold," "cream," (as in, "cream together butter and sugar") and "dredge" as all of a piece.
Many Americans are functionally illiterate, and frankly, I don't see that changing anytime in the near future. Fewer than half of Americans read literature any more, and testable literacy proficiency has fallen dramatically among college graduates between the years of 1992 and 2003. In 1992, 40 percent of college graduates scored at the proficient level, which meant they were able to read long, complex texts and draw sophisticated inferences and conclusions. But on the 2003 test, only 31 percent of the graduates demonstrated reading skills at that level.
When you look at the problems cited in the Washington Post article, such the need to explicate terms such as "fold," or "saute" intead of using them in writing recipes, in the context of flagging literacy across the boards in the US, you see that the problem is not merely the case that no one is learning to cook from Mamma or the Home Ec. teacher anymore.
It is also a matter of an inablity to read and follow -any- instructions, much less ones that include unfamiliar terms.
15 Comments
RSS feed for comments on this post.
Sorry, the comment form is closed at this time.
Powered by WordPress. Graphics by Zak Kramer.
Design update by Daniel Trout.
Entries and comments feeds.