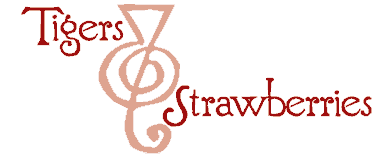 Cook Local, Eat Global
As most readers are aware, we were away for most of last week, visiting Washington DC. We went primarily to view the exhibition of the works of Hokusai at the Sackler Gallery at the Smithsonian, but we also ended up wandering around to many of the other museums, including the new Museum of the American Indian.
We had a great time, and we did eat a lot of really good food; we primarily ate at all of our favorite haunts from when we lived in Columbia, Maryland about four years ago. We ate the superlative Indian food of Akbar, we had king crab rolls to die for at Sushi King, and in Baltimore, we ate crab at The Backfin, and some damned fine kebabs and naan at Kebab Hut in Towson.
But somewhere around the fifth day, I found my palate growing weary, and all I wanted to do was come home and cook.
That is when I realized how used to cooking for us I had become. It is also, after all of the waiters at our favorite restaurants -remembered us- that I understood how much we had eaten out when we lived in Maryland. For one thing, we both worked long hours there, and I was busy cooking for lots of other people, and for another thing–it was easy. There was so much superlative food around us, that it was no hardship to go out for dinner a couple or three nights a week.
And the food at those restaurants was still just as wonderful as we remembered it, but…my palate grew weary of it very quickly.
I just wanted a plate of something simple. Some rice and stir fry maybe. Or some pasta.
Sunday as Morganna and I cruised the aisles at the grocery store, shopping for the chicken, greens and pasta in lemon cream sauce, she spontaneously hugged me and said, "I am sure glad we're home and you can cook dinner again. I missed your food."
So, that is what I have been doing since I have been back. Cooking, cheerfully, and with great joy, because I know that no matter how far we wander and what wonders we ingest while we are gone–it is the food from my kitchen that calls us home every time.
Since I have been back, I have been craving pasta and vegetables something fierce. I get this way at the end of winter, when the season argues with spring over who will have sway over the world. The sun shines and the breezes are warm one day, and the next, the sky is grey and snow spits from pendulous clouds.
At times like this, I succumb to the temptation of organic produce from California. I try not to–I try to eat local, but I saw those eggplants and they called to me. With a vengeance, they called, and before I could say, "sustainable," they were in a plastic bag and in my cart.
Oh, well. We are not all perfect.
I was thinking of making baba ganoush, but I still wanted pasta. I had glanced at a book that I hadn't opened for years, The Top One Hundred Pasta Sauces, by Diane Seed, to check the proportions to the lemon cream sauce (which I changed utterly–2 cups of heavy cream is way too much) and my eyes had lit upon a pasta sauce that featured roasted eggplant and walnuts: "Spaghetti con Melanzane e Noci."
The author stated that the recipe was from Sicily, which is where eggplants first were grown in Italy. They were brought there by the Arabs who controlled that island for centuries, and as I read the recipe, I noted a certain similarity in the ingredients and techniques to the foods of the Middle East.It consisted of the mashed flesh of roasted eggplants, finely chopped walnuts, the mashed yolks of boiled eggs, olive oil, salt and pepper and a quantity of simple Italian tomato sauce.
The use of the egg yolks to enrich the dish did not appeal to me; I decided to use a very small amount of cream instead–about one third of a cup. I also decided that since I was going to be roasting the eggplant anyway, I would roast a head of garlic at the same time and blend the mashed garlic cloves into the pulp of the eggplant. (My mind was still on baba ganoush, I think.)
And, I had some homemade marinara sauce in the freezer that I could use for the tomato sauce, so I thought I was good to go.
And I was.
The roasting eggplant and garlic smelled divine–sweet and haunting, with just a tinge of smokiness from the skins of the eggplant.
The marinara I already knew was good, because I had made it at the peak of tomato season last year, when the romas were plentiful and filled with the ripe sunwarmed juice and flesh that make the best sauces in the world. I thawed it out and set aside about a cup and a half of it into a bowl to go into the sauce, while I minced up the walnuts which I had previously toasted in the oven. These had a dark golden scent, redolent of the woodlands in autumn.
The sauce was simple to put together once the garlic and eggplants were roasted, a process which took about thirty-five minutes.
I let them cool, then cut the eggplants in half and scraped the flesh into a bowl, squashing it into a good thick puree by hand with a potato masher. The garlic cloves were similarly treated, though I used the back of a teaspoon to get at them–a potato masher would have been overkill. I noted when I looked at the eggplant and garlic that without the tomato sauce, the color of the dish would be a rather grotesque grey green–not attractive at all, but I hoped that the addition of the brilliant red tomato would not render the end result a muddy brown.
I need not have worried.
The process was simple: I heated up olive oil, and dumped the eggplant and garlic purees together with the walnuts into a saute pan, and stirred to combine them. They bubbled merrily as I let the excess water escape the eggplant pulp. After most of the water was gone, I added the marinara sauce, and stirred it in; the color changed from greenish grey to a dark rose color. With the addition of cream, it became a soft brick red color, and thickened to a wonderfully dense, clingy sauce.
I tasted it, and corrected the seasoning with salt and pepper, but found the flavor to still be somewhat flat.
Harkening back to the Arabic roots of the dish, and remembering the effect that pomegranate molasses had on my baba ganoush the summer before, I ran to the cupboard, dug out the bottle and added a teaspoon.
It was perfect. It added a smoky, tangy zing that finished the sauce and make it soar.
A small amount of the sauce tossed and twirled in with hot, al dente spaghetti was a revelation. Garlicy-rich, and filled with the creamy goodness of eggplant, the dish was both simple and complex. The walnuts added a bit of crunch to it, and their dark flavor supported the eggplant perfectly, while the pomegranate molasses melded with the tomato sauce into a fruity-tangy note that just made me want to weep, because it tasted just like summer.
I can't wait to make this again when eggplants and tomatoes are in season, that is all I have to say!

Spaghetti With Creamed Eggplants and Walnuts
Ingredients:
2 large eggplants, roasted, the flesh scraped out and mashed (enough to make about 2 cups of roasted eggplant pulp)
1 head garlic, roasted and mashed
1 tablespoon olive oil
scant 1/2 cup finely chopped toasted walnuts
1 1/2 cups homemade marinara sauce
1/3 cup heavy cream
1 teaspoon pomegranate molasses
salt and pepper to taste
fresh herbs for garnish (I used lemon thyme leaves–minced basil or Italian parsley would be very good, too. Or mint….)
Method:
Mix together the eggplant puree with the mashed garlic cloves.
Heat olive oil in a saute pan over medium heat and add eggplant mixture. Stirring constantly, allow to start to bubble. Stir in walnuts and continue cooking, until the eggplant dries out somewhat–about four to five minutes.
Add marinara sauce, and stir well, and allow to reduce slightly. About a minute.
Stir in cream, and pomegranate molasses, then salt and pepper to taste.
Toss well with spaghetti–this sauce is very thick and concentrated, so you may need a bit of the pasta cooking water to thin it slightly. There is enough in this recipe to dress about a pound of spaghetti.
Sprinkle with fresh herbs as a garnish before serving.
Note: Grated cheese does not traditionally go with this dish. I don't think it would taste right, so I didn't even think to try it. Serves four for a main course, six for a pasta course.
Posted by Barbara on March 28, 2006 in Essays, Rants and Reflections, Recipes: Almost Vegetarian, Vegetarian and Vegan, Recipes: Bread, Pasta, Grains, Recipes: Comfort Food, Recipes: Fruits and Vegetables, Recipes: Italian | 12 Comments
12 Comments
RSS feed for comments on this post.
Sorry, the comment form is closed at this time.
Powered by WordPress. Graphics by Zak Kramer.
Design update by Daniel Trout.
Entries and comments feeds.