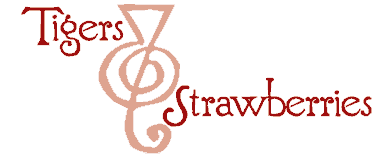 Cook Local, Eat Global
Morganna's cat, whose name is Lennier, but who gets called Nearble, Mooncalf, Moonie, Schmoo, Schmoobie, Schmoobeast, Moobie and MilkyMoo (all of which he answers to) is a wierd cat who is obsessed with water.
He prefers to drink from sinks. He likes to sit in the bathtub. Sometimes, while there is water in it. When Morganna showers, he cries outside the bathroom, and likes to be let in so he can watch, and then dash into the wet shower after she is done, and sit down. He likes to sit on the edge of the tub when I am in it, and drape his front paws up to his elbows in it and drink the water.
He is truly odd.
The other morning, I came downstairs to behold an odd sight: our beloved Mooncalf sitting in the kitchen sink, which is so deep, only his head was to be seen. He looked like a kid in a bathtub, with only his head sticking out.
When I got close enough to see, he had been having a bath, but hearing me interrupted him and he had to peek out to see who had disturbed him at his ablution.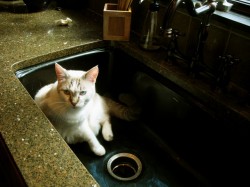 Silly cat. After taking the pictures, I of course had to chase him out and then re-wash the sink. I haven't caught him there since, thankfully. Usually he hangs out in the bathroom sinks….
This is getting posted early because we are leaving in the early morning to pick up our dear friend Theresa at the airport in Columbus. She is flying in from Baltimore and will stay in Athens for a long weekend and then fly out Tuesday morning.
For more weekend cat blogging action, check out Kiri and his beloved person, Claire at Eatstuff.
13 Comments
RSS feed for comments on this post.
Sorry, the comment form is closed at this time.
Powered by WordPress. Graphics by Zak Kramer.
Design update by Daniel Trout.
Entries and comments feeds.