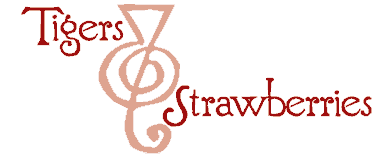 Cook Local, Eat Global
My thoughts began as I was scrubbing fingerling potatoes last night, in preparation to simmer them.
As I gently scrubbed each thin-skinned little tuber individually, I found myself reflecting upon the idea of simple food.
I realized that I didn't really know what the words, "simple food" meant. Well, I knew what they meant -to me-, but I was not altogether certain what they meant to other people.
I first encountered this oddity when I was in culinary school. When I would call my mother, she always asked me what I had been cooking–a logical question to ask one's daughter who spends over eight hours a day in a kitchen, only to come home and spend another two or three in her own kitchen. And I would describe whatever it was I had prepared that had impressed me, such as spinach souffle, or perhaps, poached salmon with sauce remoulade. And she would say to me, "That sounds good, how do you make it?"
And I would always say, "Oh, it is simple, you just…."
The rest of the explanation, which was always sprinkled with French words and phrases such as "brunoise" (a tiny dice), "chinoise mouselline" (a very fine-meshed strainer), "mise en place" (literally, "everything in its place;" refers to having all prep done and organized before the actual cooking starts), and "buerre manie" (a mixture of equal parts butter and flour kneaded together and used as a thickener for sauces and soups), was always lengthy and generally involved more than five steps.
My mother was patient, but she finally said to me, "Your idea of simple and normal people's idea of simple are two very different things, at least when it comes to the kitchen."
This puzzled me, in large part, because I spent so much of my time around people to whom it was nothing to whip up a quart of hollandaise sauce within a few minutes, or who thought nothing of putting together masterpieces of pulled or spun sugar threads, and using them as mere decorations for desserts. To my mind, I was explaining the simplest things I had learned, in plain language that anyone could understand.
Slowly, I learned to ditch the French phraseology–no matter how precisely descriptive it was–when I spoke with non-culinarians, and if anyone asked me verbally for a recipe, to make certain to keep it as close to five or fewer steps as I possibly could. Yet, still, when I made these changes, often, I was greeted with amazement as people said, "You do -all of that- to make a sauce?"
When I began teaching classes in Chinese cookery, I realized that the best thing to do when writing down recipes, was to be as precise and detailed as possible, especially when dealing with techniques that are likely to be unfamiliar to my typical students.
When I handed out the recipes, however, students, particularly if they had not had any of my previous classes, would become instantly intimidated.
"Oh my God!" some would exclaim, at glimpsing the heavy packet of recipes and related materials. "This looks too hard–I thought this class was for beginners! I'll never be able to do any of this!"
Once the packets were passed out and I had finished with my verbal introduction, I found it was necessary to reassure the students carefully that the reason the recipes looked so difficult was because I had described the methods and techniques exhaustively, in order that they would be able to recreate what we did in the classroom at home.
Invariably, once class started and I began explaining, and we all began working together at making bao, spring rolls or simple stir fries, the students agreed that while the recipes themselves were not hard, they appreciated that I had taken the time to write the descriptions so carefully, so that they would have all the details at hand when they went home and tried to replicate them. When I had students return, taking new classes, they always reported back to me that my care had paid off–all of them managed to recreate the dishes at home, exactly. (I am pleased to say that my early exposure to the works of Julia Child probably paid off; unconsciously, when I first started writing recipes, I was emulating her spare, yet detailed descriptions of technique.
So, what is simple food?
I often describe the stir-fried dishes that I present as simple, and to me, they are, but to those who are unfamiliar with the techniques of cutting that are necessary to Chinese cookery, or whose pantry is not filled with fermented beans, soy sauces, chile pastes and sesame oil, these recipes do not qualify as "simple."
Simple food depends on where you are, who you are, what your tastes and culinary skill levels are, and how patient one is in the kitchen. Some simple foods require little in the way of technique to prepare, but cook for hours, so one should never conflate "simple" food with "quick" food.
Real smoke cooked barbeque requires little in the way of culinary finesse or technique, but it takes hours to days to execute, with the cook standing by to feed wood into the fire, turn the meat, and apply various bastes, rubs, mops and whatnot to the meat as it slowly cooks in indirect heat. So, to those experienced pitmasters who have lived barbeque for years, and to those who recognize that the three main ingredients for good barbeque is meat, wood and time, it is a simple food.
To those who cannot abide the thought of tending a fire for twelve hours, there is nothing simple about it.
I look back at those conversations with my mother when I was in culinary school and shake my head in wonder. I have since gifted my mother with a continuing subscription to Fine Cooking Magazine, a gift which she appreciates more than I ever expected she would. She often cooks from the magazine and when we talk, if a particular article grabbed her attention, or brought up a question for her, she calls and asks me, and we usually have a lively discussion over it. I chose that particular magazine for her for several reasons: one, a lot of the recipes are what she would term, "fancy" food, but many more are pretty simple. It is a technique-heavy publication with emphasis on teaching readers the hows and whys of cookery–lessons they can apply to their own recipes–rather than just presenting recipes. And finally, it is amply illustrated with photographs that illuminate every step of the techniques they present.
I have noticed, interestingly, that my mother's definition of "simple" has changed since I started her reading Fine Cooking about five years ago.
Though, she still refuses to pepper her descriptions of cooking with any French words or phrases.
Here is a recipe that I promise is the epitome of simple: fingerling potatoes are simmered slowly in water or broth until they are tender, then drained, and cut in half longways. Then, they are allowed to dry thoroughly, and are sauteed in olive oil with shallots, garlic, chile flakes, and fresh basil, and seasoned with salt and pepper.
The shallots are allowed to fry crisp and reddish brown, while the garlic is golden; these crunchy nuggets of sweetness contrast with the melting buttery quality of the potatoes, while the chile and basil add fire and freshness to the entire dish. The results are fragrant, with a wonderful contrast in texture and flavor; I intended this to be a side dish, but it easily could be a simple supper with just a bowl of lentils or bean soup and a salad.
As for the flavors–well, I think this is sort of a southern French kind of dish, though I have no reason to say so. It just tastes that way to me.
Fingerling Potatoes With Golden Garlic and Basil
Ingredients:
1/2 pound fingerling potatoes, well scrubbed (be careful, the skins are thin and fragile, so scrub gently!)
3 tablespoons fruity olive oil
1 large shallot, peeled and thinly sliced
3 large garlic cloves, peeled and minced
1 teaspoon of Aleppo pepper flakes, or regular red chile flakes to taste
freshly ground black pepper to taste
1/4 cup finely chopped fresh basil leaves
salt to taste
Method:
Put the potatoes into a pot, covered well with salted water (or chicken broth for a little extra flavor)and bring to a bare simmer. Simmer them until they are fully tender. (Simmering rather than boiling keeps the skins intact, and makes for extra-creamy potatoes when they are done.) After they are done, drain them, and allow them to dry thoroughly. Cut each into half lengthwise; if any of them are larger than bite sized, cut them in half again cross wise, in order to quarter them.
In a saute pan, heat olive oil over medium high heat. Add shallots and cook, stirring constantly, until they are a medium golden color and are starting to crisp up. Add garlic and Aleppo pepper flakes, then the black pepper, and stir well, continuing to cook until the shallots darken to a reddish color and the garlic is golden and everything is very fragrant. (The oil will take on a reddish hue from the pepper flakes.) Turn down heat to medium low.
Add the potatoes, cut side down, and allow to cook, shaking the pan gently, until a bit of color is taken on the potatoes; they will not crisp up, but will instead the flesh will be tinged a golden reddish color from the oil. Allow them to cook at least three minutes face down to aquire this color. Stir well and continue cooking until the potatoes are well flavored and coated by the oil, shallots and garlic. Add basil, and stir to wilt and combine it with the other ingredients.
Add salt to taste, and serve hot.
15 Comments
RSS feed for comments on this post.
Sorry, the comment form is closed at this time.
Powered by WordPress. Graphics by Zak Kramer.
Design update by Daniel Trout.
Entries and comments feeds.