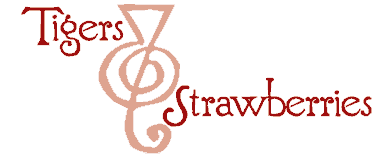 Cook Local, Eat Global
We are in the home stretch of the Ancient Spices Round-Up series of posts. I never expected such a strong response to this little food blogging event, but I am thrilled to host such a great group of bloggers and their recipes.
Here are the final entrants into The Spice is Right I: Ancient Spices.
Gizella, the blogger behind Aubergine, weaves us the story of caraway. Yet another member of the umbelliferae family that includes cumin, dill, fennel, carrots and coriander, caraway seeds are used in many cuisines to flavor breads, soups, cheeses, sausages and sauces. She notes the mention of caraway in Shakespeare, where it flavors a sauce for apples offered to Falstaff in Henry IV. Her recipe, however, is closer to home than a Shakesperean recipt–she gives the recipe for a digestive Caraway Cordial which her grandmother dispensed for stomach aches and indigestion. It worked so well, her granddaughter always thought that perhaps the lady was a witch. Now, she knows that she was just a healer who trusted in the natural powers of spices and herbs, but isn't so much more romantic to think that she was a good witch just like in a fairy tale?

Zorra writes in from Switzerland in her blog 1x Umruhren Bitte, with more goodly things to know about cardamom. Like what? Well, like the Egyptians used to chew cardamom pods to clean their teeth, while the Greeks and Romans used it to make perfume. Since the scent of cardamom is so liltingly sweet, can I say that I appreciate the Greeks and the Romans and their taste in perfumery? In fact, I would like a perfume made of cardamom right now. Lacking that, however, I can content myself with the lovely Indian-inspired Cardamom Chicken recipe that Zorra made, which looks delectable plated up with golden raisin-studded turmeric rice.

Sailaja of Sailu's Food sees the very strong connection between food and health. With nearly every recipe she posts, she gives great information on the healing or nutritional properties of the ingredients, and I very much appreciate her attention to detail. What did she choose to write about when it came to ancient spices? Black Pepper, which she tells us is a remedy for ailments of the stomach and throat, and that it very useful brewed into a tea with gnger for a homemade cold and flu medicine. As great as that tea sounds, I am way more into trying her Miriyala Annam (Pepper Flavoured Rice), a recipe where the pungency of black pepper is offset by aromatic sesame seeds and curry leaves.

Sugar, Spice and Everything Nice's author Sonali chose something that very few people would think of as a spice, but of course–it is: sugar. She points out that it was first produced in India, thousands of years ago, and its popularity has only exploded since then, unfortunately, often to the detriment of our health. But if used sparingly as a spice, a flavoring or a treat, and not as an every day staple food, sugar enhances our diets and pleases our palates. To showcase sugar, she presents Snowball Cookies, a recipe that is not too sweet, and happily, tastes very much like the Indian treat, Nankhatai.
Gini of Salt and Pepper graced her entry with a photograph taken on her last visit to her home state of Kerala, India of black pepper growing on the vine. The immature berries look beautiful arranged like jade beads on long, curving stalks, while the ovoid leaves of a deeper green hue shade them from the bright sun. A lovely image. She tells us how pepper was grown and harvested as a cash crop when she was a girl, then gives us a recipe for Black Pepper Tamaraind Rasam. Rasam is a thin soup or sauce that is eaten either as a starter, like a broth, or over rice as a sauce in the southern states of India. It is definately South Indian soul food, and has healing powers similar to the ones that Western chicken soup is reputed to have.

Anne, the lovely blogger of Anne's Food, took up saffron, and showed us another way it can be used in the kitchen. As the third recipe utilizing this universally-loved spice, Risotto Milanese, a classic northern Italian dish, shows how very versatile these little crocus bits can be, and how pretty the results are. The brilliant yellow of saffron has been used for centuries not only to flavor and color food, but also to dye fabric, most noteably, the fabric used to make the robes of Buddhist monks. Which is all well and good, but really, I would rather save the saffron for a creamy, dreamy rice dish and have plain white robes any day.
Santhi, the author of Me and My Kitchen, featured another entry for cardamom, which she calls the Queen of Spices. One thing I noticed that is in common with all four of the recipes to feature cardamom so far–they include milk of some sort. This tells me that cardamom has an affinity for dairy products, which makes me wonder if anyone has ever concocted a cardamom-flavored cheese? Something to think about anyway–but back to Santhi's entry. Her recipe is for a traditional sweet of AndhraPradesh, her home state in India. They are Kova Kobbari Laddo – Coconut stuffed kova Laddos, and they are made of milk, sugar, coconut and cardamom. Wow!
Zoubida sure knows how to tempt a body. On her blog, Kitchen Culture, she made a seductive post about saffron, and paired it with chocolate. Yes, yes, I said chocolate. Zoubida is a wicked, wicked woman, and I love her for it! What do I expect from a woman who writes as if she is as obsessed with spices as I am, eh? We are all temptresses in the kitchen. But what did she make with the saffron? Quenelles de Chocolat Safrane. In English that means "Sinfully Rich Chocolate Mousse-Like Egg-Shaped Morsels with an Equally Wicked Saffron Cream Sauce." Zoubida, for a Muslim, you really -know- how to end the deprivation of Lent. I bow to you, kitchen sister! (As I wipe the drool off the keyboard….)

Katherine describes a unique method of grinding cardamom seeds while also getting out her frustrations and agressions at ToastPoint. She also sings the praises of Irma Rombauer's admonition to use more butter in baking muffins, because low-fat muffins are dry and don't taste as good. Well, I cannot argue with that, especially not considering how good Katherine is at whacking things in her kitchen! (Besides–what is there to argue about–butter does make food taste better.) What does she present to our recipe round-up? Apricot Cardamom Muffins, which look delicious and fragrant. (Did you know that apricots are high in iron? The things you learn when you are pregnant….)

Finally, we come to my very own entry here at Tigers & Strawberries. (No, I am not putting a link to my blog here–if you are reading this post, you most likely already know where to find me.) I had to restrain my desire to post about Balinese long pepper for an entire month and a half or so because I wanted to save it for the first The Spice is Right. Why? Because it is a totally cool, very old, and by many in the modern world, forgotten spice. It used to be -the- pepper, and was the toast of Europe, the Middle East, India and beyond. And then, cultivation of our more familiar black pepper became simpler, and it edged out long pepper as the king of spices, and everyone forgot that long pepper even existed. But, it is interesting, tastes fantastic and deserves to be cooked more often. In order to highlight this spice, I used it as the main flavoring agent in a very simple preparation of asparagus: Asparagus with Meyer Lemon and Long Pepper.
And this concludes the first edition of The Spice is Right, the blog event were we get the chance to learn about spices common and rare, and we can share great recipes using those special little things which gift our foods with magical flavors and aromas.
10 Comments
RSS feed for comments on this post.
Sorry, the comment form is closed at this time.
Powered by WordPress. Graphics by Zak Kramer.
Design update by Daniel Trout.
Entries and comments feeds.