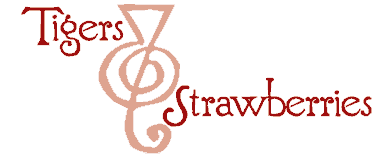 Cook Local, Eat Global
One of the first things I noticed when I first became pregnant, was that my tastes were changing.
This happened when I was pregnant with Morganna, too, of course, but I don't remember specifically how that all worked except for a few things: I wanted cheese all the time, I craved beets, which I normally hated, and I wanted to eat liverwurst, another less than beloved item, constantly.
This time around, I discovered a great many food aversions as my nausea deepened. Red meat, particularly beef, normally a beloved food, became a source of extreme repugnance. The smell of the meat as I cut it to stir fry was nearly unbearable; I found myself unable to eat it after a time, because the smell was so overwhelmingly foul that I simply could not bring myself to eat it. At those times, luckily, I had added tofu to the dishes, thinking that I would be better served to try and eat that, and luckily, I was correct. I would guzzle up the tofu, and leave the meat in the serving dish with a curled lip.
Pork became problematic, as well, though it fared better than beef. Cured pork products such as ham and bacon, were still good, as was sausage. Ma Po Tofu, made with minced pork and large cubes of tofu flavored with preserved vegetable, fermented black beans and broad bean chile paste, still tasted divine, though, again, I ate more of the tofu than the pork. Stir fried pork dishes were still good, so long as I added pressed tofu to them so that I could eat just a few pieces of pork, and finish filling up on tofu, vegetables and rice.
I realized a few days ago, that with this pregnancy, I seem to be returning to my childhood food preference patterns, and I find this curious; I cannot help but wonder if other women experience the same phenominon.
When I was a child, I still loved strong flavors–my mother often tells the story of how she let me teeth on cleaned, whole scallions, which I would gum happily, with green-tinted drool pouring down my chin. Apparently my breath was worthy of a dragon, but I was happier chewing on the onion than on a zweiback biscuit like other babies. (I still think that zweiback and arrowroot biscuits are wretched things. I cannot see how kids can bear them.) It just meant that Mom had to brush my teeth and gums a few extra times a day and use a bit of bleach to get the green stains out of my bibs and t-shirts….
But even as I grew, I always loved the strong flavors of onions, green onions, ramps, garlic, and sweet peppers. I was especially fond of olives and garlicky kosher dill pickles. I am told that I would gnaw on a whole one of those for hours before finally finishing it, with a great sigh of contentment. Strong cheeses were also a favorite, though it seems that even at an early age, I was allergic to bleu cheeses, which I loved even then. I remember getting powerfully sick off of some bleu cheese spread my mother let me eat at the age of two. My father thought it was just that it was too rich, however, later, we discovered that I am allergic to the mold that makes the cheese taste so wonderfully tangy.
There were other distinctive patterns to my eating. I loved most vegetables, if not cooked, then raw. My mother tended to overcook peas and broccoli, so I didn't care for them cooked, but would eat them with relish raw. The same was true for turnips. Brussels sprouts I never learned to like, and unpickled beets were not favored (though pickled, they were quite good and I always loved their beautiful carmine color), but other than that, there was not a vegetable that I did not like. Green beans were a favorite, as were tomatoes, cooked and raw. Corn, particularly fresh from the stalk and uncooked or lightly boiled or roasted, was wonderful to me, a boon companion of long summer days. Carrots I would dig from the garden, wipe off the mud and eat out of hand, and lima beans, zucchini, yellow crookneck squash, eggplant, cauliflower, raw cabbage, hot peppers, kale, acorn squash, sweet potatoes, and dried beans such as pintos, navy, great northern and kidney beans were all eaten with great gusto.
The problem was, I didn't much care for meat.
I would eat as little as I could get away with, with the exception of sausages, bacon or ham, chicken, turkey and fish–all of which I positively adored. But red meats I tended to dislike greatly, and would try to get out of eating, and if my parents didn't watch me closely, I would end up feeding much of my portion to my faithful dog, Rufus, who sat by my side, ready to help me get rid of that incriminating dried out porkchop or greasy hamburger.
I even hated steak with a great passion, which confused many of my relatives. I made exceptions for pork or beef pot roasts, so long as a great deal of gravy was involved–which should give a clue to the problem. I didn't like dried out, overcooked meat–but I didn't know that at the time. At the time, I just knew that it had no flavor compared to vegetables, and it just wasn't worth taking up space on my plate when I could have more vegetables if I didn't have to eat meat.
I liked grain products, too–especially whole wheat bread, and I loved rice. Mom only made Minute Rice, which is not that good, but I loved it anyway, and ate it with glee, especially when I had it with bits of leftover pot roast shredded on top with some gravy. That was my favorite leftover dinner. Pasta was great, especially Mom's homemade chicken and noodles with mashed potatoes. Spaghetti was great, too, but I never liked the meat sauce Mom made. Too much meat, not enough tomato, so I ate the pasta and left most of the sauce behind–a habit which caused quarrels at the dinner table.
Meat was such an issue in our house that my mother finally took me to the doctor when I was about six or seven, to ask him what was wrong with me that I didn't like to eat enough meat. (Of course, her idea of "enough" was a bit daft–my mother learned to cook by watching her mother who cooked for farmworkers, fieldhands, and a husband and children who had worked a full day on the farm. So, my mother's idea of proper portions was skewed. I ate a lot at Grandma's, it is true, but then, I was running, playing and working in the garden for hours, so I burned off calories and needed to eat more. At home, I was more sedentary than that and ate less.)
Dr. Staat was an old country doctor, with a handlebar mustache, little round spectacles and a pocketwatch in his suit under his lab coat. He looked like a character from a Mark Twain story, he was so old-fashioned, and he was very quiet.
While he examined me, (an examination which included him sticking a finger in my mouth and having me bite down to see if my teeth were strong) he asked my mother what the problem was, and she told him, "She never likes to eat meat. I always have to fuss at her to finish it, and half the time she's stubborn and won't eat it anyway, and I make her sit at the table until it is done, and she still won't eat it."
He nodded, went, "hmm" and then said, "So what -does- she eat? Candy?"
Mom said, "Well, she does eat candy, but not habitually–we don't keep it around. But she does like bread, and she loves rice, though I have no idea why, and she likes vegetables."
He turned a critical eye upon me. "Vegetables?" he said. "What vegetables do you eat, little one?"
I dutifully began listing vegetables, my favorites first, in a singsong voice. "Green beans, tomatoes, carrots, corn, spinach, pinto beans, potatoes, navy beans, lima beans, kidney beans, onions, pickles, cucumbers, squash, sweet potatoes…."
He held up a hand to interrupt me. "How do you eat them?" he asked.
"Cooked or raw, but I like 'em best from the garden. I don't like canned corn, " I confided. "It tastes funny."
He nodded. "What is your favorite fruit?"
"Sour cherries!" I said, bouncing. "And blackberries, and strawberries, and grapefruit and oranges and I like to eat lemons, too, but Mamma thinks that is bad for me."
He looked at my mother sidelone and looked back at me.
"Why don't you like meat?"
"It tastes funny. It's dry or greasy and I don't a lot of it. But I like bacon, and ham, and chicken and fish is my favorite thing in the world."
"What kind of fish?"
"Trout. Or bluegill or catfish. Anything we catch out of the pond at Grandma's is good."
"Do you drink your milk?" he asked.
I nodded avidly. "Every meal."
"Do you drink pop?"
I shook my head, "Not very much, no."
"Do you eat cheese?" he asked, as he folded up his stethascope and put it into the patch pocket of his lab coat.
I bounced witih enthusiasm. "I love cheese. Daddy gives me good cheese when he buys it. I'd eat cheese for every meal if I could."
He nodded and turned his attention to my mother, as he sat back down behind the massive oak desk.
"Mrs. Fisher," he sighed. "There is nothing wrong with her. She is healthy, she is obviously eating adequately, as she is not underweight, nor malnourished. She shows no signs of illness, her teeth are strong, her eyes are clear, her skin is healthy and her hair," he nodded at my waist-length blonde hair, "is obviously healthy."
"Well then," my mother argued, "won't she eat meat?"
Dr. Staat took off his glasses and pinched his nose between his thumb and forefinger. "Because she doesn't like it much, that is why." He shrugged his shoulders, and began cleaning his spectacles with a handkerchief he pulled from his vest pocket. "She doesn't dislike all meat, just mostly red meat. There is nothing wrong with that–most Americans probably eat too much meat anyway. Besides, she gets plenty of protein from other sources, like milk, cheese and beans." He put the spectacles back on, and leaned forward, piercing my mother with a stern glance.
"Do you know how many mothers come in here with children who refuse to eat vegetables at all, and beg me to tell them what to do?"
Mom shook her head, struck dumb.
"Hundreds. Count yourself lucky that your child likes so many vegetables, and eats them happily. It obviously has helped make her healthy. Now, go on and leave her alone about meat," he said with a dismissive guesture. "She will start eating it when she is hungry for it and when she needs it, like when she has a growth spurt. Until then, leave her alone, count your blessings, and keep feeding her vegetables, especially raw ones. They have the most vitamins." As she rose to go, taking my hand in hers, he offered this parting bit of wisdom, "I think you may also be overcooking your meat–and that is why she finds it distasteful. Perhaps you should try not cooking it so long."
Dr. Staat knew what he was talking about. By the time my teen years came about and I was growing into the big-boned frame I have now, I took up eating meat, even if it wasn't cooked very well. Though, if there were dried beans and meat at the same meal, I would eat more beans and less meat.
It seems that I am returning to this pattern, which is a bit of a problem, because both Morganna and Zak prefer meat.
My compromise position, is to eat primarily vegetarian foods when we eat out, and to cook dishes with a great deal of both meat and vegetables in them. They can eat most of the meat, and some of the vegetables, while I eat most of the vegetables, and some of the meat.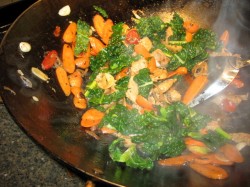 Last night, for example, I made a stir fry that featured a bit of pork loin, and two vegetables we had in abundance in the fridge: baby carrots and lacinato kale.
I flavored it with shallots, ginger, garlic, scallions, chiles and fermented black beans, and added a bit of light soy sauce, and Shao Hsing wine and sesame oil for flavor and color.
If I had some pressed tofu in the fridges, I would have added that, for I was craving it, but we were out of it. As it turned out, the meal was quite flavorful and all three of us enjoyed it. What kale they did not eat, I finished, and we all ate carrots happily. They ate most of the pork, and I had some, enough, and we were all made happy.
I think that the next few months of cooking will be a big adventure as I learn to balance the cravings of my body–which I am a big believer in following, so long as they are for wholesome foods–and the needs of the rest of my family. Right now, I am all about dried beans, while both Zak and Morganna will tire of them easily. That is no matter–I can fix a pot of them for myself, and eat them for breakfast and lunch, freeing up dinnertime for meals that we can all agree on harmoniously.
Here's the recipe for the supper we had last night; it was quite satisfying, though it is an example of simply inventing a stir-fry out of whatever is in the fridge.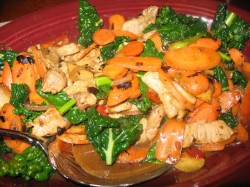 Pork with Kale and Carrots
Ingredients:
3/4 pound pork loin, trimmed and thinly sliced against the grain into pieces about 1″ by 1/2″, 1/4″ thick
1 tablespoon cornstarch
1 1/2 tablespoons Shao Hsing wine
3 tablespoons canola oil
1 large shallot, sliced thinly
4 large scallions, white parts sliced thinly on the diagonal, and green parts cut into 1″ lengths–keep them separate
2 ripe jalapenos, sliced thinly on the diagonal
1″ cube fresh ginger, peeled and thinly sliced
1 tablespoon fermented black beans, mashed lightly
3 large cloves garlic, peeled and sliced thinly
1 1/2 tablespoons light soy sauce
1 tablespoon chicken or vegetable stock or broth
1/2 pound baby carrots, peeled and thinly sliced on the diagonal
1/2 pound lacinato kale, washed and sliced into 3/4″ wide ribbons
1/4 teaspoon sesame oil
Method:
Mix together pork, cornstarch and wine, allow to marinate at least twenty minutes.
Heat wok on high heat until it smokes. Add canola oil. Allow to heat another thirty seconds and add all aromatics -except- garlic. Stir fry, tossing quickly, until the ginger and shallots brown slightly–about forty five seconds to a minute. Add garlic, and continue stir frying for about a half minute.
Add pork, reserving any liquid marinade still in bowl. Lay out on bottom of the wok in a single layer, and allow to brown undisturbed for about thirty seconds to a minute–depending on how hot your stove is. When you smell the meat begin to brown, start stir frying it. When most of the pink is gone, add the soy sauce and broth, and deglaze any marinade that has stuck to the sides or bottom of the wok.
Add carrots and stir fry until all of the pink is gone from the meat. Add kale and the reserved liquid marinade, and keep stir frying until the kale deepens in color and wilts slightly.
Drizzle with sesame oil, and give a few more turns of the wok shovel to mix it in completely. Take off heat, scrape into a heated serving platter and serve immediately with steamed rice.

17 Comments
RSS feed for comments on this post.
Sorry, the comment form is closed at this time.
Powered by WordPress. Graphics by Zak Kramer.
Design update by Daniel Trout.
Entries and comments feeds.