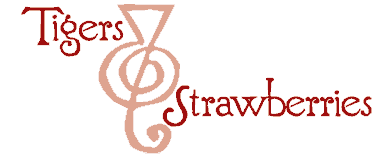 Cook Local, Eat Global
Try as I might to be a good Mom, and feed wholesome, nutritous food to myself and my family, I have discovered that sometimes, you just have to make a batch of cookies.
Sometimes, that is just all that will do to quell the cravings of the teenager who comes home, hugs me and says, "Mom, can we bake cookies tonight?" ( I am also firmly of the belief that much of the pleasure in cookies rests in the making of them, particularly when this is a social, bonding sort of event between friends and family members.)
Do I really want cookies sitting around the house?
No.
But, on the other hand, neither do I want to turn cookies into a forbidden substance which are then made all the more alluring by virtue of them being frowned upon as an unallowable vice. (And, besides, I am grateful that my daughter wants to do stuff with me–that is not the case with all daughters and mothers.)
So, sometimes, cookies just want to be made, need to be made, and must be made.
But which cookies?
We discovered something last night.
When one is hungry, every cookie recipe in the cookbook looks and sounds like the best thing on earth. The only thing that would make them better is for them to grow effortlessly upon a tree in the front yard, with an endless fountain of milk alongside. Even cookies filled with ingredients that one does not care for, such as raisins, sweetened flaked coconut and carob, are made endlessly appealing through the simple application of hunger and good food photography.
Brownies were the first choice.
Specifically my Aztec Gold Brownies which are flavored with a great deal of dark chocolate, espresso powder, cinnamon and ground chipotle pepper.
However, I didn't feel like making those, and no other brownies appealed to Morganna, because as she said, "I don't really want something chocolately."
When I pointed out the obvious contradiction of her position ("I want Aztec Gold Brownies, but I don't want anything chocolatey"), she defended herself by saying that Aztec Gold Brownies were anything but "just chocolatey." They are also bitter, sweet, spicy and hot, in addition to chocolately, with the chocolate somehow coming in last among all of the flavors, even though it is a dominant ingredients.
There is no logic when it comes to deciding on what cookie it is that will feed a craving, so I gave up on trying to understand my child's taste. To me, the brownies are indeed chocolately, but with a complex series of flavors mixed into them, which adds depth and drama to what looks like a plain old brownie.
Back to the difficult decision on what cookies to make.
Snickerdoodles were rejected out of hand, because Morganna doesn't much care for them, even if I haven't blogged about them yet and they are an important bit of family history passed down from her great-great Grandma Fisher. She suggested the Aphrodite Cakes, but I refused on the grounds that by the time I had made them, cooled them and iced them, she would be long abed and asleep, and then Zak would eat them all before morning, and she would get none.
This was not pleasing to her. (I cannot imagine why.)
Then she said she wanted spice cookies, and I instantly thought oatmeal cookies with spices would be good, but no, she was not into that.
We looked in the cookbooks at our disposal (many), and Morganna came to the conclusion that too many things sounded good for her to make a decision.
There was nothing for it.
Only one cookie would do. Only one cookie could come to the rescue in this turbulent trying time:
Coyote Chip Cookies.
No, you don't make them out of coyote droppings.
Nor is it necessary, when setting out to make a batch, for the cook to "catch a coyote, and put it through a chipper-shredder" in order to make "coyote chips."
No, no, nothing like that. (Besides, chipper shredders are much better at making salads than cookies….)
The fanciful name came from a reader, who, when I described these cookies on an lj community, who said, "You have to call them, "Coyote Cookies," because they are so chaotic and they have everything in them." Coyote, of course, is a Trickster in many Native American cultures, and these cookies are tricksters, too. Are they chocolate chip cookies? Or spice cookies? (Or, if I had my way, are they oatmeal cookies?) What all do I taste in here?
A good thought, I decided, for indeed, there is some of everything in them, and the flavors swirl together in a complex dance of texture and taste on the tongue. There is chocolate, coffee, almonds, toffee, spices and other good things in there.
(There would be more of everything, but Morganna vetoed my desire to put rolled oats in for extra chew and nutritional value. I think I may sneak them in next time after all, because I think that the cookies could be improved with just a bit of extra chewiy-chompiness.)
The recipe is based on the good old, tried and true, Nestle Tollhouse Cookie recipe that is ubiquitous, but after the basic dough is constructed, my recipe diverges wildly on flavorings and add-ins, such that the cookies become a veritable chewy, crunchy, sweet, and spicy storm of little bites.
So, without further ado, here is a cookie recipe for those times when you just have to make cookies, but you aren't sure what kind to make….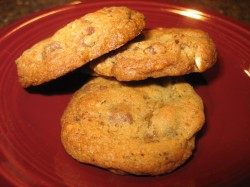 Coyote Chip Cookies
Ingredients:
2 1/4 cups all purpose flour
1 teaspoon baking soda
1 1/2 tablespoons espresso powder
1/2 teaspoon cinnamon
1/8 teaspoon ground cloves
1 teaspoon salt
1 cup unsalted butter, cold from the fridge–not softened (This keeps them chewier and denser)
1 1/2 cups light brown sugar, packed
1 teaspoon double strength vanilla extract
2 eggs
1/2 cup sliced almonds
1/2 cup cinnamon morsels
1/2 cup toffee chips
1/2 cup rolled oats (optional)
1 12 ounce package milk chocolate morsels
Method:
Preheat oven to 375 degrees F.
Combine flour, baking soda, espresso powder, cinnamon and salt in a small bowl. In a mixing bowl, cream butter and sugar together until light and fluffy. Add vanilla, and the eggs, one at a time, beating to combine.
Gradually add flour mixture, beating thoroughly between additions, until all flour is used.
Mix in almonds, cinnamon chips, toffee bits, oats and chocolate chips, either by hand or with the mixer, depending on how well your mixer tolerates very stiff doughs.
Scoop with a small cookie scoop onto cookie sheets lined with silpats, and bake for 10 minutes. Allow to sit on sheets for three minutes, then remove to racks to finish cooling.
Of course, I am wondering how I can improve these cookies. What else can be added to the trickster-chaos? No one in the household likes sweetened flaked coconut, but I wonder if I could get away with plain old dehydrated coconut? What about some sort of fruit, or would that clash utterly with the chocolate? (Bananas, perhaps? Or apricots, for indeed, they are high in iron….)
Ooh–I know! Dried sour cherries! They go with chocolate! And almonds, coffee, spices and toffee!
The fun never ends.
19 Comments
RSS feed for comments on this post.
Sorry, the comment form is closed at this time.
Powered by WordPress. Graphics by Zak Kramer.
Design update by Daniel Trout.
Entries and comments feeds.