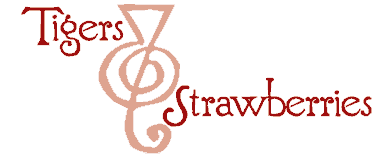 Cook Local, Eat Global
One of the most mythic aspects of pregnancy that nearly everyone talks about, or has a story or two about are the odd food cravings that women go through. Since it is something that is happening to me on a daily basis, I felt the need to talk about it, because, for one thing, I find it fascinating that no one is really sure what causes the intensity of the food longings that women get during pregnancy.
One explanation that is given is that the body lacks something as the child grows, and so the woman's body triggers a hunger in her for a food that contains the missing nutrient(s). It is a sensible enough supposition, this explanation, and is usually the one that I myself will give for my sudden, uncontrollable desire for whatever food has taken my fancy.
There is nothing wrong with that explanation, per se, mind you, except when you take into account that some unlucky few women have intense cravings guiding them to eat dirt, powdered laundry detergent or sand. One could blithely say that these women are severely malnourished and obviously lack an essential mineral or two that can be found in the inedible item of choice, but that seems to me like cravings gone awry.
Which leads me to the other guidance system that may be at work when it comes to cravings: hormones.
Now, pregnant women get really weary of hearing about hormones, because it seems as though they are at fault for everything in the pregnant woman's world. Have hot flashes? Hormones are the cause. Your breasts hurt? Hormones are at work. Falling prey to sudden intense fits of rage or worse, sobbing fits that come from nowhere? Hormones again.
In fact, a pregnant woman can easily come to the conclusion that hormones are the root of all the weirdness that invades her world.
And, really, it pretty much is true. So why couldn't cravings be some byproduct of the ocean of hormones that a woman's metabolism is steeped in during pregnancy? It seems just as logical as some sort of nutritive lack, and really, the answer may be a combination of the two–the woman lacks a nutrient and so the hormones get to work and make cravings. (They way that hormones work is a complex set of chemical reactions and interactions–and really, the amount that is known about how exactly women's hormones work is miniscule–our body chemistry is just that complex. I know that it is complex, but sometimes, I have to admit to visualizing the hormones as these black-leather clad little molecules with whips, going about my body, shouting orders and wreaking havoc. So, I have a weird imagination. It's probably the fault of some hormone or another….)
The other interesting thing about cravings is that they happen to most women during pregnancy, most to the point that I should probably say all, but then some woman who had a perfect pregnancy and sailed through with no side effects or complications would probably post and say, "Oh, I never had one of those."
And they are different, not only with every woman, but in each different pregnancy.
Which leads women to making assumptions about the baby they are carrying.
For example, when I was pregnant with Morganna, I craved two things continually: cheese, and Huy's garlic sauce. The cheese I explained away as a need for calcium, and the garlic sauce–which I always said I would eat on whatever Chef Huy felt like putting it on, including an old shoe or a dead rat–well, I never could figure why my liking for it became an obsession when I was pregnant.
Later, however, I decided that I was carrying a kid who really liked cheese and garlic.
And, sure enough, when Morganna was allowed to eat cow-milk based foods–she gravitated over to cheese immediately, and never looked back. And when she was about two, there was the incident where she grabbed a head of garlic out of a bin at a local Middle Eastern grocery store and amused the owner by nearly sticking it up her nose. She loudly inhaled, sighed and said, "Darlic! Mmmm. Darlic! Mordanna love darlic." (She had problems with the "g" sound at the time, obviously.)
So what am I craving now?
Vegetables. Many of which are not in season yet, but my body really doesn't much care about that. It still wants tomatoes. And eggplants. Squash, sweet potatoes, and beans. Avocados. Greens–especially kale and collards, but also gai lan, choi sum, bok choi and chard. Fermented vegetables are great, too–kim chee is fast becoming an obsession again. (That was the case for the last pregnancy, the one that ended in a miscarriage.)
Tofu and miso and edamame and other soy products are also appealing strongly to me these days, but even more so–I have been wanting beans and corn.
I guess it is because I am having aversions to meat, that I am seeking so much vegetable protein. Though, every day, I eat a little bit of meat, just nowhere nearly as much as I normally would, and I am still having issues eating beef much at all. I did eat a hot dog yesterday–a great handmade all beef frank in a natural casing that snapped under my teeth, with spicy mustard, onions, chili sauce and slaw on top. It was great, though what I loved the best was the slaw. It was not too sweet–I hate sugary slaw, but it wasn't all mayonnaisey and slimy, either. I hate gloppy slaw. But it was lightly salty, a little sweet, kind of tart, very cabbagey with just enough mayo to hold it all together.
Go figure. I eat a hotdog and rave about the damned slaw.
I am beginning to believe that this kid that I am carrying was a Buddhist monk in his last life and just doesn't want to give up on the veggies.
Zak thinks otherwise.
He is of the opinion that once the kid is out, and no longer breastfeeding or being spoon-fed, that it'll become a junk-food junkie, just as a reaction against all the healthy stuff I fed it from the time it was a blastocyst.
Oh, well. If that is the case, at least I know I -tried-.
But be that as it may–I am finding these cravings to be fascinating and find myself wondering what other women crave? And what do they abhor–because the darker side of the food cravings, the shadow, are the food aversions. With me, I am finding that while I don't reject sweets totally, I am finding it easier to ignore them than when I am not pregnant. And, of course, there is my inability to eat much in the way of meat.
But what of everyone else? What do other women crave and avoid?
And are these cravings culturally bound, or not?
19 Comments
RSS feed for comments on this post.
Sorry, the comment form is closed at this time.
Powered by WordPress. Graphics by Zak Kramer.
Design update by Daniel Trout.
Entries and comments feeds.