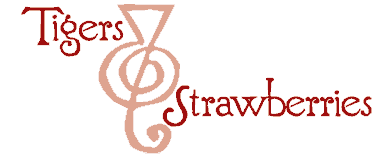 Cook Local, Eat Global
I decided last August that local eating didn't have to preclude global flavors.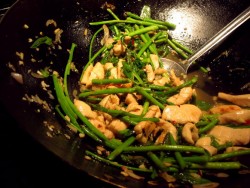 When I made the choice to continue to eat condiments and foods that have never been and will never be produced in Ohio, while choosing Ohio-produced staple foods: vegetables, fruits, meat, eggs, and dairy items, that meant I didn't have to give up three of my greatest loves in the world: Chinese, Indian and Thai foods.
This decision has extended to this year's Eat Local Challenge, which meant that the other night when we needed a very quick and flavorful dinner, I could utilize my abundance of basil and make Spicy Thai Chicken and Basil. The rest of the ingredients I had on hand–green garlic, I substituted for garlic, the chicken was from a local farmer, shallots I had from a local source, Thai chiles came from the freezer–they were grown in Athens county last summer, and lime juice and zest came from Florida. (Not so local, but then, limes don't grow here.)
Usually, I use fresh green beans and carrots in the stir-fried dish, but the other night, I had some more of that lovely, delicate, "thinner-than-a-pencil" asparagus, so I decided to use that. Thicker-speared asparagus would have had a stronger, more "asparagusy" taste, but these wee spears are delicate and very verdant in flavor. They taste very green, and very good.
They worked beautifully alongside the rest of the bag of young basil that didn't make it into the pesto, and the dish was fairly bursting with delicious, bright flavors. The basil played perfectly off of the chiles and the asparagus, while the chicken was enhanced with the fish sauce and the lime. The shallots carried a sweetness into the mixture that really bound it all together, and the whole thing flavored great steaming piles of jasmine rice admirably.
Once again–there were no left-overs, which let me know that the dish was an unqualified success.
I think that it will have to become a springtime tradition.
Spicy Thai Chicken, Basil and Asparagus
Ingredients:
1 lb. boneless skinless chicken breasts, cut into 1"X1/2" slices
1 tbsp. cornstarch
1 tbsp. oyster sauce
3 tbsp. peanut oil
2 large shallots, sliced as thinly as you can manage
3-5 Thai bird chiles sliced thinly on the diagonal (or to taste–with me, more is better)
zest of one lime (If you can get fresh kaffir lime leaves, 3 of them cut chiffonade are best)
8 cloves garlic minced
fish sauce to taste (I use about two to three tablespoons)
1/2 pound pencil thin or thinner asparagus, cut into 1 1/2″ long pieces
2 cups basil leaves, firmly packed into the measure
2 tbsp. oyster sauce, or to taste
juice of one small lime
1/3 cup unsalted chicken broth or stock
Method:
Toss cut chicken with cornstarch and oyster sauce.
Heat oil in wok until smoking. Add shallots, chiles and lime zest, and cook until the shallots begin to brown. Add garlic and cook until fragrant.
Add chicken, and push into a single layer and allow to cook without stirring for about one minute, or until chicken begins to brown. Stir, and then stir constantly, cooking until chicken is nearly all white, with only a bit of pink showing.
Add some fish sauce, and let it cook down, then add asparagus and cook for one minute, stirring madly. Add the basil leaves and stir for another minute, allowing them to wilt.
Add a dash more fish sauce, a dollop (about a tablespoon is all I use, but some folks like more) oyster sauce and lime juice, boil until sauce cooks down (this takes about thirty-45 seconds, really). Add broth or stock and cook just until sauce is barely thickened by reduction, barely a minute. The basil should be wilted, the chicken glazed with a bit of browning but mostly white and tender, and the asparagus crunchy-tender.
Serve over steamed jasmine rice.
15 Comments
RSS feed for comments on this post.
Sorry, the comment form is closed at this time.
Powered by WordPress. Graphics by Zak Kramer.
Design update by Daniel Trout.
Entries and comments feeds.