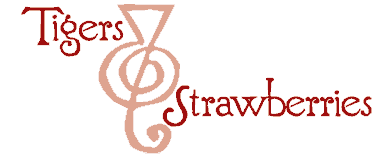 Cook Local, Eat Global
When I started this series of book reviews last August, I chose titles that I assumed folks who wanted to eat locally would want to know about, including Brian Halweil's Eat Here and Gary Paul Nabhan's Coming Home to Eat. Both of these books are specifically about local foodsheds and the process by which individuals and groups are working towards creating sustainable alternatives to the typical American grocery-store, processed food mentality. The very first book I chose to highlight, Joan Dye Gussow's This Organic Life, is also specifically about the issue of eating locally, in that Gussow set herself the challenge of eating only what she could cultivate on her small plot of land and buy from local growers, and succeeded in doing so for years.
This time around, however, I am moving a little farther afield. Instead of only focusing on the issue of eating locally, I want to draw readers' attention to books that would be of use to those who want to eat locally, by illuminating issues of sustainability, food, organic methods and gardening in general.
The $64 Tomato, by William Alexander, is a book about gardening.
Actually, it is a book about one man's obsession, and that would be his garden. In the course of the book we get to follow the development of his obsession from its inception as his dream of growing a miniature organic apple orchard in New York state, to its transformation as his desire to grow all of the organic vegetables his family could eat, to the reality of hiring a landscape designer to set out his kitchen garden and build it, to his trials and travails of finally planting the fruit trees, vegetable starts and seeds and his eventual realization that organic gardening is difficult.
Difficult, but as he reiterates through example throughout the narrative, vastly rewarding, though he admits that some might see a kind of mental health issue inherent in a man who is willing to spend the kind of money, time, physical effort and headaches on producing delicious food.
I have to say, his is the kind of crazy I admire.
This is not a how-to book, though the reader will learn something on nearly every page of the narrative as Alexander enumerates his attempts to rid his garden of marauding woodchucks and voracious deer. He learns, and passes on to the reader, that aesthetics are trumped by security, when he installs an electric fence around the garden to keep out deer, though he is amazed to learn that it simply will not stop the masochistic woodchuck.
I am always amused by city folk who move into the country and talk about how beautiful the wildlife is. They talk like that until they put in a garden, and soon, they learn that the lovely wildlife is competing with them for vegetables. Then, the gentle city-bred attitude of "Oh, isn't she so cute," when seeing a doe and her fawns on the lawn evolves into, "Shoot her. She's in the cabbage."
Alexander does not dissapoint.
Other lessons are learned along the way: ones that are even harder pills to swallow than the need to sometimes cause harm to wildlife in order to have a harvest. After Alexander plants roses, he finds that swarms of japanese beetles will reduce them to twigs and lacy bits of plant tissue if he doesn't spray them. He learns that growing fully organic apples in New York is a near impossibility, and that while he does spray his apple trees lightly, he does have to spray them to get any apples at all.
Overall, however, he finds joy in his garden, even as he engages in backbreaking labor to produce a prodigious harvest every year, and his lessons, as he sets them forth in amusing anectdotal fashion, give readers inspiration to, if not put in the backyard as huge a garden as he does, to at least tend a pot of herbs and tomatoes on the porch, for the pure pleasure of eating something that tastes of sunlight and summer.
If you are interested in discussing books like the ones I have been reviewing in an online bookgroup, the Eat Local Challenge bookgroup is due to start discussing Michael Pollan's The Omnivore's Dilemma on May 15th. Jeanne from World on a Plate and I will be moderating the group, so there is bound to be lively, thought-provoking discussion. If you want to join us for the fun and conversation, sign up here.
3 Comments
RSS feed for comments on this post.
Hi Barbara,

I've been meaning to leave you a note on this but I for one am really enjoying your book review.

Keep up the great work!

Barbara:

I did hear about this book on NPR the other day. I was curious about it and even went and googled the book and read other reviews. Thank you for your review too :).
Sorry, the comment form is closed at this time.
Powered by WordPress. Graphics by Zak Kramer.
Design update by Daniel Trout.
Entries and comments feeds.