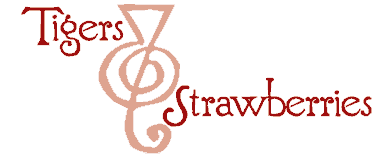 Cook Local, Eat Global
Well, I am pleased to see a staggering number of entries to the second edition of "The Spice is Right," and am happy to note that we have a few new faces here, jumping in to play the game this time around.
As I noticed in the first round, there were trends and patterns appearing in the entries. It seems that creative minds think alike–keep your eyes open when you read these entries and you can see the patterns emerge. However, even with a few similarities developing from entry to entry, the sheer diversity of recipes along with the thought that food bloggers put into this event is amazing, and once again, we are going to have a wonderful collection of recipes to bookmark and try.

First up, from northern Germany, Ulrike of Kuchenlatein is back with a very pretty dessert that she reports "even the children liked." Noting that rhubarb is in season where she lives, Ulrike chose to highlight it in Tapioca with Peppered Rhubarb, a confection that uses black pepper to spice up a puree of the sour fruit. The combination of fruit and black pepper is an unusual one, but one that is becoming more and more popular across the world as people realize that the biting nature of pepper heightens the natural sweetness inherent in fruit. Besides–doesn't the black-flecked pink rhubarb look pretty with the tapioca pearls?
Danielle of Habeas Brulee brings us another sweet dish using an unusual flavor: paprika. Noting that her family is Hungarian, she lists for us the many dishes that she grew up eating that were flavored with paprika: stuffed peppers, stuffed cabbage, chicken paprikas and goulash. (Dang, girl, you are making my mouth water with that list, you know?) When she told her Mom she was going to make a dessert with paprika, however, the maternal disapproval was swift and complete. But that didn't stop Danielle, she went on, at the urging of Dave modify her cinnamon roll recipe to use paprika instead. The resulting Paprika Sticky Rolls not only look delish, but must have been truly divine, because Dave polished off half a pan of them in one night. (Dave is one smart guy, it sounds like.)
I love the way that I get to find new food blogs, just because I host this event. From the Roaring Belly of the blog, A Belly in the Wild comes a really wild treat that I would love to try: Korean Chili Powder Cupcakes! Adapting recipes from chockylit, who is Our Lady of the Cupcake, she made some fantastic-looking wee cakes that blend the fire of Korean chili flakes with the richness of chocolate, with a sweep of ginger-warmed vanilla icing. Wow! I want to go hang out in the kitchen with the Roaring Belly!
Nandita of Saffron Trail took up the challenge by making a spicy, savory dish with cardamom, a dish that when she was growing up in southern India, was pretty exclusively in sweets. (It is in northern Indian cuisine that I have primarily seen it used as a savory spice, as well as a sweet one.) After giving a bit of history of the spice and its culinary and medicinal uses throughout history, she decided to cook it with mango, ginger, garlic and chile into a delicious-sounding Spicy Cardamom-Mango Chutney. It doesn't just sound good–look at the vivid color of the chutney–a feast for the eyes.

Debbie of Dejamo's Distracted said that what she liked most about this event were the buried memories that are stirred to the surface of the unconscious, bringing with them scents, flavors and foods of times long past. She must have been stirred up quite a bit, because she posted -two- recipes using poppyseeds, so I had to choose which one to picture. I went with her Poppyseed Spiral Cookies, because they were just so darned pretty, but really her Chicken Chennai recipe looks pretty tasty, too. In addition, that recipe is fully illustrated, step-by-step, so if you are timid about trying to cook Indian food, because it looks too hard or involved, check out this recipe. Debbie holds your hand through the process and helps the reader out every step of the way.

Is that a pretty picture or what? Meeta, the blogger behind the excellent German blog, What's For Lunch Honey? gives us a vision of a light dessert in shades of white and red. What is it, other than gorgeous? What spice is that? Black pepper, once again, making friends with fruit and asparagus in Strawberries, Asparagus with Orange Filets. The light, refreshing dessert is also heated up with a goodly dose of fresh ginger, which tells me that I am going to have to give it a shot once the strawberries come into season here! (Though, I will probably pass it off as a salad and not a dessert; my friends and family already expect my salads be composed of unusual combinations of fruits and vegetables. If I tried to get them to eat dessert with asparagus, there may be a mutiny in my kitchen.)

I love creativity, and people who take chances. And several entrants to this event have qualified for my admiration for going on out on a limb and really getting wild with the flavor combinations, but none more so than LG from Georgia, the author of the blog, Ginger and Mango. Even though she has had a couple of bad experiences experimenting in the kitchen, she took up the challenge posed by "Sweet or Savory," and decided to see if anyone had ever cooked a savory dish with vanilla. And she did find a recipe for a kingfish steak, but leery of ruining an expensive bit of fish, she substituted the more common shrimp, and threw down and made a delectable plate of Vanilla-Flavored Shrimp. She combined the vanilla with ginger, garlic, shallot, lots of chiles (a woman after my own heart) and balsamic vinegar, and created a curry that was hot, sweet and sour all at once. You go, girl!

Mackey's back and comes bearing a hot dish of sweets from the Philippines that are dark and wickedly delicious. What has the author of The Edible Garden got for us to share today? Nothing less decadent than honey-sweetened Chili-Chocolate Truffles. Oh, Mackey–I swoon to you and your love of chili mixed with chocolate, that being one of my favorite flavor combinations, ever! The fire of the chiles really offsets the dark richness of the chocolate, while the chocolate calls forth the fruity flavor of the chiles which goes often untasted. A match made in heaven!
Nobody who makes such fine looking food strikes me as reluctant, but Gabriella has named her blog My Life As A Reluctant Housewife, so I have to take her word for it. But I still have my doubts, because those Lamb Kebabs with the Three C'S (cinnamon, cumin and coriander) are looking dangerously tasty. It seems that Gabriella grew up as I did, in the strong belief that cinnamon was a sweet spice, and had only recently started using it in savory dishes. Here's to opening up a whole new world in cooking!
Last but not least, we come to Kitarra of Cooking Debauchery who loves vanilla with a boundless passion, and so, she chose to highlight it in a savory dish that is both sweet and tart, mellow and creamy and spicy with a hint of cinnamon: Vanilla-Scented Scallops. Aren't they lovely? She made two sauces–a pomegranate cinnamon sauce and a vanilla cream sauce, and then did a lovely plate presentation of the two swirled together at the edges. Absolutely gorgeous, and I bet delicious, to boot!
Well, this is the first installment of the Sweet or Savory round-up; look for the second installment later today, and the third either tonight or tomorrow.
There are a lot more beautiful entries to come, so stay tuned!
12 Comments
RSS feed for comments on this post.
Sorry, the comment form is closed at this time.
Powered by WordPress. Graphics by Zak Kramer.
Design update by Daniel Trout.
Entries and comments feeds.