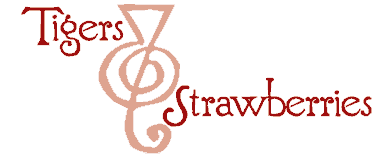 Cook Local, Eat Global
We're back again with part II of our exploration of spices in The Spice is Right II: Sweet or Savory? Rather than take up time and space with my yammering, lets jump right in and look at what the next ten participants have prepared to share with us.
Strawberries aren't in season in Canada where Elizabeth of Blog from Our Kitchen is cooking, but that didn't stop her from giving us a truly decadent, delectable and delicious recipe for them using black pepper, balsamic vinegar and cream cheese. In Fresh Strawberries with Creamy Cream Cheese Topping, the pepper and the balsamic vinegar work alchemically to boost the natural flavors and sweetness of the strawberries while the lightly sweetened cream cheese adds sensual appeal to the dessert, elevating it to a realm where legendary flavors reside. I can't wait to adapt this recipe to my usual method of making strawberry shortcake that involves cream scones, sweetened sour cream and berries laced with rosewater….I may have to make two separate batches of berries and cream and try them side by side and see which I like better.
Ramya of Cascading Flavors brings us information on nutmeg: how it is grown, itschemical constituents and its history. She tells us that once it was one of the most valuable spices in Europe, and although it is often used in sweet dishes there, in her native India, it is always used in savory foods. So, she switches it up, and makes a really tasty-sounding batch of Oatmealdates Cookies, which are sweetened with the natural goodness of dates and orange juice, not sugar. I cannot help but love that–a sweet treat that is not only tasty, but filled with healthy ingredients like oats, dates and orange juice.
I am sad to say that there is no photograph to go with this next entry; instead of a picture, we must rely on the author's powers of description to whet our appetites. Fortunately, the blogger behind Raven Swallows the Sun has the lyrical prose to do just that: make the reader hungry for more. Shreyas, from India, took up the challenge by taking on vanilla, a flavor previously only encountered in ice cream and Nilla Wafers eaten with tea. The Queen of Spices is paired with meat, Tejano Steak, to be precise. Listen to what Shreyas says after the ingredients are listed: "Pay particular attention to the items in bold. This is where you turn lead into gold, or in this case, cow into joy. Everything else is built around them to balance or support—the ancho and pepper round out the smokiness of the cumin, the lemon brightens the vanilla, and the salt and garlic tie everything together…." My word, Shreyas, you are well on your way to kitchen tantrikadom yourself! (Besides, you gave me the idea for the next challenge–I tip my toque to you.)

I am quite thrilled to introduce the next entry, because it comes from one of my dearest friends in the world, whom I habitually call Little Sister. Hadar has gone and started a wonderful food blog from Tel Aviv called Vegetable Adventures, where she describes her explorations in vegetarian cookery, health, Chinese medicine, organic local foods and the importance of listening to the wisdom of our bodies. This is all written with her characteristic style and wit, so I hope you all check in on what is going on in her kitchen. What spice did she highlight for this challenge? Oh, one of the oldest ones in the world–sesame–in the form of tchinas, also known as tahini. She gives us two recipes, Stir-Fried Vegetables and Tofu with Tchina Sauce, and the equally healthful and delightful
Tchina Cookies with Coconut Milk and Spices, which are pictured. Welcome to the food blogging world, Hadar! I look forward to reading more of your adventures!

Jocelyn has returned for a second round of spice blogging, and this time, the author of She Spills the Beans declares herself to be a "one-woman Anise Advancement Association." Anise is typically used in the west to flavor an old fashioned sweet called licorice, which has fallen out of favor, but Jocelyn doesn't let that stop her. Nor does she let the fact that she is taking part in the Eat Local Challenge slow her down–she is happy to report that most of the vegetables for this dish came from the local farmer's market, even if the spices didn't. She paired local fresh baby fennel bulbs (which has a similar, but more delicate and vegetal flavor to anise) with anise and created what must be an amazingly fragrant Tomato-Fennel-Anise Soup. I just wish I could hop on over to Jocelyn's house for lunch!

My favorite FoodFreak, Petra, has gone and created a recipe which has my heart going pitter-pat. It is enough to make me wish I could jet off to her house after eating at Jocelyn's because she has taken up the familiar sweet spice, vanilla, and has paired it with my favorite seasonal vegetable, asparagus. Oh, my, such culinary wickedness and daring, and such alluring richness is arrayed in her description of Oven-roasted Asparagus with Vanilla Hollandaise. I can feel my eyes rolling back in my head right now, as my cheeks flush and I feel faint at the though of such a heavenly mixture of flavors and textures.

You know, when people use the term "vanilla" to describe someone who is plain and boring, I think that they don't know what vanilla is really like. Because if it was the plain jane of the spice world, this many folks wouldn't be playing with it and coming up with new ways to use it in the savory kitchen. Jasmine, a very -not boring- individual, the blogger who writes Confessions of a Cardamom Addict, would not play with vanilla if it was passe. What does our intrepid Canadian do with this royal flavor? Well, she limped into the kitchen (her poor ankle is still bothering her) and made adapted her usual Chicken Kurma recipe into Vanilla Kurma, a very mild, almond-kissed chicken kurma scented with the richness of vanilla. Brava!
Michael the ever-experimental author of Haverchuck, has a series of posts that he calls "The Ice Cream Project," wherein he concocts various unusual flavors of ice cream (only one time for each recipe) and writes up his results. So, it isn't the least bit surprising that he chose to do an ice cream for this challenge, nor am I surprised that he chose to use a spice typically used in Asian foods both savory and sweet: black sesame. Yes, sesame seeds can be black as well as white, and both are used in the unique pastry arts of Shanghai (my favorite being a flaky little number filled with black sesame paste sweetned with sugar and seasoned with salt–they are amazing.) Anyway, take a look at his Black Sesame Ice Cream–I like the granite shade of it, and I think that while his taste testers were divided on it, that I would have found it definately interesting and worth a second taste. And then a third, you know, just to make sure.
Benjamin, of The Cognitive Pantry, tells us all about being a cultural mutt–his ancestry, like many Americans is a little bit of this and that from Northern Europe, with some Cherokee thrown in for good measure (I'm the same–those Cherokee got around, I'm tellin' you), before he starts telling us about Grandma Reba's sausage gravy and biscuits. Grandma Reba sounds like my kind of woman, throwin' down and making big breakfasts, including sausage gravy that was heavily seasoned with black pepper. Right on, Grandma! Turning the story around, though, Benjamin tells us how his parents lived in Germany in the 1970's and how much they liked the food there. In tribute to that, he presents us with a traditional German Yuletime cookie–Pfeffernuesse. The word translates roughly as "peppernuts" and some versions of the cookie are so crunchy as to be tooth-endangering, but Benajamin's sound delicious and crisp and good, with the pepper giving them a subtle, smoky tang. They certainly look pretty, don't they?
I want to introduce you to Isis, and while she doesn't have a photograph of either of the recipes she chose to highlight on her blog, Yambalaya, those recipes still sound too tasty to resist. Of Dutch/Greek lineage, Isis is living, cooking and working on a cookbook in France, though she has lived all over the place, and in her entry she shows us two sides of nutmeg. She chose to reveal nutmeg's sweet side by teaching us how to make genuine Dutch Speculaas. She says, "I really liked this challenge and at first had no idea what I could prepare… until … I thought of speculaas. The real version, not the one we find in Belgium or in France, or .. No the real Dutch one. The one we start eating in November when it is cold and rainy, in thick pieces, with hot chocolate milk. The one we eat around the festivities of St Nicolas." Mmm…thick hot chocolate and spice cookies. The Dutch know how to handle grey November rain. But then, she turns it around and gives us a recipe for Cauliflower with a Bechamel sauce sprinkled with nutmeg that sounds very nutty-sweet and good. I really don't think anyone could go wrong trying either recipe.
8 Comments
RSS feed for comments on this post.
Sorry, the comment form is closed at this time.
Powered by WordPress. Graphics by Zak Kramer.
Design update by Daniel Trout.
Entries and comments feeds.