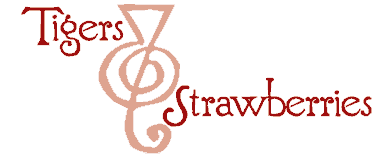 Cook Local, Eat Global
Time passes; the season marches forward, and too late, I realize that I didn't eat nearly enough asparagus.
The pound upon pound of it we bought and consumed through the early part of this month was apparently not quite enough to satiate my appetite for the emerald-green and violet spears, but that is life. The season is done; on Saturday, there was not a spear of it in evidence at any of the favorite stalls I haunt at the Farmer's Market. Not a paltry bit of it was seen.
Too late, I realized that the last of the local asparagus had been consumed last Thursday in a pasta dish I put together to emulate and improve upon one I had in a local restaurant the week before.
And it was a delicious dish; don't get me wrong, but I still would have liked to have known that we were eating the last of our favorite spring vegetable before it was gone. If only the farmers could have warned us by saying, "This is the last until next year–buy up and make gluttons of yourselves all week."
I would have heeded them, and I suspect many others would have, too.
As it was, I had fun putting this dish together; I had it at a local somewhat okay Italian place, where the waitress assured me that it was the best dish on the menu. It consisted of asparagus, spinach proscuitto and chicken sauteed and tossed with penne, then sauced with a very light cream sauce that had brie melted into it.
It was pretty good, certainly edible, but not as good as it could have been. For one thing, there were no onions or garlic of any kind in the sauce in order to make for any deepened flavors; it was, in its way, dreadfully bland. The chicken, having come from Sysco, was not very flavorful, and the same could be said for the watery spinach and the somewhat tough asparagus. The proscuitto was not, in fact proschiutto at all, but instead was some sort of thickly cut, somewhat watery ham.
And, of course, they over-cooked the pasta.
I despise over-cooked pasta. Mush is not appealing to me, thank you very much.
So, of course, with what I did not know was the last of the asparagus, I set out to make a better version of the dish.
First of all, I started out with different ingredients.
I used caramelized spring scallions and green garlic as a flavor base, and sauteed them in olive oil. To that, I added a locally produced chicken breast that I had cut up into slivers and dredged in seasoned flour. I left off with the ham/proscuitto element altogether, and instead, deglazed the pan with a bit of dry sherry and chicken broth. The asparagus I used was younger and fresher, and instead of watery spinach, I used fresh chard leaves (the crisp ribs removed) cut into a chiffonade. The chard held up to the cooking better, had a nicer texture and actually had a great deal of flavor.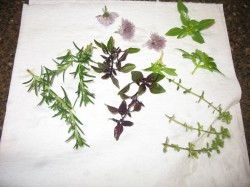 I also added a selection of herbs from my garden: lemon thyme and rosemary that I added during the sauteeing process, and both miniature globe basil and minature purple basil and chive blossoms, that I tossed on top of the finished dish for a fresh zing of flavor and color.
For the body of the sauce, I made a veloute, rather than a cream or white sauce. Veloute is nothing but a roux-thickened chicken stock, but I didn't use any extra roux to thicken this sauce. I let it form naturally in the pan, from the flour I dredged the chicken in, the olive oil, and the chicken broth and sherry I used to deglaze the pan. This process formed a small amount of veloute that clung to the contents of the saute pan, and once I added the properly-cooked pasta, and tossed it to coat it with sauce, I added dollups of brie to melt into the sauce.
A note about the brie–I used the processed product called Creme de Brie. Generally, I eschew processed cheeses, but I do use this because there are some varieties of brie to which I am very allergic. This is because in some cheesemakers use types of penicillium mold is used in the production of the rind of brie, and I am very allergic to penicillin. Some brie cheeses make me very sick to my stomach, so in order to avoid that issue, I use Creme de Brie. For those who do not have the allergy issue–by all means, cut off the rind and pop whatever sort of ripe brie you like into the pan, and stir until it melts. More power to you! (And mind you, I am jealous. When I feel up to taking the risk, I will eat great real brie, and generally, if I am careful with taking off all of the rind–the place where the mold lives, I don't get sick. But sometimes I am unlucky. And I decided not to take a chance on becoming too unlucky while I was pregnant.)
Penne with Asparagus, Chicken, Brie and Herbs
Ingredients:
4 tablespoons olive oil
4 large or 6 medium scallions, white and light green parts only, cut thinly on the bias (adds up to about 3/4 cup)
6 stalks green garlic, white and light green parts minced finely (makes about 1/2 cup)
1 tablespoon Aleppo Pepper flakes or freshly ground black pepper (I have found in Aleppo Pepper–a type of chile–a good subsitute for black pepper in food)
1 boneless, skinless breast of chicken, cut into pieces 1″X1/2″X1/4″, and tossed with about a tablespoon and a half of seasoned flour
1 tablespoon fresh rosemary leaves, stemmed and roughly chopped
1 tablespoon fresh thyme leaves, stemmed
1/2 pound pencil-thin stalks asparagus, ends trimmed as necessary and cut into 2″ long pieces
1/4 cup dry sherry
1/4-1/2 cup chicken broth or stock
1 large chard leaf, stem and stalk removed and reserved for another purpose, rolled up tightly and cut into very fine chiffonade
1/4 cup milk (as needed–you may have no need of it, or you could use more chicken broth)
3/4 pound penne, cooked in salted water until al dente
5 ounces Creme de Brie or brie cheese with the rind removed
2 tablespoons fresh basil, stemmed–if leaves are large, mince them finely, if they are tiny, leave them whole
florets from 3 chive blossoms, separated (pinch off the bottom bit that holds the compound flower together to get the florets apart)
Method:
Heat olive oil in a saute pan over medium heat. Add scallions, and saute until they are wilted and start to turn golden. Add garlic and Aleppo pepper or freshly ground black pepper and saute until quite fragrant–about one minute.
Add the chicken, and the rosemary and thyme and saute, stirring until it is mostly done–most of the pink color to the meat should be gone, with a golden brown crust over most of the chicken. Add the asparagus and let it pick up some of the browned flavors of being sauteed–about a minute.
Deglaze the pan with the sherry and boil off alcohol. Stir to get all of the browned bits from the bottom of the pan, and add chicken broth. Turn down heat and keep stirring until a thickened veloute forms, coating all the food in the pan thickly. Add chard, and keep stirring. (If the sauce is thicker than you like and a bit too gloppy, add some milk or more chicken broth to thin it appropriately.
Add drained pasta, and stir it into the sauce.
Add brie and stir, until it melts and incorporates itself int the sauce.
Put into bowls and sprinkle with basil and chive blossoms.

Note: This will serve four to five people; if you want to serve six or more, add a full pound of cooked pasta, and add more asparagus and chard, and add the extra milk or broth. Add one half tablespoon of flour to the chicken and maybe add a couple more ounces of brie. If you want, you can add more chicken, but I don't think it is necessary. This is not a low-calorie dish, owing to the brie, but it is very filling and satisfying without much in the way of meat in it. It is all about the asparagus, chard, pasta and cheese, in my opinion, all seasoned beautifully with the scallions, green garlic and Aleppo pepper. The chicken is good, too, but not so good that I would want it to dominate the dish.
Needless to say, this is my last entry to Kevin D. Weeks' of Seriously Good's collection of asparagus recipes, "Asparagus Aspirations."
To all things there is a season, and a time to every purpose under heaven, so the author of Ecclesiastes wrote thousands of years ago. The wisdom holds true, even today in this world of vegetables and fruits shipped from all over the world available at all hours of the day and night in the local supermarkets.
The time of asparagus has passed us, and until next year, we must say farewell to those beloved emerald spears. But, with each passing of something good, Nature grants us something new and lovely to take its place in our hearts.
Strawberries just came into season.
Since Saterday, our household has eaten a gallon of them, most of them out of hand. (I have to admit that we have had not a little bit of help from our friends, Donny, Dan, Heather, Bryian and Judi in that endeavor, however, so I don't feel quite so gluttonous as I might otherwise.)
More on the joy of strawberries, later!
6 Comments
RSS feed for comments on this post.
Sorry, the comment form is closed at this time.
Powered by WordPress. Graphics by Zak Kramer.
Design update by Daniel Trout.
Entries and comments feeds.