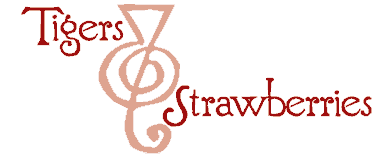 Cook Local, Eat Global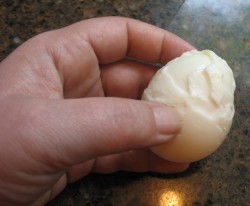 You knew that there would be a downside to all of this eating local stuff, didn't you?
And there is.
The big one I remembered this afternoon, as I was making lunch for myself was the fact that it is nearly impossible to make pretty devilled eggs from extremely fresh, pastured eggs.
As you can see from the photograph above–they turn out pockmarked, unsightly and just plain old ugly.
Trying in vain to peel the two eggs I had decided to devil for my lunch, with shaking fingers, I started to laugh, remembering my Grandma's battles with her fresh boiled eggs, in an attempt to make devilled eggs that didn't look like they suffered from a dread disease.
She figured out a solution, of course. If she knew she was going to make devilled eggs for a certain day, like say, the Fourth of July, she would set aside two dozen eggs a week or so in advance to age. Older eggs peel more easily, in large part, because the air pocket in the eggs grows larger. The membrane of the egg doesn't cling as tightly, either, allowing a nimble-fingered cook to peel up a well-crackled shell by picking at a bit of membrane and zipping everything off in two or three sweeps.
But, if Grandma just happened to decide to make devilled eggs because she wanted some, well, there was no power on earth that would make those eggs look good. They always tasted great, mind you, but they never looked like anything one would find in a magazine. (I am very grateful that Martha Stewart was not big when Grandma was alive, as I suspect Grandma would have been made to feel very inadequate by all of Martha's very decorative "good things" in her books and magazines.) She would painstakingly peel the eggs, watching bits of eggwhite cling tightly to the shell and sigh as she tossed them in the composting bucket. The resulting eggs always looked like craggy moonscapes or the skin of a smallpox survivor, and she would grit her teeth, and move on.
Sometimes, the whites would end up looking so ugly that Grandma would just throw up her hands and make egg salad instead, but usually, she just moved on and made devilled eggs as if nothing was wrong. When she'd put the platter down on the table for lunch or supper, Grandpa and Uncle John would always tease her about her "special eggs," but it never stopped any of us from cleaning the plate up in one sitting.
So, what did I do with my ugly eggs today?
I made devilled eggs–two of them. Making two devilled eggs is really not much worth the trouble, but I had a hankering for them. So, I made them, and sat down and ate them with a butterhead lettuce salad–all local and organic–for lunch.
They were good, even if they did look disreputable.
21 Comments
RSS feed for comments on this post.
Sorry, the comment form is closed at this time.
Powered by WordPress. Graphics by Zak Kramer.
Design update by Daniel Trout.
Entries and comments feeds.