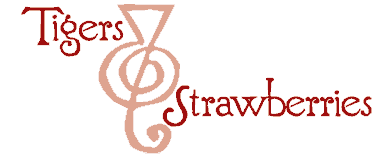 Cook Local, Eat Global
So, this is it–the end of the 2006 Eat Local Challenge.
Does this mean that I am finished with the topic of eating locally?
Are you kidding? I mean, look at the beautiful produce I had to work with for tonight's supper: Siam Queen Thai basil, fresh shiitake mushrooms, garlic scapes and look–is that? Could it be? Yes! It is fresh, local asparagus! The season wasn't over after all, and look–this batch is PURPLE!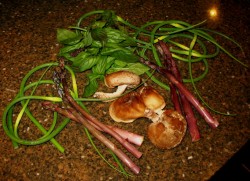 When I can get so much beautiful food, why should I ever go back to eating grocery store plastic produce? Why should I pay money for fresh vegetables and fruits that are no longer fresh, and that probably have fewer nutrients in them? Why should I eat strawberries that have been bred to be huge, bright red, hard as rocks, and smell good, but which have no discernable flavor by the time they reach Ohio?
The answer is clear and simple: I shouldn't.
And I don't intend to.
Yeah, I will still be buying bananas at Krogers, and some onions and potatoes now and again. Avocados are not exactly thick on the ground here in Appalachian Ohio, so I will pick some of those up, too. And if I can get my hands on properly ripe mangoes (like the luscious organic ones from the local health food store, The Farmacy I picked up last week), I'll be all over those, as well as seasonal pomegranates.
But for every fruit and vegetable that grows here in Ohio: you can bet I will be buying those in their season, when they are at thier peak of ripeness, when they are so fresh that you can smell the earth and sun on them.
I see no reason to go back, and more importantly, my tastebuds can discern no reason to return to grocery store dependance.
So, you can look forward to more posts about eating locally, more profiles of the local food scene here in Athens, more updates on what is in season and fresh at any given time, more book reviews from The Locavore's Bookshelf, and more recipes utilizing the bounty of the fecund farmlands that dot Athens county.
Tune in tomorrow, when I will write about what I cooked tonight with all of those lovely ingredients pictured above.
Until then, let me know what you would have made with those pretties–I am curious to see what other folks would have come up with.
10 Comments
RSS feed for comments on this post.
Sorry, the comment form is closed at this time.
Powered by WordPress. Graphics by Zak Kramer.
Design update by Daniel Trout.
Entries and comments feeds.