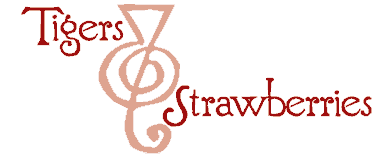 Cook Local, Eat Global
Okay, when I got contacted by WOUB, I assumed that it was WOUB, the NPR affiliate radio station here at Ohio University.
Well, actually, it was WOUB, the PBS affliate television station here at Ohio University.
How did it come about? Because the station manager saw me in Time….He emailed me and asked if I would be interviewed live for a story about locavores. So, I said yes, thinking "Live radio–I've done that before, no problem. I can even stick an MP3 of the interview on the site, and it would be cool."
But, the reality is that there will be no MP3, though I might be able to get a CDR of the clip and put streaming video up here.
I first got the clue that I wasn't going to be doing a live radio interview when I stepped into the newsroom, and the young man who was going to interview me stepped up to shake my hand.
On the lower half of his body, he was wearing khaki shorts and flipflops. On the upper half, he had an oxford cloth shirt, a tie and a suit jacket.
I've done radio. Folks who do radio never dress nicely on the top. Or, the bottom, for that matter.
Suddenly, I was very grateful that I had the inspiration to put the new, less brightly colored shirt on to go to the station. I had been wearing a cotton Indian block print skirt in shades of melon, orange, magenta and cream, with a dip-dyed melon to orange kurta shirt with silvery embroidery around the neckline. This would have, under the television lights, blinded any viewer who happened to tune in, not to mention the interviewer/anchorperson.
I am also glad that I thought I was going to a radio interview, even if it meant I looked like myself, in a nice t-shirt and jeans, with understated jewelry, sans makeup and overly styled hair.
Why? Wouldn't I have rather put on some make up and done up my hair?
Well, yes. And, no.
Because, if I had to worry over being on television all weekend, my nerves would have been shot, and I likely would have stammered through the entire interview like a fool.
This way, having it sprung upon me at the last minute, was much better, because I didn't have time to get scared.
I just went in, got a mic wired to me, and waited to be interviewed. No worries about how I looked, what to say or anything.
Hopefully, I sounded intelligent!
But, at least, I got some points across to the local media about eating locally, which is worth any amount of nervousness on my part.
Oh, and another cool thing that came out of the Time story–a friend I have not heard from in years tracked me down and emailed me. We had lost touch years ago and I had no clue about how to get in touch with her. But, it looks like she found me.
That is just as cool as getting the word out about the local food movement!
7 Comments
RSS feed for comments on this post.
Sorry, the comment form is closed at this time.
Powered by WordPress. Graphics by Zak Kramer.
Design update by Daniel Trout.
Entries and comments feeds.