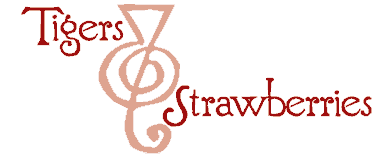 Cook Local, Eat Global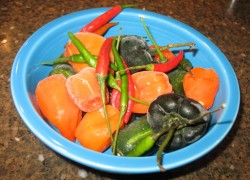 Yes, July is that time of year, and what is coming up are those days when it is just too darned hot! Too darned hot to move, too darned hot to breathe, too darned hot to walk, talk, garden or cook. It is just plain old sticky. (At least it is around here.)
So, in honor of that, I decided that for the theme of the next edition of The Spice is Right, to concentrate on something that is even hotter than July–chiles!
A lot of people think I am nutty for wanting to eat spicy food when it is hot, but I say that all those folks who live in tropical climates like Thailand, India, Vietnam, parts of Africa, the Carribean and parts of South American are all on to something. They know that chiles make you sweat and when it is hot, sweat is what cools you down.
So, here it is–your chance to show us what you like to do with chile peppers in the kitchen. You can use chiles in whatever form you like for this event: fresh, frozen, roasted, dried whole and reconstituted, dried and powdered, dried and flaked, or ground or whatever. You can use them alone or in a blend with other flavors. You can use chile sauces, pickled chiles, or chile jam–whatever floats your boat, and makes your culinary imagination soar.
As always, include in your entry your name, the name of your blog, a link to the entry and the name of the country you are from if you want me to mention it. Entries must be posted on your blog between today and midnight EST July 15th. Remember to include a link back to this post in your blog in case some of your readers see it and want to come play, too.
And, as usual–if you have any questions, email me or post a comment and I will be happy to help you.
Have fun!
18 Comments
RSS feed for comments on this post.
Sorry, the comment form is closed at this time.
Powered by WordPress. Graphics by Zak Kramer.
Design update by Daniel Trout.
Entries and comments feeds.