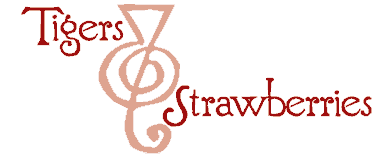 Cook Local, Eat Global
I realized as I was tying up my second self-watering box of tomatoes yesterday morning that I had not written about the garden much recently.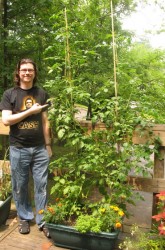 There have been ups and downs. Right now, mostly ups–as in, the first box of cherry tomatoes I planted keep growing up, up, up, as if they are attempting to reach the moon. They are now officially taller than me, and even if you take into account the extra height afforded the plants by the planter, they are taller than Zak, too. They are, in fact, working on being taller than Bryian, our tallest friend.
These hybrid "Jellybean" cherry tomato plants are unreal–the original stakes I had for them were not sturdy enough and during one of our rather violent thunderstorms, the stakes were broken, and knocked over. The plants were somewhat mangled, however, we only lost one main stem out of the three plants. Zak and I fashioned newer stakes–about seven feet tall–out of heavy dowels, and after tying them back up a week ago, they have nearly climbed to the tops of those stakes.
At this point, I am planning on training the growing tips downward, doubling them back on the stakes. When they reach the deck railing, I will probably train them laterally along it.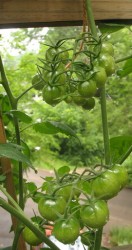 As you can see, these gigantic tomato plants are also loaded with tiny green fruits. About three weeks ago, I counted something like sixy-three fruits on one of the plants; I have no idea how many are on all three of them.
The other box of younger tomatoes is also doing well. There are two plants in it; one is a hybrid miniature plum tomato named "Juliette," and the other is an open-pollenated heirloom variety called "Mr. Stripey." Juliette is the more vigorous of the two plants; however, I did not know how prolifically she had fruited until I was tying the plants up yesterday and saw large clusters of plum-shaped green tomatoes.
The basils planted in with those two tomatoes are also doing very, very well; they are the most vigorous growers of all of my many basil plants. You can kind of see them peeking out from the sides of the bushy tomato plants. Not only are tomatoes and basil classic flavor combinations in the kitchen, they are good garden companions as well.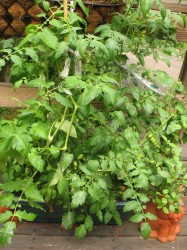 Mr. Stripey–so named for its smallish red and yellow streaked fruits–even though it was the smallest and spindliest of the tomato plants I put in, has several round, fluted fruits.
If all of these fruits ripen well, I have a feeling we are going to be inundated with small tomatoes within a month or so.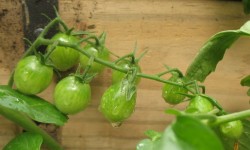 Which is fine; I am looking forward quite eagerly to making fresh tomato sauces, salsas and just eating them right off the vine!
6 Comments
RSS feed for comments on this post.
Sorry, the comment form is closed at this time.
Powered by WordPress. Graphics by Zak Kramer.
Design update by Daniel Trout.
Entries and comments feeds.