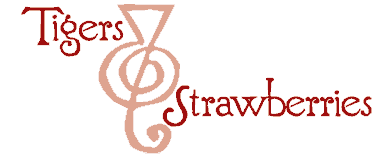 Cook Local, Eat Global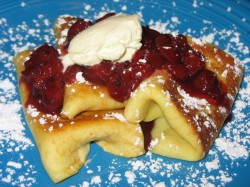 The shiksa–that's me. I call myself that because I am a goyim married to a Jewish fellow; however, I am told by all of Zak's relatives that I most definately -am not- a shiksa.
You see, "shiksa" is a derogatory term for a non-Jewish woman or girl. I don't take it as a derogatory when I refer to myself that way, though. I just like the way the word sounds. "Shiksa." Rolls right off the tongue, with the soft "shhh" sound and the hard "ks." It is one of those words you can draw out forever and give a thousand intonations to–like this: "Shiiiiiksaaa." Or, it can be short and sweet, like it is spelled–"shiksa." It just has an appealing sound to me for some unknown reason. (But then, I like the sound of a lot of Yiddish words, so who knows?"
So, while Zak's family most certainly do -not- consider me a shiksa, I sstill call myself that for fun, just 'cuz.
And every now and then, I have to haul off and try out a recipe from Zak's Eastern European Jewish heritage, just because, well heck–a lot of that food is damned fine and tasty. (Although, strangely enough, a lot of the traditional fare, Zak hates, but I like. Like sweet and sour red cabbage, chopped chicken liver and gefilte fish. He won't touch any of them, whereas I think they are splendid. Go figure. Who knows, maybe I really was someone's bubbe in a past life or something.) I have already written about my take on matzoh ball soup, which I renamed "Shiksa Ball Soup" just because it sounds funny, and then I can say things like, "I bet you didn't know shiksas had balls."
Last night, I decided it was high time this shiksa took on the challenge of making blintzes from scratch.
What are blintzes, you goyim are probably wondering?
Well, they are like French crepes, but better. Let me tell you all about my first experience with cheese-filled blintzes way back in my college years around 1984 or so, back when there was a Jewish delicatessen in Huntington West Virginia named "Victors." I think that little story will explain blintzes better than a clinical description could.
Back in the day, I was standing in line at Victors along with a group of friends who had all decided to go out for a corned beef sandwich and some matzoh ball soup. Mind you, we were all goyim. I wasn't really in the mood for a corned beef on rye, so I was looking on the menu board, and I saw something called "cheese blintzes–served with your choice, sour cream or applesauce." So, I said aloud, hoping one of my friends knew from blintzes, "What are blintzes? What kind of cheese is in them?"
A voice from behind me says, "Oy, listen to the little goy girl, wanting to know from blintzes." I turned around and there was a stereotypical Jewish grandmother standing behind me, all round and smiling. "You want to know about blintzes?" she asked, and before I could answer, she continued, "They are only the best thing on this earth God never made."
I raised an eyebrow. "So God didn't invent the blintz?"
She smiled, eyes twinkling and winked. "Oh, no, honey, God didn't invent them. A Jewish bubbe invented them, bless her for her foresight and ingenuity."
I found myself smiling and said, "What are they?"
She patted my shoulder and said, "Oh, they are paper-thin pancakes, like crepes, only better than the French do, and filled with sweetened cottage cheese and fried in butter."
"How can that be bad?" I said, and grinned as she nodded. "I'll order them. Thank you."
She smiled broadly and squeezed my shoulder again. "You're too thin, honey, you need those blintzes–oh, and when they ask sour cream or applesauce, get both so you can figure out which you like better."
Which is what I did.
And I was glad I did it, though I found I liked the sour cream slightly better, because, frankly, the bubbe was speaking truth–I was too thin. The blintzes would have been the first and only thing I ate that day, as I was an anorexic at the time.
So, those are blintzes–only the the best thing on this earth that God didn't invent.
So, let's bow our head and thank the bubbes who have been making blintzes forever and ever and start talking about making them.
The version of blintzes I decided I wanted to make is somewhat untraditional. I wanted to fill them with sweetened cheese, of course, but I also wanted to top them with a sauce made from the fresh sour cherries which were sitting in the fridge all lonely and sad. As I did a bit of research on the net and found out that blintzes probably originated somewhere in Poland where sometimes they are filled with sour cherries, I was happy to know that my instinct wasn't that far off from tradition.
What recipe did I use? Well, I consulted with The Molly Goldberg Jewish Cookbook, a venerable tome by radio, stage and television actress Gertrude Berg and cookbook writer Myra Waldo first published back in 1955 when the TV show "The Goldbergs" was popular. Normally, I don't purchase cookbooks that are tied into a television or radio show, but when I bought it, it looked like a neat bit of history, and I was right.
The blintz recipe from the book also worked quite well, so I cannot complain that the recipes are not good, either. The thin pancakes came out just as Ms. Waldo and Ms. Berg promised they would, though I did add a pinch of cardamom and didn't use butter to cook the pancakes themselves in, but instead used a tiny spritz of canola oil in my small Le Creuset frying pan just as if I was making crepes. (I still fried the filled blintzes in butter, so do not start scolding me–they turned out really well, in fact.)
The filling recipe was also accurate, though, of course, I did change it around a little. It called for two egg yolks, but considering how large my pastured eggs were and how rich the yolks are, I only used one. I also sweetened it primarily with honey and used the zest of one lemon in it, just to you, know, add my own little shiksa touch.
With the sour cherry sauce, I was on my own, so I improvised. It was simple, really, and the results were spectacular. I think you could use this sauce in place of any recipe that called for canned cherry pie filling, and the results would be far superior to the original version.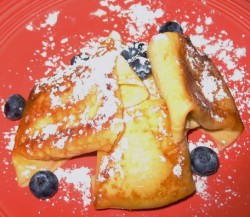 The next day, with four leftover crepes and some leftover filling, I made blueberry cheese blintzes by adding a few fresh blueberries to the filling, wrapping them up and frying them. Served with a sprinkle of powdered sugar and a scattering of blueberries, they looked lovely and tasted quite divine.
Cheese Blintzes with Sour Cherry Sauce
Ingredients for Pancakes
2 eggs
2 tablespoons canola oil
1 cup milk
3/4 cup all purpose flour
1/4 teaspoon salt
pinch cardamom
canola oil spray for cooking
Method:
Beat the eggs until well combined. Beat in oil and milk until smoothly combined. In a separate bowl, mix together flour, salt and cardamom, then whisk together until very smooth. Cover and chill for thirty minutes. The batter should come out the texture of heavy cream–if it is thicker, thin it out to the proper consistency with a bit of milk.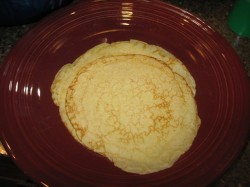 Spray a seven inch skillet (cast iron works great) with a tiny bit of canola oil. Heat it on medium heat and pour about 2 1/2 tablespoons of batter into the pan. Lift pan and turn and tip it back and forth quickly to get the batter to cover the bottom of the pan. Set back on the heat and cook until lightly browned on the bottom and fully set on the top. (There should be no liquidy bits of batter.)
Using the tip of table knife, loosen pancake, then shake it back and forth and invert pan over a waiting plate. Smooth a stick of butter over the top of the pancake, to moisten it, and then repeat steps to cook the next pancake, and so on, and so on, until all of your batter is done. Stack them browned side up, buttering lightly between each pancake.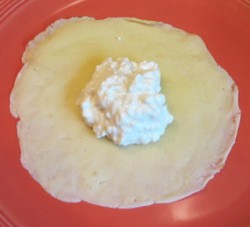 Method to Fill and Fry Blintzes:
When all pancakes are done, place 1-2 tablespoons of the cheese filling on each blintz, with the browned side down to the plate and the pale side up to the filling. Turn the two opposite sides of the pancake in a bit, then roll up from the bottom to make a little roll or pillow. They should stick together to hold the blintz closed.
When all are filled, heat about three tablespoons of butter in a heavy-bottomed skillet over medium heat and fry the blintzes until lightly browned on both sides, turning them gently with a spatula.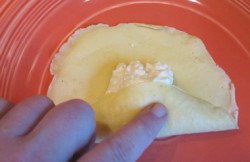 Place on serving plate, sprinkle with powdered sugar (optional), and top with some sour cherry sauce. Serve sour cream on top or on the side.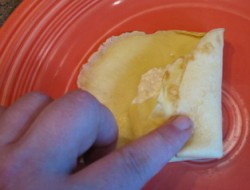 Cheese Filling
Ingredients:
1/4 pound cream cheese, softened
1/4 pound cottage cheese
1 egg yolk
1 1/2 tablespoons honey
1/2 tablespoon sugar
1 teaspoon vanilla extract
zest of 1 lemon
Method:
Beat together all ingredients until smooth. Use as directed in recipe above.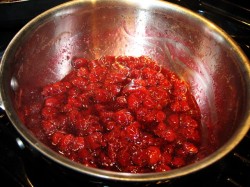 Sour Cherry Sauce
Ingredients:
1 quart fresh or frozen sour cherries
4 tablespoons raw sugar
1 tablespoon kirsh, cherry brandy or almond extract
1/4 cup cherry juice from concentrate, reconstituted as per directions
juice 1/2 lemon
1 tablespoon cornstarch
2 tablespoons cold water
Method:
Rinse cherries well and pit. Place pitted cherries in a bowl, and sprinkle with sugar. Allow to sit and macerate in the sugar for an hour. Pour contents of bowl, kirsh, cherry brandy or almond extract (I used the extract) , cherry and lemon juices into a saucepan and cook over medium heat until liquid has reduced by 2/3, and the cherries have begun to cook down and start to lose their shape.
Dissolve cornstach in water and pour into simmering cherries. Stir until juice thickens and remove immediately from heat. Keep warm.
Note:
I liked the cherry sauce version better, but Zak liked the version with the blueberries mixed in the cheese filling and sprinkled on top better. You should try both and see which one -you like better and let me know whether Zak or I are right!
21 Comments
RSS feed for comments on this post.
Sorry, the comment form is closed at this time.
Powered by WordPress. Graphics by Zak Kramer.
Design update by Daniel Trout.
Entries and comments feeds.