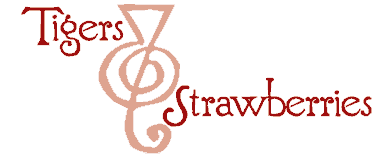 Cook Local, Eat Global
So, first of all, I am sure you want to know who or what the Culinary Nerd is.
That would be me.
That nickname was given to me in culinary school by a fellow student one day when a visiting chef once asked the crowd of us if anyone knew what huilacoche was.
I was the only one who raised my hand. When he recognized me, I said, "It is a fungus that grows on corn that we in the US call corn smut, but which in Mexico, is eaten." He asked if I had tasted it, and I said yes, that it had a soft texture rather like oyster mushrooms, but it tasted more like a combination of corn, truffles and wild mushrooms.
He liked my answer.
The student sitting next to me, who had been through all the first year classes with me, and who had seen me get into arguments with chefs over the origin of potatoes (he said Ireland, and I said Peru–and was right) and over whether something was a green tomato or something else (I said it was something else, but I wasn't sure what–it turned out to be a Thai eggplant) and over the proper method of frying okra (he said to follow the recipe and use a beer batter and fry it whole, I said to do it the way that real southerners have been doing for, like, ever, and cut it up into slices, coat it in seasoned cornmeal and flour and then fry it in either lard or bacon fat. We each cooked up a batch, and guess whose okra got eaten, even by Yankees, and whose didn't?).
So, Maria looked at me and said, with a fond smile, "You are -such- a Culinary Nerd."
It stuck. My personal chef business was called, "The Culinary Nerd Personal Chef Company." I taught workshops as The Culinary Nerd, and in fact, that was almost the name of this blog.
But, even though I named the blog differently, I am still The Culinary Nerd at heart and sometimes I do things that prove it.
Like this:
Willingly getting my photo taken at the American History Museum with one of my great culinary heros, "The Swedish Chef" certainly counts as very nerdish behavior.
Posting it on my blog is further proof.
But, well, when one visits a mecca of sorts–and today's visit to The American History Museum at the Smithsonian -definately- counts as a culinary mecca, considering that not only the Swedish Chef is there, but a holy of holies is there as well: Julia Child's Kitchen.
I mean, I have known it has been there for -YEARS- and I kept meaning to go. I thought it was going to be dismantled after a couple of years and tour the country, but I found out today THAT IT WAS STILL THERE!!!!
So, of course, both Morganna and I went and paid homage.
I took a lot of photos, but I am only sharing these that came out–I had to use the flash to get them into focus, so I am sorry for the glare on the glass. But, I think that for those of you who cannot get to DC to see this most sacred of places, you can deal with a little bit of imperfection in my transmission of the goodness to you.
I was excited to see it close up. I mean, I grew up seeing her do her shows in the kitchen, so it is as familiar to me as the kitchens of my mother and grandmothers. But, I was still impressed with seeing it in person–and seeing how no-nonsense it was and how colorful it was without being garish. It was simple without being plain, it was large without being grand, and it was beautiful without being pretentious.
It was like Julia herself.
I loved it. Gazing first hand upon it was like going to a cathedral and seeing relics up close probably is for devout Catholics (I am only slightly kidding when I call her Saint Julia, after all).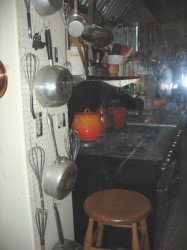 Though, I had to laugh, when I overhead Martha Stewart, on the video talking about how it is important, when we eat things like venison steak, that we recognize that what we are eating is a deer, and how Julia was always making that obvious, and how she always emphasized that, without being overt.
The video cut to a clip from Julia's first series, "The French Chef" where she is talking about roasting a suckling pig. The wee piggy is there, and she strokes it and pats it while she talks about how important it is to get a milk-fed piglet, because without only being fed mother's milk, its meat isn't so succulent and tender.
While she is talking, she shows how to prop open the piglet's mouth with a ball of foil before roasting him so you can present him with an apple.
Several folks watching the video were disturbed, and winced and backed away, saying, "Oooh, that's gross!"
I walked out laughing. They didn't get it.
But, I did.
So, that was The Culinary Nerd's adventure for the day–I got to travel to a holy place, view and photograph sacred relics of a beloved kitchen saint, and had my photograph taken with an icon of culinary goofiness.
And after we came back to Maryland, we all adjourned for a delightful feast at Akbar's where we dined magnificently upon some of the best North Indian style food in the world. (And we had three Akbar's virgins with us, so the feast was made doubly divine because we had the pleasure of introducing others to the glory of some of our favorite Indian food.)
And then, we came back here, and I am writing to tell you all about it.
With that, I say, "Goodnight, and good cooking."
21 Comments
RSS feed for comments on this post.
Sorry, the comment form is closed at this time.
Powered by WordPress. Graphics by Zak Kramer.
Design update by Daniel Trout.
Entries and comments feeds.