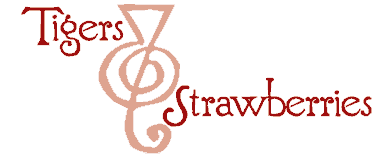 Cook Local, Eat Global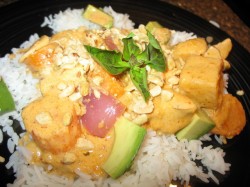 Massamun Curry with Chicken is the very first Thai curry I ever tasted.
The name comes from "Musselman," an archaic term for a Muslim (Muslimman) or Arab, and it is theorized that the recipe was inspired by the cookery of Arab/Persian Islamic spice merchants and traders who came to Thailand in the 16th century.
However, though the name refers to Muslims or Arabs, the flavor profile is almost completely Thai. The curry has some heat, but mostly, it is filled with great scents and savors that come from the skillful blending of the ingredients in the curry paste, which include a great many Arab-favored spices. The strong fragrances of galangal and lemongrass, both of which are distinctively used in southeastern Asian cooki; Thai cooks, in particular, seem to value both ingredients very highly.
The first time I tasted this dish, Zak and I were out on our first official "date." He had taken me to dinner at a nice Thai restaurant in Cleveland, and it was the first time I was to ever taste real Thai cooking. I remember tasting Mee Grob–or fried puffy rice noodles seasoned with a spicy-sweet and sour sauce and garnished with shrimp and bean sprouts. Then, I discovered the joy of Tom Kha Gai, which I instantly adopted as my new favorite soup on the spot.
Finally, the Massamun Chicken was set before me, and I remember falling in love with the dish upon the first taste. The smooth coconut milk curry, the tender chicken, the soft and aromatic potatoes and the carrots done just until they were a little al dente–all of this combined beautifully with the garnish of cilantro leaves and lightly crushed peanuts.
It was a beautiful, relevatory dinner, and it was afterwards that I declared my intention to learn to cook such exquisite food.
So, I did.
My Massamun Curry is much the same as the first curry I tasted, with one difference.
I love to garnish it with avocado slices.
Why?
Because the second restaurant where I ordered this deliciously luxurious dish garnished the finished plates with avocado, and the combination of silky green fruit with velvety curry sauce is out of this world!
This is much simpler to make than Green Curry, and you -can- freeze the curry paste without a loss of quality of flavor.
It is well worth trying to make, and is great for a summer supper, or for dinner in October.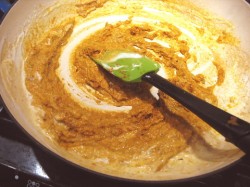 Massamun Curry
Ingredients for Massamun Curry Paste:
10 cloves garlic
2 shallots
1″ piece galangal root
5 stalks lemongrass
2 tablespoons unsalted dry roasted peanuts
1 tbs coriander seeds
1/2 teaspoon cumin
1 tsp. cardamom seeds
6 whole cloves
1/2 teaspoon cinnamon
1 teaspoon salt
2 tablespoons cilantro roots and stems
2 red dried New Mexico red chiles, (chiles Colorado) soaked until pliable and seeded
15 red Thai bird chiles
zest 1 lime
2 tsp. shrimp paste
Method:
Grind all ingredients together into a fine paste using a mortar and pestle, a Sumeet grinder or a combination of a food processor and a mortar and pestle as directed in the recipe for Green Curry Paste.
Ingredients for Curry:
2 19 ounce cans coconut milk
1 batch curry paste
½-1 tbsp. peanut butter
1 tsp. palm sugar, raw sugar or brown sugar
4 tbsp. fish sauce, or to taste
2 kaffir lime leaves, the zest of one lime or several drops of lime oil
1 pound new potatoes, scrubbed and cut into quarters
2 large carrots, peeled and cut into 1/2″ thick slices
1 lb. boneless skinless chicken breast, trimmed and cut into 1" chunks
juice of 2 limes
1 small red onion, peeled and cut into 1″X1″ squares
½ cup roasted unsalted peanuts, lightly crushed
handful of whole cilantro leaves to garnish
1 ripe avocado sliced for garnish
Method:
Separate two tablespoons of cream from the top of the coconut milk. Melt in a wok or deep, wide pan, until liquid and bubbling. Add curry paste and stir fry until all is very aromatic.
Add the rest of the coconut milk, stir to combine and bring to a boil.
Add sugar, fish sauce and lime leaves, zest or oil. Taste for flavor balance–it should be somewhat spicy, a bit salty and sweet at the same time. Correct flavor as needed. Add potatoes, and carrots and cover, turning heat to medium. Cook until potatoes are mostly done, and the carrots are half-crisp, then add chicken, cover and cook until done.
When chicken and potatoes are done to a turn, add the onions and allow them to just begin to soften for the last few minutes of cooking.
Add lime juice, and taste for flavor. If necessary, add more fish sauce.
Serve over steamed jasmine rice and garnish each portion with cilantro leaves, a sprinkling of coarsely crushed peanuts and slices of avocado.
10 Comments
RSS feed for comments on this post.
Sorry, the comment form is closed at this time.
Powered by WordPress. Graphics by Zak Kramer.
Design update by Daniel Trout.
Entries and comments feeds.