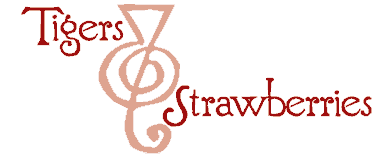 Cook Local, Eat Global
This is not a traditional Thai dish.
But, it tastes so good, it doesn't really matter. And really–I suspect that real live Thai folks would like it, and would make it, if they had the ingredients readily available. So, even though it came from my own culinary imagination, I still call it, "Thai."
It is based upon a fairly traditional Thai way with cucumbers, so it isn't completely my own innovation. But, that is the way of culinary innovation and inspiration. It comes from a cook making something traditional, glancing over at a pile of other ingredients and saying to herself, "Hey–I wonder what those would taste like this way?"
Well, I can wonder no more. Zak liked this salad, as did Morganna, myself and a handful of our friends. I made it the night before we left to go to DC, in order to use up the rest of the tomatoes, Thai basil and lettuce from our CSA box so they wouldn't get wasted–which, I think is a perfectly natural thing to do. The leftovers we sent home with Howie and Karen, who were watching our house, cats and dogs while we were gone. (Along with fried rice and curry leftovers–that way, Karen wouldn't have to cook for a few days.)
The flavors of this salad are very strong: there is the acidic fruitiness of the tomatoes, mixed liberally with the sweet and sour notes of the dressing, the smoky saltiy tang of the fish sauce, the incendiary heat of the chiles, the soaring anise scent of the basil and the sharp zing of the ginger and lime zest. (If you have lime leaves instead, they can replace the lime zest: simply cut two leaves into very fine chiffonade.)
One could add cucumbers to this salad, and perhaps some sweet red or green bell peppers, but then, I don't think that either Morganna or Zak would like it quite so much. Neither of them is fond of either green bell peppers or cucumbers, and they don't much like red sweet peppers, either.
I used both red and yellow cherry tomatoes in this salad, cut into wedges, but it would be just as easy to use sliced tomatoes. When the multi-colored heirloom tomatoes come into season, imagine slices of Green Zebra, Cherokee Purple, Mr. Stripey, Brandywine and Black Krim, marinated in the dressing and arranged over a bed of lettuce leaves and sprinkled with minced basil, then garnished with sprigs of Thai basil with the dark purple blooms intact. It sure does paint a pretty picture in the mind–I will have to make this again when they are in season, and photograph it, so y'all can see what I am thinking about….
If you want to make it ahead of time, marinate the tomatoes in the dressing for up to a day, adding half of the basil to the tomatoes. Then, just before serving, spread a platter with washed, dried and chilled lettuce, then pour the tomatoes and dressing in a mound in the center, and then sprinkle with the rest of the basil leaves, either minced or cut into a chiffonade. That way, you get a great flavor and texture on the tomatoes, but your lettuce stays crisp and you get the fresh basil sprinkled over everything as a beautiful contrast to the shimmering tomato wedges.
Thai Tomato Basil Salad
Ingredients:
1 pint red cherry tomatoes, washed, dried and quartered
1 pint yellow cherry or pear tomatoes, washed, dried and quartered
3 green Thai chiles, sliced thinly on the bias (or to taste–three gives a very strong, smoky hit of heat–you might like less or more)
1/2″ cube ginger, peeled and cut into a very fine julienne
1 white or purple scallion, trimmed, washed dried and sliced thinly on bias, white or purple and light green parts only
1 tablespoon lime zest
juice of 2 medium sized limes–about 1/4 cup
1/8 cup rice vinegar
3 tablespoons fish sauce–or to taste (I use Golden Boy brand)
raw or palm sugar to taste (about 1 tablespoon is sufficient for me, but others like it sweeter)
pinch of sea salt or kosher salt to taste
1 head romaine lettuce, washed, dried, outer leaves discarded, and bottom trimmed, leafves torn into bite sized pieces
1/2 cup minced fresh Thai basil leaves
Method:
Toss together tomatoes, chiles, ginger, scallions and lime zest in a medium-sized bowl.
Mix together the rest of the ingredients except the lettuce and basil leaves. I like to put it all into a jar that will hold it and then shake it until it is well combined. When it is perfectly mixed, pour it over the tomatoes, and mix well.
Cover and either leave at room temperature or refrigerate for two hours, or leave in the fridge overnight. (At this point, if you want a strong basil flavor, you can mix half the amount of basil leaves, freshly minced, into the tomato and dressing mixture.
When ready to serve, line a platter with the lettuce leaves. Spoon out tomatoes with a slotted spoon, and form into a glistening pile or mountain of tomato bits. Drizzle dressing over the tomatoes and the lettuce, then sprinkle Thai basil over everything.
Garnish with fresh sprigs of Thai basil with dark purple blossoms.
6 Comments
RSS feed for comments on this post.
Sorry, the comment form is closed at this time.
Powered by WordPress. Graphics by Zak Kramer.
Design update by Daniel Trout.
Entries and comments feeds.