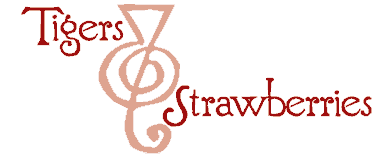 Cook Local, Eat Global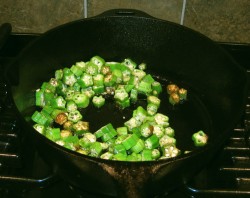 I got up early today, even though this would have been my first chance to sleep late in over a week, and went to the farmer's market.
And boy am I glad that I did. Not only was I able to rebuild my stock of lettuces, garlic, onions and potatoes, (all of which I used up before we left for DC), I was also able to pick up some blueberries and some very amazing blackberries, but I also found something that caused me to go into an intense craving: okra.
A lot of folks don't like okra, but I am not one of them. Which is odd, because one of the few food textures that I really object to is a slimy, mucilaginous one. And okra can very much be slippery and sticky.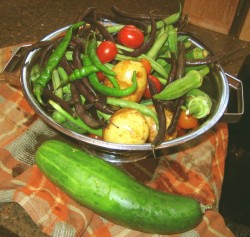 But, I have found that I like it three ways: in gumbo, the spicier the better, battered in cornmeal and fried in bacon grease, which is the way I grew up eating it, Southerner that I am, and cooked with tomatoes, onions, garlic, and spices, the Indian way.
And looking at those pretty green pods, I had a sudden and powerful hankering for bhindi masala, the way it is cooked at Shere e Punjabi in Columbus. (That translates to "Tiger of Punjab," which is a very cool name for a restaurant, in my opnion.)
Of course, I have never made bhindi masala, so that complicated things somewhat.
But not much. I never let little things like that get in my way.
Okra is an interesting plant. Related to marsh mallows and hollyhocks, it is a pretty plant that originated in Africa, most likely Ethiopia. The part that is eaten is the young seed pod, and it secretes a very thick, somewhat slimy juice. I have found, however, that cooked the Indian way, the slime factor is reduced greatly, just as frying it in cornmeal seems to manage. With gumbo, the juice is used to thicken the soup, so it comes in handy, and if you put enough seafood, tomatoes, spices and chiles in the soup, and serve it over rice, I have found that I don't really care about the sliminess at all.
It is filled with both soluble and insoluble dietary fiber, it is loaded with vitamins C and A, and has B complex vitamins, iron and calcium as well. (Cooking it in a cast iron pot as I did boosts the iron level up even furthur.) It is also very low in calories, and when cooked the Indian way, tastes divine. If you have never tried it, or only had it boiled into a slithery cthuloid mess and thus think it is nasty, give it a shot cooked as a masala. It is much, much better this way, and really does make a great side dish along with rice, kheema sookh and raita.
I also want to mention that I used some of what we call in our house Indira's Magic Powder in this dish. Indira, of course, is the lovely writer of Mahanandi–one of the best food blogs out there, hands down. She sent me this seasoning powder, which she calls me "Dalia Powder," in the mail, and I have found that it makes any vegetable dish taste special. It is made of roasted chickpeas (dalia), dry coconut, , dried red chiles, dried garlic, cumin and salt all ground together into a orange-colored powder that is, as far as I am concerned, magical in its ability to transform any vegetable curry into something fantastic. It thickens the curry and adds amazing fragrance and flavor to the dish. If you want the exact recipe, Indira posted it here. I bet she could market it in this country, though, and I think she could–but only if she calls it "Indira's Magic Powder."
Because, as far as I am concerned–it is magic. And it took my okra masala and pushed it right over the edge from pretty good to downright amazing. It didn't really taste like the way they make it at Shere e Punjabi, but that is okay, because it tasted better. And I have Indira to thank for that.
If you don't have access to dalia powder, sprinkle a bit of garam masala on the dish at the end of cooking.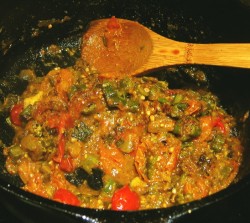 Bhindi Masala
Ingredients:
4 tablespoons canola or peanut oil
1 pint fresh okra, rinsed, top and bottom trimmed away, and sliced into 1/4″ thick slices
Spice Mixture:
1 1/2″ cube fresh ginger, peeled and sliced
1″ piece fresh turmeric root, peeled and sliced (substitute 1 teaspoon dried turmeric if you cannot get fresh)
3 cloves garlic, peeled and thinly sliced
2 unseeded green chiles, sliced
1 teaspoon cumin seeds
2 teaspoons coriander seeds
1/2 teaspoon fenugreek seeds
1/2 teaspoon mustard seeds
1 teaspoon salt
1 large yellow onion, peeled and thinly sliced
1 hot green chili, unseeded, sliced
1 cup halved red and yellow cherry tomatoes
1/2 cup water
1 teaspoon dalia powder (also known as Indira's Magic Powder–if you cannot get it or do not know how to make it, use some garam masala instead–probably to taste–not quite as much as I used of the dalia powder–more of a sprinkle.)
Method:
Heat the oil over medium heat in a cast iron skillet and drop in the sliced okra. It will sputter and sizzle and spit; this is because of the moisture in the okra. If you have a splatter screen or shield, I suggest using it to cover the dish while the okra fries. If not, be prepared to clean your stovetop well after this exercise.
Cook, stirring now and again, until much of the okra has crisped and browned, and is emitting a wonderful, nutty aroma.
Remove the okra from the oil, and drain on paper towels.
While the okra is cooking, grind the ingredients of the spice mixture to a fine paste.
Put the onions in the oil, and cook, stirring until they turn golden brown. Add sliced chile, and continually stirring, cook until the onions are deep dark reddish brown.
Add spice paste, and cook, stirring until it is fragrant–about one minute. Add okra back to pan, and cook, stirring for another minute.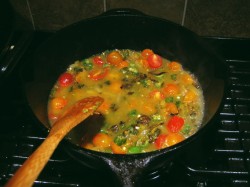 Add tomatoes and water, and stir to combine. Turn heat down to low and cook, stirring now and then, until most of the water has evaporated, leaving behind a thick, yellowish curry of melted tomatoes and browned okra and onions.
Sprinkle with dalia powder or garam masala and mix in roughly chopped cilantro. Serve immediately with rice, raita and whatever other dishes you like–for vegetarians, a dal would be great, for us, we had kheema sookh.

18 Comments
RSS feed for comments on this post.
Sorry, the comment form is closed at this time.
Powered by WordPress. Graphics by Zak Kramer.
Design update by Daniel Trout.
Entries and comments feeds.