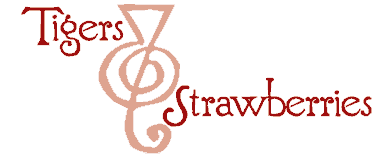 Cook Local, Eat Global
Reading Nina Planck's Real Food: What to Eat and Why was an exercise in both elation and frustration.
On the one hand, I was thrilled to read my own intuitive (and educated) trust in whole, natural foods ably articulated by a facile writer who makes a good case that a lot of conventional nutritional wisdom is not only not wise, but often, patently false.
On the other hand, I was also often frustrated by Planck's tendency to overlook or undervalue regular exercise as a component to good health, as well as her inexplicable moments where she either forgot to cite a source for her fact, or she simply presents her opinion as fact.
Generally, I think that Real Food is a well-written and engaging look at -why- a diet based on natural, whole, traditional foods is healther for us than the industrially processed foods and fast foods that have proliferated like mushrooms after a rainstorm in the American diet since World War II. Parts of it are really entertaining and fun to read, especially when Planck talks about growing up on a vegetable farm in rural Virginia; much of her experience parallels my own in helping out on my grandparents' farm in West Virginia. Her descriptions of how her family ate closely resembled my childhood meals to the point that I felt that some passages could have been written by myself or one of my cousins.
And, when Planck martials up her facts and has them lined up like little soldiers at attention, her arguments hit the target with a resounding and satisfying thud. Her chapters on fats and cholesterol are among the most convincingly written in the book, and rightfully so, for it is in those pages that she skewers the popular nutritional wisdom that saturated animal fats are evil, cholesterol is the enemy and margarine and Crisco are health foods that will save humanity from the horrors of butter and lard. When going up against such "known" nutritional and health claims as these, it behooves Planck to get her facts straight up and cite each and every study she possibly can which support her opinions.
And she does a damned fine job of it, too.
But other chapters are not so carefully written.
For example, when she talks about the wholesome nature of milk in the human diet, she mentions how healthy the Masai of East Africa are, when their diets are high in saturated animal fats from grassfed beef, beef blood and milk, which makes up the majority of their caloric intake.
She postulates that it is because of the chemical differences in the composition of the fats that come from raising cattle on grass that is the primary cause of the extremely good health of the Masai.
That may be; I am well aware of the evidence to support the position that beef and milk from grass-fed animals is significantly different and arguably much healthier for humans to consume than the meat and milk from cows fed grains, antibiotics and animal by-products. (Which is a nice way to say ground up feathers, chicken shit, blood and bones.)
However, the first thing that leapt to mind when she mentioned the Masai was this: the average tribal cow-herder such as a Masai male, gets more exercise in a -single day- than most American male desk jockeys get in a week or even a month. And, as far as I am concerned, that fact cannot be over-emphasized. Human beings evolved to move around and be active, not to be sedentary couch potatoes, and I suspect that it is just as much the activity level of the average Masai that is the cause of their lack of heart disease as it is the quality of their traditional diet.
To be fair, she does mention physical activity levels, as well as genetic factors when she talks about the seeming paradox that many traditional peoples seem to be able to eat diets that consist sometimes, of up to 56% of their calories coming from saturated fat, and yet they still have low incidences of obesity and heart disease. But, although these factors are mentioned, they are given shorter shrift than I think is necessary; her points about nutrition and diet are still valid. I just think that she damages her points by seeming to ignore the simple fact that a lot of the obesity problems in the US seem to be related to recent reductions in overall activity level among most Americans.
All in all, it is a good book; it is interesting, useful and well-written. Its flaws, while they bothered me, are really minor in the grand scheme of things. The message, while it was perhaps not stated perfectly, is still extremely valuable: eating a diet consisting of processed industrial foods, including trans-fats from margarine and partially hydrogenated vegetable shortening, too much sugar and refined flour is really not good for anyone.
Whereas, eating a varied diet consisting of whole foods such as seasonal (preferably locally grown) fruits and vegetables, wild caught fish and seafood, whole grains, legumes, whole milk, butter, cheese, fermented foods, olive oil, lard, pastured meats and eggs, and minimally refined sugars, is much better for humans.
While I don't agree with every statement that Planck makes, I have to say that I do agree with her overall premise.
Real foods are good foods.
Eat them, and be not only healthy, but happy, because they taste really good–much better than the processed industrial foods that litter up the majority of our grocery store aisles.
8 Comments
RSS feed for comments on this post.
Sorry, the comment form is closed at this time.
Powered by WordPress. Graphics by Zak Kramer.
Design update by Daniel Trout.
Entries and comments feeds.