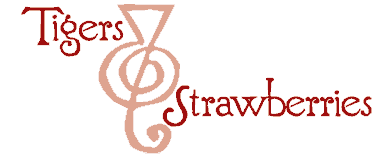 Cook Local, Eat Global
One of the most beautiful things about getting a CSA box is the excitement of not knowing what will be in it, until you open it up.
It is little bit like Christmas, every weekend.
For the past two weeks, we have had a mysterious green in our box.
You can see it in the picture up there: it is a sturdy-leafed thing, with an earthy scent, rather akin to chard or beet greens. But leaves, which are glossy and emerald-colored, are very fleshy and stiff. When you break them open or cut into them, they are filled with a thick, viscous fluid that is reminiscent of the slithery juice of okra, but is not so slimy. In my eyes, it is more akin to aloe vera juice, but a little more runny, and with little flavor.
The flavor when it is raw is unusual; many people, because of the juice, don't much care for it raw, but I didn't think it was unpleasant. Though, I have to admit, thinking of an entire salad bowl of the fleshy, somewhat spongey-textured leaves didn't make me want to grab the vinagrette. Most people prefer it cooked–and when I look at it and think rationally–I can see why.
What is it I am talking about?
Basella rubra, otherwise known in English as Malabar spinach.
It is not a true spinach, but it has been grown in warm areas of the US and Europe as a spinach substitute for years, because it is untroubled by the heat. Spinach will "bolt" in the heat of summer, which means that once it gets too warm for its comfort, the plant will rush to put out flowers and seeds, and then die. Spinach is a true cool-weather plant, and as such, can be a big problem crop in places in the US, like the South, where heat in the summer is a fact of life.
But, Malabar spinach is a tropical vine, originating in India, and as such, when the sun is broiling down and there are temperatures upwards of ninety degrees like we have been having recently here in Athens, it is perfectly at home, and will just keep growing, and growing, and putting out lovely verdant heart-shaped leaves like crazy.
And for those of us who like cooked spinach–it is a godsend.
The one drawback to the plants is that they do not like drought, so if one is growing it and the weather causes a dry spell, like the one that came with our heat wave, it appreciates extra watering attention. Dry areas do well with irrigating the plants, I am told.
Nutritionally speaking, this green is a powerhouse. Low in calories and carbohydrates, it is high in protein, calcium, iron and vitamin A, and has a moderate amount of vitamin C. One hundred grams of cooked Malabar spinach gives 5% the RDA of protein (that is a lot for a green vegetable) and 23% the RDA of vitamin A. It also gives 12% of the RDA of calcium–which is very good for a vegetable.
But, what is it like cooked?
It is virtually indistinguishable in flavor from spinach, though I can tell the difference by the texture. Spinach leaves are never as thick as Malabar spinach is. It stands up to heat better than spinach, which wilts as soon as flame touches the pan it is in; Malabar spinach also doesn't shrink as much in volume as spinach does. (There is nothing more disheartening than to spend nearly an hour cleaning and picking tough stems from ten pounds of spinach only to watch it shrink down to virtually nothing when it is cooked. Trust me.)
The color of it cooked also gives it away to a careful observer. It is more of a brilliant green when cooked than spinach, which darkens considerably. Malabar spinach keeps its vibrant grass-green color for much longer in the pan.
I have read caveats online that caution against overcooking this green, as it can apparently go slimy. I am not sure what constitutes overcooking, however, so all I can say is when I cooked it tonight, it turned out very well, with no tendency towards sliminess in evidence.
How is it best cooked?
Well, having only used it as spinach in a sauteed pasta sauce, and cooked the way I cooked it tonight, I cannot say. But, I have to admit to liking the way I made it tonight better: I read online that it was cooked by the Bengalis with onion, chile and a little bit of mustard oil, so I improvised a recipe based around that very vague description. I have no idea if it really does taste like the way they cook it in the state of Bengal, but, it tasted good, and I will be cooking it this way again. Tonight it was a side dish beside my homemade baked macaroni and cheese. It was perfect, especially with a dollup of my Fresh Tomato Chutney Salad completing the meal. Look for that recipe tomorrow–it is a salady, chutney-like dish I used to make for my Pakistani personal chef clients that they really, really enjoyed.
Bengali Style Malabar Spinach
Ingredients:
1 pound Malabar spinach, washed, dried, with thick stems and veins removed
1 tablespoon butter or ghee
1 medium sized yellow onion, sliced thinly
2 Thai bird chiles, sliced thinly
1/2 teaspoon salt
1 large garlic clove, minced
1/2 teaspoon cumin seeds
1/2 teaspoon mustard seeds
1 tablespoon mustard oil
Salt to taste
Method:
After the stems are removed from the greens, stack them up together in piles about 1/2″ thick, and cut crosswise into 1/2″ thick ribbons. Set aside.
Heat butter in a saute pan, and add onions and chiles, sprinkling well with salt. Cook, stirring, until the onions darken to a medium golden brown. Add garlic, and keep cooking until the garlic becomes golden and the onions are reddish.
Add cumin and musard seeds, and stir until mustard seeds start to pop. Add mustard oil, and the Malabar spinach, and cook, stirring, and shaking pan, until the leaves brighten in color and wilt. Sprinkle with a bit of water if the onions take on too much color or begin to scorch, and keep cooking until the onions are dark reddish brown, the cumin is deep colored and fragrant, and the greens are well-wilted and darkened somewhat.
Then, it is ready to serve. It goes well with mac n cheese, though I suspect it would also be nice with a full Indian meal, particularly one that included channa masala and maybe a nice raita, too.

27 Comments
RSS feed for comments on this post.
Sorry, the comment form is closed at this time.
Powered by WordPress. Graphics by Zak Kramer.
Design update by Daniel Trout.
Entries and comments feeds.