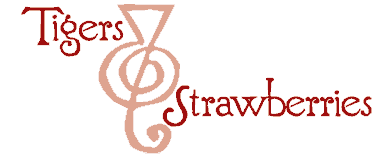 Cook Local, Eat Global
Beans are in my blood.
I grew up eating them, child of Appalachia that I am.
A cheap source of protein, dried beans were not only an easy meal, but they were a way of life, especially in the wintertime.
When the weather was cold and blustery, the remedy was to put on a pot of beans.
And a "pot of beans" meant beans seasoned with some sort of pork, whether it was a hamhock, fatback, jowl bacon or even just a dab of bacon grease. An onion, a bay leaf and maybe some garlic might go in the pot, but they were all optional.
The necessary item for a good pot of beans was some sort of pork product, preferably smoke cured. That is what added depth and a sweet smokiness to the beans, and made the broth, known in some families as "pot likker," a heavenly brew. I was notorious for craving the bean juice as much as the beans themselves, and would drink it like soup from a mug if I was allowed.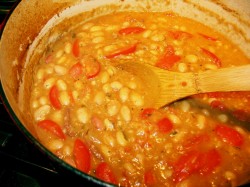 But it wasn't just dried beans I grew up with. Oh, no–my grandparents grew several different kinds of beans on their farm, too. Most noteably bush and pole green beans, and lima beans.
The bush beans we ate young, as green beans, and we'd can them young, too. Sometimes, Grandma would pickle some, too.
The pole beans, we'd eat young, but Grandma would wait until they matured farther, and we'd make "shelly beans" with them, and then she'd can them that way.
"Shelly beans" are green beans that are old enough that the pods are tougher, and you string them, open them up and scrape out the beans. You still eat the pods–they still go in the pot, but with the beans removed, they don't take as long to cook and get tender. And if any of the beans in the batch are younger, you just string and snap those like normal so what goes in the pot is a mixture of snapped beans, open and emptied bean pods and shelled beans. This was all cooked up with onions, pork and sometimes potatoes, and was very good, though I tended to like the tenderer young pods best.
Lima beans–those were eaten green. We didn't leave them on the vine to ripen and dry to make dried beans. Grandpa planted both baby limas–those tiny-podded wonders that had beans in them that were barely larger than a kernel of field corn (corn that is meant to feed livestock), and sweeter than candy, and regular large limas, that were starchier and plumped up when you cooked them until they burst out of their skins.
Lima beans tasted good, and Grandma used to can them until she switched over to freezing them. But whether they are canned or frozen, processing them meant we had to spend long, long hours shelling them out of their pods, and there is nothing tougher than a lima bean pod. I hated the work, because shelling lima beans took strong hands, and it would make your thumbs ache. And it took lots of us to shell them out to freeze, too–six sets of hands at the least. When we had enough folks, when I was younger, I used to get the job of picking the beans from the vines and putting them in the baskets of the cousins, aunts, uncles and other relatives, who sat in comfortable lawn chairs and rockers under the locust tree next to the barn, where they could shell beans in the comfort of the shadiest, breeziest spot on the farm. But when there were fewer of us, and after I got older, I always had to shell them, and I would go home with thumbs aching from having to string pods that were so tough they seemed to be made of kevlar, or at least chiten.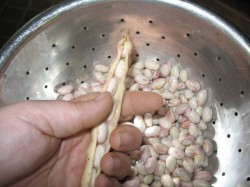 But, much as I disliked the thumb-wracking work of shelling limas, I still miss gathering in the shade, in rocking chairs, and listening to the folks gossip and tell stories on each other, tales punctuated by the metallic ping of beans striking the metal colanders we all held in our laps to recieve the shelled beans. The pods went with the uprooted vines, onto a tarp in the middle of our circle. After we were done, the vines and pods would be divided up among the pigs, chickens and cows, all of whom loved the flavor of the greens, and who relished cleaning up what we could not ourselves eat.
I felt all of that coming back to me today as I shelled these beans I picked up at the farmer's market on Saturday.
I saw them, practically being ignored in a stall filled mostly with more conventional green beans and onions, a stall run by an older lady who reminds me of my Grandma's best friend, Becky, a lady, who like Grandma, has long gone to that great garden patch in the sky. No one else seemed to be paying any attention to these unusual looking knobby-podded beans, but they caught and held my eye.
Because they looked like a bean I had read about in Marcella Hazan's and Paula Wolfert's books: Italian cranberry beans.
They were long and knobby, with plump pods, some of which were pale green, but most of them were ivory to creamy-buff in color. All of them were streaked with brushstrokes of cerise; they looked as if a pixie with a paintbrush had been at them.
I couldn't resist. I stepped up to the nice lady and asked her what those beans were.
She smiled brightly–obviously she liked these beans.
"Those is horticultural beans," she said, nodding. "Not many grows 'em."
"They are for shelling, aren't they?"
She beamed, and nodded. "Uh, huh. Cook em with pork–I know you'll love 'em if you try 'em."
I nodded and smiled. "I'll take a box of them." (Which looked to be about two quarts of pods, which I figured would give me about a pound of beans. My estimation was correct.; once shelled, they made about a pound of beans.)
She grinned with delight and dumped the box into a bag and we exchanged cash and she smiled. "Let me know what you think of em when you come back next week."
As we stepped away, Zak said, "What kind of beans are those?"
"Cranberry beans–in Italy, they are known as cranberry beans and they are eaten in Tuscany, in particular. Marcella Hazan says that they are best fresh like this, and bemoans the fact that you can mostly only get them dried in the US, if you can even find them at all. They are supposed to be creamy and sweet."
"So, what you are saying is you found a treasure, huh?"
"Yep."
So, the beans, whether you want to call them horticultural, French horticultural or cranberry beans, came home with us.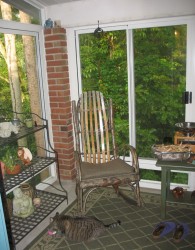 And I got the pleasure of sitting my sunporch and shelling them. Though, it isn't the same without the gossip and my Grandma's laughter, I did have the rocking chair, a cat (Grimalkin) tumbling at my feet, and I could sit and watch the fawns and their mother cavort in our backyard, as well as the birds go about their business. It was almost as good as sitting under the locust tree beside the barn and looking down the slope over the field at the pond and the woods below. It was better, actually, in one way, as it was inside and thus the mosquitos couldn't get me.
And, these many-named beans didn't make my thumbs hurt.
How did I cook them?
Well, in an improvised fusion between Appalachian Hillbilly cookin' and Tuscan Country Folk cuisine: I made a pasta fagiole dish that included locally raised and cured ham from Harmony Hollow Farms, a caramelized sweet onion from the lady who grew the beans, garlic from yet another farmer, and herbs, chiles and minature plum tomatoes from my own garden. Everything in the dish was local except the Parmesan cheese, the pasta, the wine and the chicken broth.
It turned out very, very well, too. The beans were delicious, just as creamy and nutty-flavored as Hazan and Wolfert promised. The only improvement I could make in the dish would be to add a rind from a piece of Parmesan to the bean pot, and to use a smaller shape and size of pasta–I think that small shells would be great, because they could cup and hold the beans perfectly.
I believe that we will be visiting that nice lady again on Saturday and picking up another bag of these delicious whateveryouwanttocallem beans, for they were awfully tasty.
Besides, that gives me an excuse to sit in a rocker on my sunporch and spend a nice hour shelling beans, and watching the deer.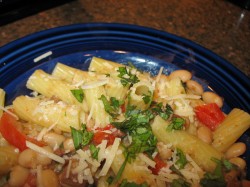 Appalachian-Tuscan Fusion Pasta Fagiole
Ingredients:
3 tablespoons olive oil
1 tablespoon bacon grease (optional)
1 large onion, thinly sliced
1 teaspoon salt
2 ounces boneless ham, cut into small dice
1-2 fresh chiles–to taste–minced
black pepper to taste (I used Aleppo pepper flakes instead–about a teaspoon of them)
3 large cloves garlic, minced
2 tablespoons minced fresh sage
1 tablespoon minced fresh rosemary
1/2 cup dry white wine, sherry or marsala
1 quart chicken or vegetable broth
1 pound shelled fresh horticultural/French horticultural/cranberry beans
1/2 pound fresh plum tomatoes, chopped
1/4 cup minced fresh basil
1 pound pasta of your choice, cooked al dente
freshly shredded Parmesan cheese, for serving
Method:
In a heavy-bottomed pot or Dutch oven, bring olive oil and bacon grease, if you are using it to heat on medium. When bacon fat is melted, add onion and sprinkle with salt. Cook, stirring, until onion is dark golden colored and smells sweet. Add ham, chiles, pepper, garlic sage, and rosemary, and continue cooking, stirring, until the ham browns slightly, the garlic is golden and the onions are brown.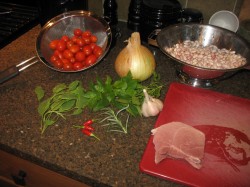 Add wine, and stir to deglaze pan, and allow alcohol to cook off.
Add whichever broth you are using, and the beans. Allow beans to come to a simmer, turn heat down, and partially cover pot. Cook until beans are just softened, and the skins are starting to crack–about an hour. Remove lid, turn heat up to high and carefully allow broth to cook down until it is barely covering beans. Add tomatoes.
Using an immersion blender, puree about 1/4 of the beans, to make a thick gravy. Allow tomatoes to soften and begin to break down. Stir in half the basil.
Dump drained pasta into bean pot and toss to combine.
Put into heated bowls to serve, and top with a sprinkling of cheese and some more basil.
Posted by Barbara on August 7, 2006 in Essays, Rants and Reflections, Local and Sustainable, Recipes: Almost Vegetarian, Vegetarian and Vegan, Recipes: Bread, Pasta, Grains, Recipes: Fruits and Vegetables, Recipes: Italian, Recipes: Original | 28 Comments
28 Comments
RSS feed for comments on this post.
Sorry, the comment form is closed at this time.
Powered by WordPress. Graphics by Zak Kramer.
Design update by Daniel Trout.
Entries and comments feeds.